Writing top quality content has always been and probably will always be the key to a successful presence online and gaining the traffic you want. But over time, as businesses get bigger and busier, relying on a human to constantly write high-quality content time and time again can be expensive and writing it yourself would take too much time out of your already hectic schedule. That's where SAAS (software as a service), such as Jasper AI, comes in.
AI writing assistance such as this helps you with your content creation using GPT-3 technology and a proprietary generation algorithm to create human quality writing and copy.
Before I get into this guide, you're probably wondering is it actually going to be worth it? Should you be experimenting with AI copywriting, and will it actually get the job done?
My honest take is yes, it's absolutely worth testing out Jasper because it's really surprising just how good the content can be. Is it better than an awesome copywriter? Nope. Not yet, at least.
If you want to see Jasper in action, I actually put together a YouTube video showing how I've managed to use it to automate and rank informational content on one of my affiliates sites.
Here's the content: https://fortymeters.com/arkansas-diving-laws/
Here's the data to show the content ranking: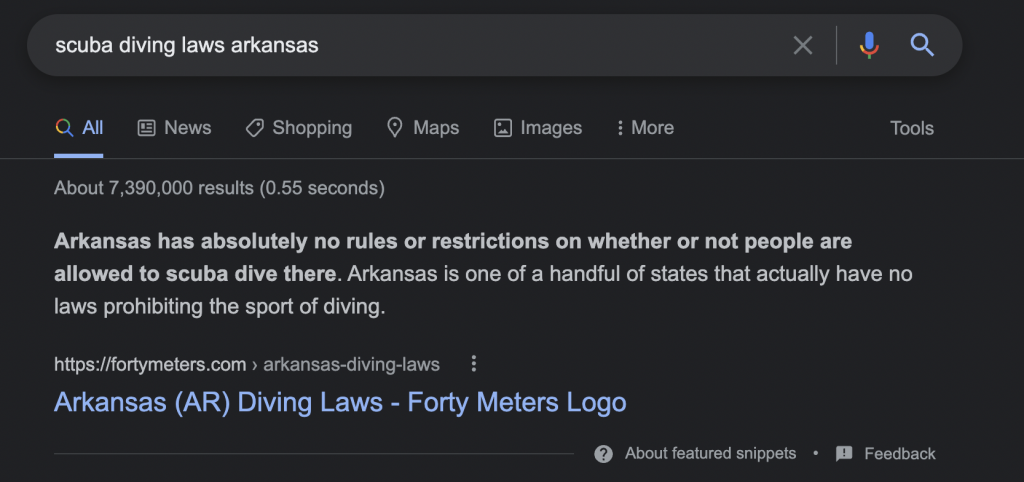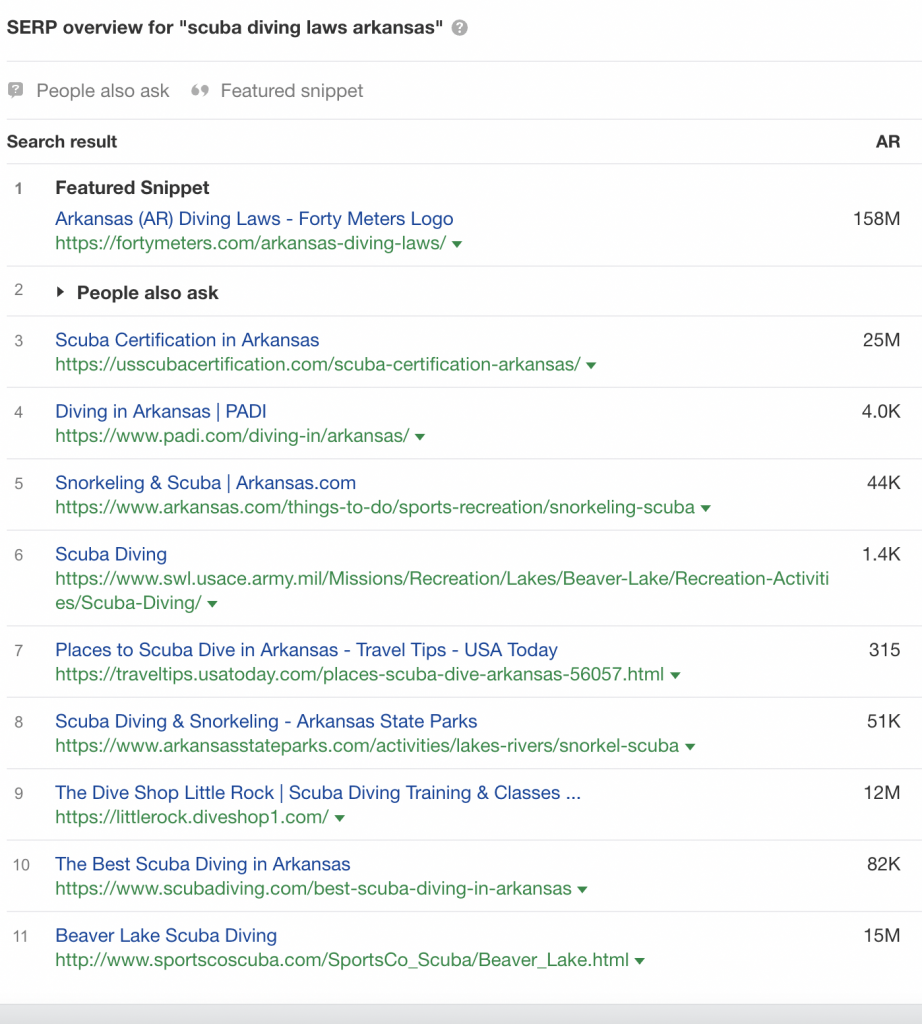 And here's the YouTube video: 
As you might be able to tell, I was admittedly a bit cynical about AI copywriting in general. And I'm not about to fire my copywriters any time soon (and you shouldn't either). But I'll say that this tool is awesome for things like simple informational content, blog headlines, programmatic SEO and automation, and just adding a sentence or two when you get stuck (see if you can guess which parts of this Jasper review that the tool wrote itself!).
Anyway, on with the review! Remember that if you want extra credits when signing up for a trial to click the banners or links in this guide – I'll get a bit of commission for droning on and on about the tool, and you'll get some extra credits – win win!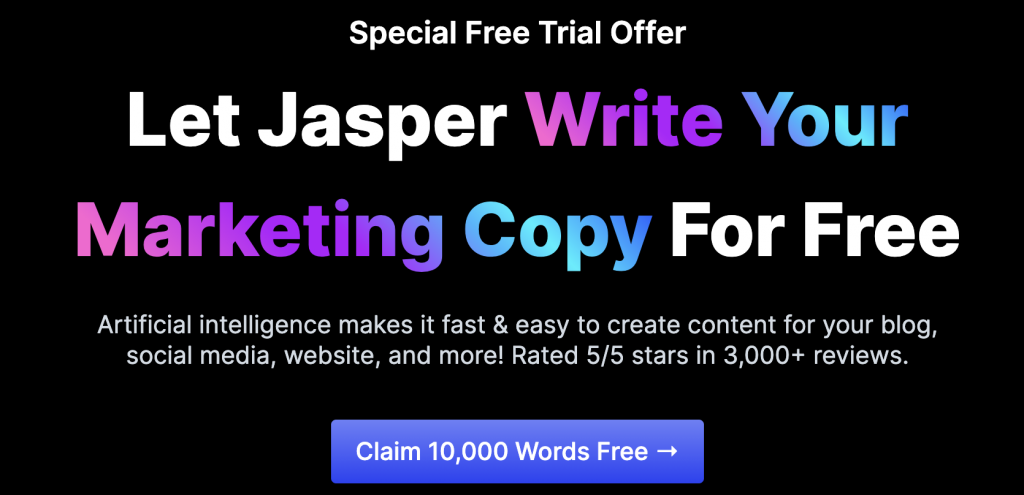 What is Jasper AI?
Jasper AI is an innovative piece of writing software that can generate content in a variety of different ways. It can produce a range of different content from blog posts, books, articles, school papers, and so much more!
Once more, the Jasper AI tool isn't just great for creating the content you need, but it is also fantastic for those needing lots of content to be created in a short space of time. SEO writers, email marketers, novelists, and even college students can all benefit from this tool's capabilities, and the possibilities are endless.
But first, let's get to know the software a little more.
Where did Jasper AI Get Its Name?
When this software was first created, it was known as Conversion.ai. Over time, it then transformed into a new and improved AI software under the shiny new name Jarvis.ai.
Now, if you are a Marvel fan, you will know that Jarvis is the name of the leading superhero "Tony Stark's" AI assistant within the Marvel Universe. So naturally, Marvel themselves was not too pleased with the idea that someone was using their copyrighted name. So even though it was a very cool name, it had to be changed again.
This led to the software being renamed yet again to what we know it as today; in late January 2022, it was renamed Jasper.ai. Jasper isn't the only AI technology of its kind; there are other cutting-edge AI tools out there that are designed to help content creators' jobs easier.
For example, Outranking.io is an AI technology that is created to help you make high-quality content quickly and efficiently and provides access to content ideas, outlines and SEO optimised content. This software is very similar to Jasper in many ways and is a great alternative.
But who is behind all of this ingenious technology and computer intelligence?
The Creators of Jasper AI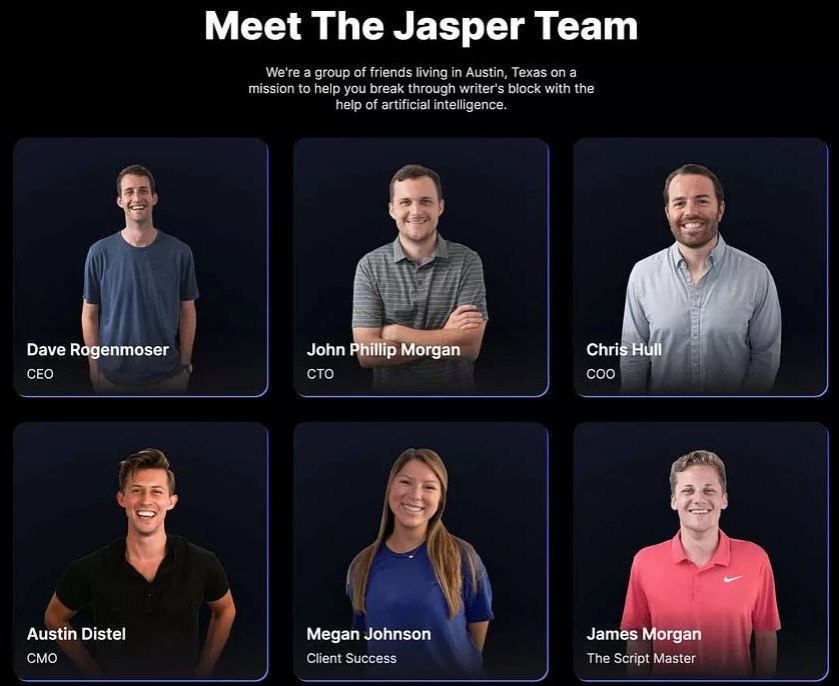 A group of friends from Austin, Texas, who are brilliant entrepreneurs and marketers with many years of making online courses and software products for others, decided to create one of their own.
They are incredibly passionate about helping others make their content creation lives easier and overcoming the dreaded writer's block that even the best writers get. They did this by moulding modern technology and machine learning together to create Jasper.
Jasper AI Features and Capabilities
What makes Jasper AI tick is what makes it stand out from all the other AI content creation technologies, which is the linguistics model GPT-3.
GPT-3 stands for the Third Generation of the Generative Pre-Trained Transformer, and it is basically a machine learning neural network that is trained via internet data. Developed with OpenAI, all it requires is for you to input text for it to generate large volumes of not only relevant but sophisticated content that makes sense and is closely related to what you are writing about.
This GPT-3 has approximately 175 billion machine learning parameters, making this artificial intelligence some seriously powerful piece of kit. It is so powerful, in fact, that it beat its competitor Turing NLG at being the world's largest neural network. Jasper AI is much superior to any previous models and makes any piece of writing look more human than ever before.
Improving Jasper AI's Capabilities
What really allows Jasper to stand out compared to other SAAS products is that the team at Jasper AI is always working behind the scenes to constantly improve the quality of this tool and add new features. It really does feel like there is something new and exciting to try out every week that they have implemented, or they have taken the time to improve the functionality and performance of existing features or issues.
Some of the improvements they have made include UI redesigns, new templates, improved algorithms, raised limitations and extended integrations with other tools like Grammarly, Surfer SEO and Copyscape. All things that have been implemented to make the user's experience smoother and more successful.
The Features
Jasper AI is jam-packed with various helpful features that are unlocked depending on which paid tier plan you have paid for (which we will get into later on in this article) but here are just some of Jasper AI's notable features.
The ability to choose from over 50 short term templates is a feature is included in both tier plans. It allows you to accomplish everyday copywriting tasks using AI templates to write your content for these categories: blog, social media, eCommerce, email, website, new, Google, video, frameworks and SEO.
Here are just some of the most impressive templates and features that are available for use: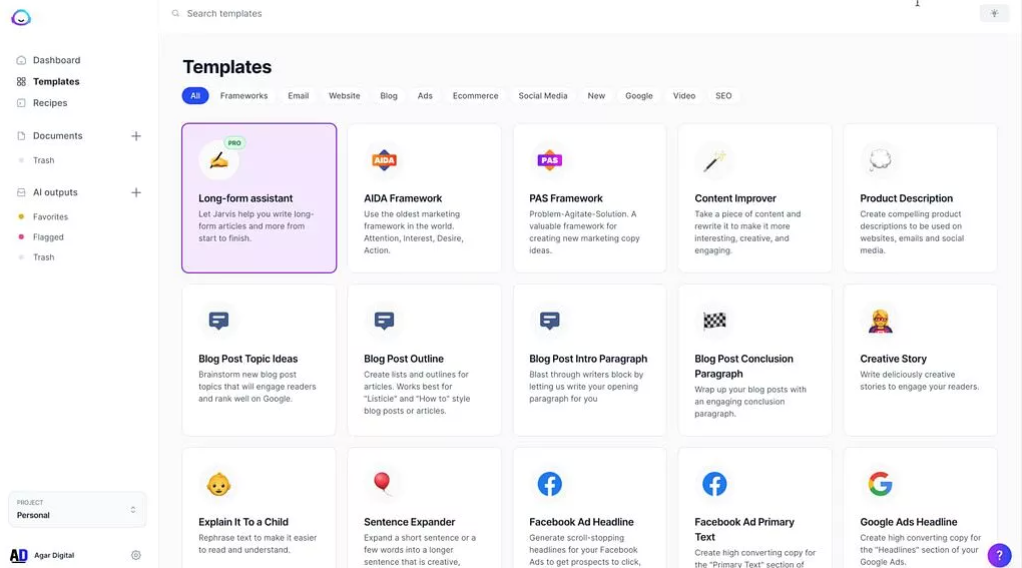 Blog Post Intro Paragraph – Get through writer's block by letting Jasper write your opening paragraph for you.
Blog Post Conclusion Paragraph – If you have written a great piece but need help concluding it, get Jasper to write out your conclusion paragraph for you.
Blog Post Outline – Create lists and outlines for articles. This can be great for How-to or Listicle type blog posts.
GoogleAds Headline – Create high converting copy for the "Headlines" section of your Google Ads with this template.
Product Description – Create compelling product descriptions to be used on eCommerce websites, emails, social media and more.
Long-Form Assistant – Let Jasper help you write long-form articles and more from start to finish.
SEO Optimised Title Tags – Use short and sharp, relevant title tags to help get your content ranking on Google.
AIDA Framework – Use the oldest marketing framework in the world, Attention, Interest, Desire, Action, to help write your content.
PAS Framework – This stands for Problem-Agitate Solution; it is a valuable framework for creating new marketing copy ideas.
Content Improver – Take your content and rewrite it to make it more interesting, creative and engaging.
Blog Post Topic Ideas- Brainstorm new ideas for a blog post that will engage readers and is more likely to rank well on Google.
Creative Story – Write creative stories with great keywords so that you can engage your audience and get a good ranking on Google.
Sentence Expander – Expand short sentences or a few words into a longer sentence to make your piece of content more creative and exciting.
Facebook Ad Headline – Generate scroll-stopping headlines to use on your Facebook Ads to get clicks and ultimately win views and conversions.
Facebook Ad Primary Text – Create high converting copy for the "Primary Text" section of your Facebook ads.
But that's not all; let's dive into some of the other features so we can truly discover what Jasper AI can do.
Unlimited Project and Workspace Documents 
On the Boss Mode Plan, you can access unlimited project folders and workspace documents that will keep your account organised and trained for the different clients and websites you are working on—making your workspace much easier to work around.
Customisable Tone of Voice 
The tone of voice in content creation is vital to any post. It gives the reader an element of knowing that business's character and vibe, and with Jasper's built-in GPT-3 data, you have the ability to use this tool to understand the tone of voice and mimic existing ones from your previous content pieces.
Write Long-Form Content (up to 3000 characters) 
With the Boss Mode Plan, you can access a long-form editor and assistant that can help you produce various content lengths starting with a blank page. There is a similar feature on the Starter plan, but it caps you at 600 words, whereas Boss Mode allows you to use up to 3000 words making creating long-form content faster and slicker.
Plagiarism Checker
With the long-form assistant on Jasper, you have a plagiarism checker built-in that checks to make sure that your content isn't shadowing someone else. Although Jasper is designed to create unique content, there is a chance that you could end up with close to or similar content to someone else without even knowing it. That's why this checker is so important to make sure your content is as unique as possible. Google prefers unique content, so checks for plagiarism can be invaluable.
There are other plagiarism checkers on the market, but Jasper has partnered with Copyscape to offer integrated plagiarism scanning within the AI software.
Grammarly Support 
If you haven't heard of Grammarly, then you need to because it is a life-changing tool that does all the hard work of checking spelling and grammar for you at a click of a button. With Jasper AI, this technology is integrated into the software system free of charge to help you with your spelling mistakes and grammar woes.
Surfer SEO Intergration 
Surfer SEO is known as one of the most powerful on-page SEO tools out there on the market and helps you create blog posts and content that will allow you to rank higher on Google.
It does this by recommending content that is unique or that your competitors have missed as they scan the internet looking at competing pages and correlations.
Surfer SEO is integrated into the long-form assistant Jasper AI tool, meaning that creating optimised SEO content is easy for SEO content writers.
Base Generation Limit (50,000 words)
If you have the Boss Mode plan, you can write up to 50,000 words, press 'compose', and this will then run the GPT-3 content generation request as many times as you want. If you're going to write more than 50k words, you can buy add-on packs that will give you an extra 30,000 words for $30.
2,000-3,000 Character Consideration 
This is the process of Jasper AI taking into consideration creating new content without repeating points and that each topic flows nicely into the previous subject. Jasper AI can do this up to 3,000 characters of the last text so you can continue with your content, knowing there isn't any repetition in the copy.
Jasper AI Commands 
This feature is available on the Boss Mode Plan and the long-form assistant and allows you to essentially tell Jasper what to do. For example, there is a rephrase feature that lets you highlight different words or sentences that you don't like and select the "rephrase" button at any time throughout the content. Jasper will then give you another phrase that might work better as an alternative.
There is also the "explain this to a child" feature that takes a very in-depth and complicated piece of text. After highlighting it and pressing the appropriate button, it will simplify it down to layman's terms, making for shorter and easier to understand sentences.
Over 25 Languages 
This feature allows you to use Jasper AI in over 25+ different languages. It will enable you also to produce content in a foreign language if that is something you require, making Jasper AI totally accessible to most of the globe.
Chat Support, Live Training and More
Jasper AI already stands out, but this feature makes them a cut above the rest, as with Jasper AI, you are able to access chat support anytime you are stuck or in need of some instruction. Jasper also has regular Live 101 Training videos, Q&As and webinars showcasing the tool as a whole and showing you the best ways to use it to your advantage.
Jasper AI is so much more than just a tool. They have truly created a  community of people willing to help each other achieve the best they can out of this tool and to create the best content they can, and so the team is always happy to help you when you need it.
AI Copywriter's Community Group
Carrying on with the theme of community, this is where Jasper AI has really thrived. The Community Group gives its customers a space to connect, communicate and help each other not only use Jasper AI but also help with each other's ambitions and content creating results.
The AI Copywriting Community group is free to join on Facebook. It gives people the space to talk about all things AI, marketing, SEO and Content creation in a welcoming, educational environment.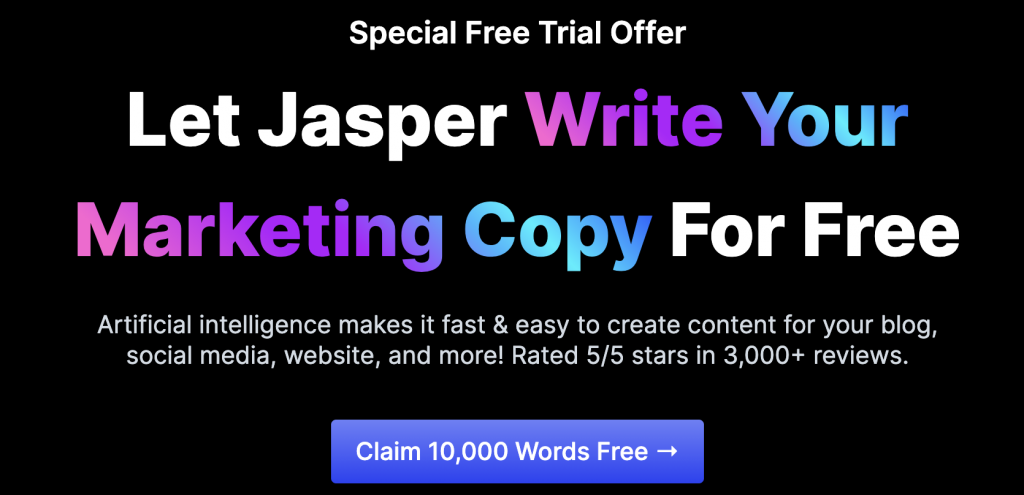 Pros and Cons of Jasper AI
Like with anything, there are going to be pros and cons to this tool, and so here are some advantages and disadvantages to using Jasper AI for your blog writing.
Pros of Jasper AI
It is one of the best AI and GPT-3 content creation tools on the market today.
You can speed up your content creation pipeline and finish your first draft of content between 2-5x faster than you would otherwise.
The Boss Mode Plan is reasonably priced and offers a bunch of features within that price.
It is constantly being updated with new templates, features and functionality features to keep Jasper AI up to date and relevant for its users.
You can create plagiarism-free content easily.
Surfer SEO integration is perfect for those SEOs looking to optimise their content.
There is an option to use this tool for both long-form and short-form content creation.
It can be used in over 25 different languages and can produce excellent international content – perfect for those with international websites and looking to expand into new territories.
It is user-friendly – you don't have to be a technical guru to work out Jasper AI. There are a number of helpful instructional tools that will show you how to use each feature before leaving you to use it on your own.
No Clean-Up Required – You don't have to worry about deleting old data anymore because, with Jasper AI, your files automatically delete and store data ready for further use.
Multifunctional Personality – Jasper AI is a great multitasker, meaning that you can perform loads of different commands at once, and it will make its way through them very efficiently.
Cons of Jasper AI 
It may be a cheaper option for any professionals looking for a reliable tool, but it can be expensive for a beginner looking for an entry-level tool to help them with content production.
This tool is costly compared to some of its competitors, and there are cheaper GPT-3 tools that exist on the market.
You will have to fact-check your content after using Jasper AI as some numbers, and even certain wordings that it believes to be accurate but are not quite what you would expect.
Jasper AI is unable to produce standalone long-form content without editing, and it can't rewrite whole articles like you can with a content spinner.
Irrelevant Suggestions – Jasper AI has a nasty habit of repeating content after a certain point of using it, so you might get frustrated that it won't create enough unique content for what you need it for.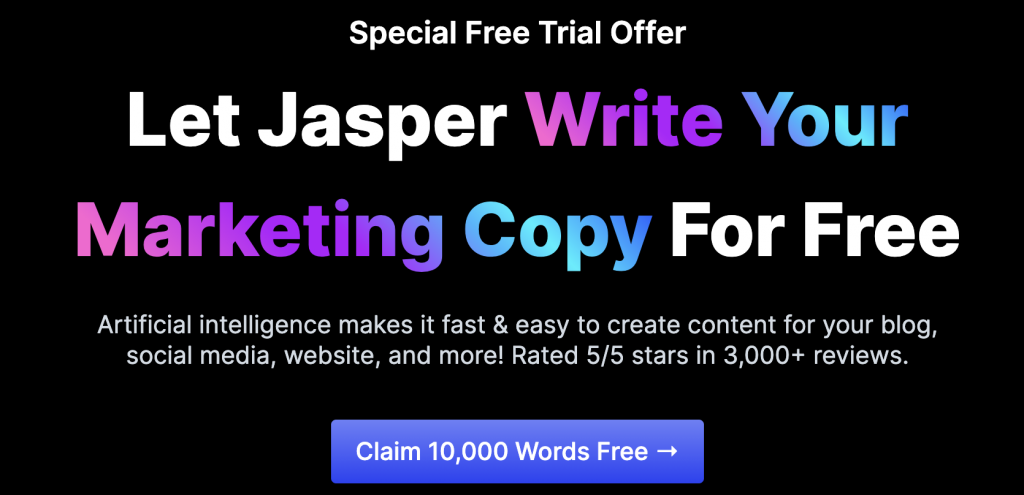 Jasper AI FAQs
Is Jasper AI Actually a Good Tool to Use?
Jasper AI is an excellent tool to use if you want to produce quick, high-quality content in a short amount of time, but if you are not in such a rush to create content, keep your options open and look at some other AI content tools.
If your goal is to produce quality over quantity, then consider writing the content yourself for the best results every time.
Will My Content Actually Rank? 
It will, but you'll need to tweak it and add to it. See this more as a helping hand rather than something you'd rely on completely, as you still want to add your own 'flair' to any piece of content.
Who is Jasper AI Good For?
There are many people in different industries or professions or even those just looking to write something unique that Jasper AI would be suitable for, but here is a couple that would definitely benefit:
Blogger: If you are a blogger of any kind, from affiliate to SEO, big or small, Jasper AI will increase your online presence; make sure that your content is always SEO generated and that your content brings in organic traffic to your site or page every single time.
Entrepreneur: As an entrepreneur, you are always trying to find the best deals and the fastest or best ways to create an income and Jasper AI can help you with this through its affiliate program. The program offers a 30% recurring commission for life, so there's no reason not to recommend the tool and increase your passive income.
Busy Professionals: You will save money from having to pay a freelancer or a full-time content creator to produce content for you, and you can also create quick, SEO friendly, unique content that will get your business ranking on Google. This should then lead to clicks, which in turn leads to increased sales!
Can I Cancel My Plan With Jasper AI?
Of course, you can. You are not obligated to stay in any kind of contract when using Jasper AI; all you have to do is email them, and you will get all your money back, or they will help you come up with another solution and no questions asked.
Pricing and Subscription Plans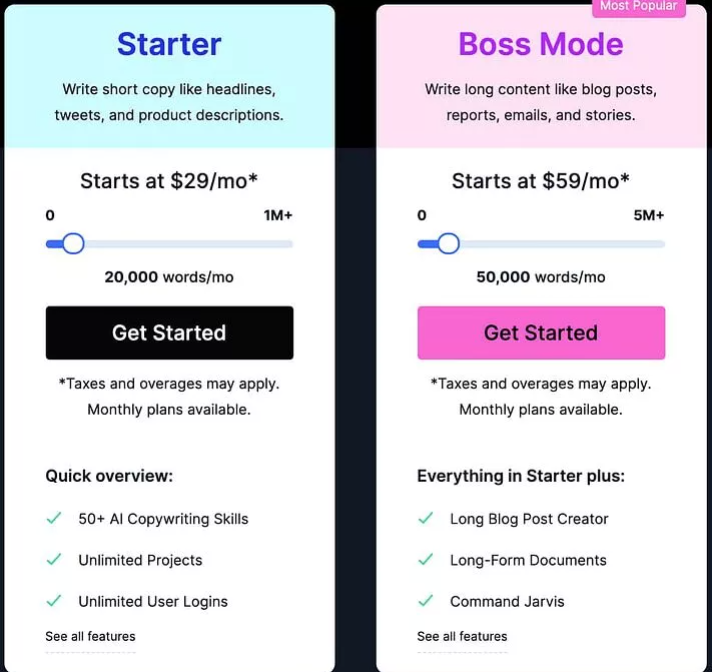 Jasper AI is split between two distinct options with variable pricing. There is the Starter Plan and the Boss Mode Plan, and both have different features and tools included.
The Starter Plan 
With the Starter Plan, you get 600 characters of output and 20,000 words per month, and alongside that, you get a few different features. This includes unlimited user logins, five project folders to keep your content in, and over 50 templates you can use for your copywriting.
This all starts at $29 a month and with a 7-day money-back guarantee if you decide that Jasper AI isn't for you. Now all you have to do is consider whether 20,000 words of content per month would be enough for you.
So if you are beginning your career in copywriting or only need it to do some school projects, then the Starter Plan would probably be ideal for you at first. Still, if you are a big company that needs lots of long-form copy regularly, then the Starter Plan just won't do, and you will have to go for the Boss Mode Plan.
The Boss Mode Plan 
With the Boss Mode Plan, you unlock a base limit of 50,000 words per month, around 3,000 characters of output, and along with that, you also get a generous amount of features, including:
Jasper Commands,
SEO Mode,
Customisable recipes,
Over 50 different templates for Copywriting,
Long Blog Post Creator,
Long-Form Documents,
Plus, add on options of Word Packs of 30,000 words for $30 extra.
All of these features and so many more are included in the Boss Mode plan, which starts at $59 per month. The Boss Mode was designed ideally for the professional writer, agency businesses or teams looking to produce large quantities of content every month and that don't mind paying extra per month for the needed features that become available.
You can quite easily be satisfied with both plans depending on the size of your writing needs and/or business, and with what you get for both of these prices, Jasper AI is priced very reasonably for what you are getting.
Is There a Free Trial?
Essentially, you can get a free trial but you need to cancel before the subscription starts because you'll otherwise be charged. So it's 'free' in a sense, as long as you cancel in time. You can also get extra credits when you sign up with my link! 
Summary
Jasper AI is overall a powerful and awesome tool that you should have in your toolbox of tricks when it comes to content creation; I've used it myself on various projects and have been impressed with the results. Is it perfect? Absolutely not. But, you will find it hard to uncover a tool that is 100% perfect in its artificial intelligence content creation. Jasper AI has some fantastic features and gives out high performance to anyone that uses it.
Don't just take my word for it, though; the SAAS tool is rated 4.9 out of 5 stars across over 3,000 reviews on Trustpilot, Capterra, and G2, so they must be doing something right!
If you are in need of a helping hand when getting over writer's block, Jasper AI is there for you and really does stand out from the crowd when it comes to useful copywriting tools. Think of Jasper as your co-pilot or your writing assistant, and you'll wonder why it took you so long to make the switch!
It is excellent for beginner writers as well as experienced content creators looking for an extra helping hand when creating quality content. With its easy to use layout and endless options for personalising content with different tools and buttons, you really will be spoiled for choice when using Jasper AI.
A great tip is to make sure to do your research about Jasper AI and any similar options. You can start by watching all of the available tutorials and really discover how it works and put the time and effort in to learn how they do what they do because once you understand them completely, you will reap the benefits of doing so, and your content will stand out above the rest.