Okay, so straight away, what actually is blogger outreach?
Blogger outreach is a method of link building which involves working with bloggers and content publishers (and more broadly, influencers) in order to obtain a link to your website. 
The link can be obtained in many different ways, but it all really boils-down to building relationships with reputable bloggers, and providing them with either a free product, promotion or content in return for a link on their website.
In this guide, I'm going to dive into the reasons why blogger outreach isn't dead, what you need to know about spotting the less-than-reputable bloggers, and how you can supercharge your outreach methods with this specific type of link building. Let's get into it!
Here's the inevitable pitch too… I offer blogger outreach as a service via my company Complete White Label. You can pre-approve any sites who pass our metrics and agree to work with us, and you can also pre-approve the content we write and send to the blogger. Have a look at the outreach order form if it is something you're looking to outsource. Now, back to the guide!
Why would you want to work with bloggers as part of your link building strategy?
Blogging or even influencer marketing is an ever-growing industry, and it's showing no signs of slowing down. Even though I'm an SEO consultant, I suppose I'm a blogger in some aspects because you're reading this post!
Diving into this great blogging stats resource from SEMrush, the data really speaks for itself:
Between 2014 and 2020, the number of bloggers in the United States alone increased by 10 million
The industry is predicted to be worth over $400 billion by the end of 2021
Bloggers are putting more time and effort into their content and treating their blogs as an actual business. On average, they spend 6 hours writing one post (I can agree on that one too!)
Whether you're an SEO pro and want to offer this as a service, or if it's something you're looking to do for your own site, the data is clear… it's a growing industry, and you're inevitably going to have access to more and more quality blogs as time goes on.
From my experience, bloggers are also waking up to monetisation methods for their site, and understand why SEO's want to work with them for the purposes of a link.
The most common methods of blogger outreach
Whilst there are loads of different ways that you could approach and work with a blogger, the below are some of the more common ones that allow for an SEO benefit (or will if you choose the right bloggers!).
1. Affiliate Relationships 
I'm starting with this one because it's something a bit different, and works well for both parties involved. An affiliate relationship in this sense involves a business owner reaching out to a blogger, and creating a private affiliate programme for them to sign up to.
This is increasingly working well for business because a lot of bloggers don't want to work with Amazon or lower-paying sites, so they're always looking for alternatives.
For the business owner, they get relevant traffic to their site and a link (probably no-followed, but still), and the blogger gets a higher commission than they would from a site like Amazon or somewhere similar.
2. Guest Posts
This is the one you've probably already heard of if you've done outreach before. Whilst the process has been corrupted somewhat by bloggers claiming they do standard guest posting then asking for a fee, the actual process certainly still works and there are reputably publishers who are very happy to accept content and provide a link in exchange.
If you're interested in guest posting, check out the final section of this guide on how to do guest post blogger outreach at scale.
3. Sponsored Posts (or any form of payment for publishing)
Whilst you shouldn't really be wanting to immediately exchange money for a link, there are some times when it makes sense. For example, if the bloggers has high authority and traffic, or if you're submitting a press release to an industry site that charges everyone for a feature (regardless of a link or not).
Take a look below on analysing the quality of a blog, as for most bloggers you should just be providing content in exchange for a link. 99% of time I will not pay for a link unless it's a super reputable blogger or industry site, and both the link and traffic will be worth the monetary value of the placement.
4. Link Exchanges
Like paying for a link, I'd only ever say yes to a link exchange if the site wanting a link back has serious authority and traffic, and I've done the checks to ensure that the site will in no way affect my authority (both internally and externally).
For example, if they're selling links to anyone, there's no way I want a link from them, or risk linking to them which could cause an issue or authority dip later down the line.
5. Blogger Gifting
This final one ties in with the first point, as you're building a relationship with bloggers over the long-term that you want to work with. Gifting can provide the blogger with a reason to link to your site, affiliate or otherwise.
If you identify the blogger a shaving a reputable audience, then gifting is an awesome and very natural way to reach out to bloggers.
What to look for when analysing the quality of a blog (and how to spot a 'bad' one)
Let me preface this by saying that, technically, any form of link building goes against Google's guidelines. Whether that's digital PR, HARO link building, or plain old generic outreach, you have to ensure that you're approaching the method of getting links in a manner that doesn't upset the overlords at Google.
Whilst this is getting into the broader territory of link building, here's some advice for anyone starting out with any link acquisition approach:
Look at your top 10 organic competitors through a tool like SEMrush (full review here). How many good links are they building per month? What is the average across those top ten competitors?
What are the types of links that they're building? Can you replicate them with your strategies?
What anchor text are they using? I would recommend that you stick with branded homepage anchors and plain URLs to begin with as it's the most natural approach when compared to exact-match anchors for your keyword(s).
Now that you know exactly how many links you need to build to effectively compete, let's look at what you need to spot when analysing the quality of a blog.
Evidence of a PBN
A private blog network or 'PBN' is usually a number of sites that are all owned by one webmaster. By hiding their identity behind WHOIS and various other methods, the owner of the network can link between the sites, and trick Google into thinking the links come from legitimate bloggers or authority publishers.
This is a very real strategy that does work, but it's not something you want to be involved in unless you're fully aware of the risks that a link from a PBN can carry. The main one is a manual penalty from Google, which can bring about the inevitable demise of the entire network. It's best to just stay from them, and don't even think about doing that type of link building for your clients. Just don't!!
The easiest way to spot a PBN is to look in a tool like SEMrush or Ahrefs to see the IP address of the site, and then the related IP addresses to see if that one related to any other sites.
Here's a guide on how to go through the entire IP-checking process with SEMrush: https://www.semrush.com/kb/503-backlinks-referring-domains-report-manual
Over time, you get really good at spotting these types of sites. IP is a main indicator, put you can also:
Check to see if the WHOIS information is available. If it's a really bad PBN, you'll see the same information across the network
All external do-follow links to less-than-reputable sites. It's clearly being used as a link farm
Poorly written, duplicate or spun content. If it doesn't look legit, then it probably isn't
External links to the PBN from other PBN-looking or otherwise unnatural sites
Lack of natural diversity within anchor text
Are they giving links to anyone and everyone?
As I said at the start, bloggers are realising the lucrative income that this type of collaboration can provide them with. Unfortunately, this means that some of them are just selling links to anyone, burnin the authority of their site and just grinding it into the ground.
The most efficient way I check to see this is if:
It's a really generic response when I get in touch that immediately mentions payment. Payment in itself isn't a red flag for some really high-authority bloggers, but you shouldn't be going into this willing to give money to anyone or everyone
Use a tool like Ahrefs or Screaming Frog to export all external links from a blog, then analyse them based on authority and IP. Here's how you can do this with Ahrefs.
Manipulating domain authority
This is a really blatant one to check, but it's surprising just how many companies will sell this type of service and just run the blogger through one tool. The problem with this is that a savvy blogger can shoot PBN links to their site, and very easily dupe their authority.
For this, you need to look at the external domains of any blog you want to work with. Do they all have the same IP? Do the links actually look natural? If you have any doubts at all…avoid!
How to scale your blogger outreach approach
There are a few ways that you can approach mass-outreaching to bloggers. Tools like Pitchbox are awesome for this, but naturally this comes at a cost. You could always sign up for a demo and see how you get on. Using Pitchbox is a post for another time, but if you have the budget and are looking to scale then Pitchbox is a really natural way to approach outreach.
It's used by myself and my team, and ultimately you get what you pay for with this tool. It's not cheap, but it works.
Let's look at how you can scale blogger outreach, one by using free tools, and another by using a tool like SEMrush.
Using free processes to outreach to bloggers
Use Search Operators – here's a simple one that you can tweak "fitness" accepting guest posts. Here's a really handy guide on the different types of operators you can use for this approach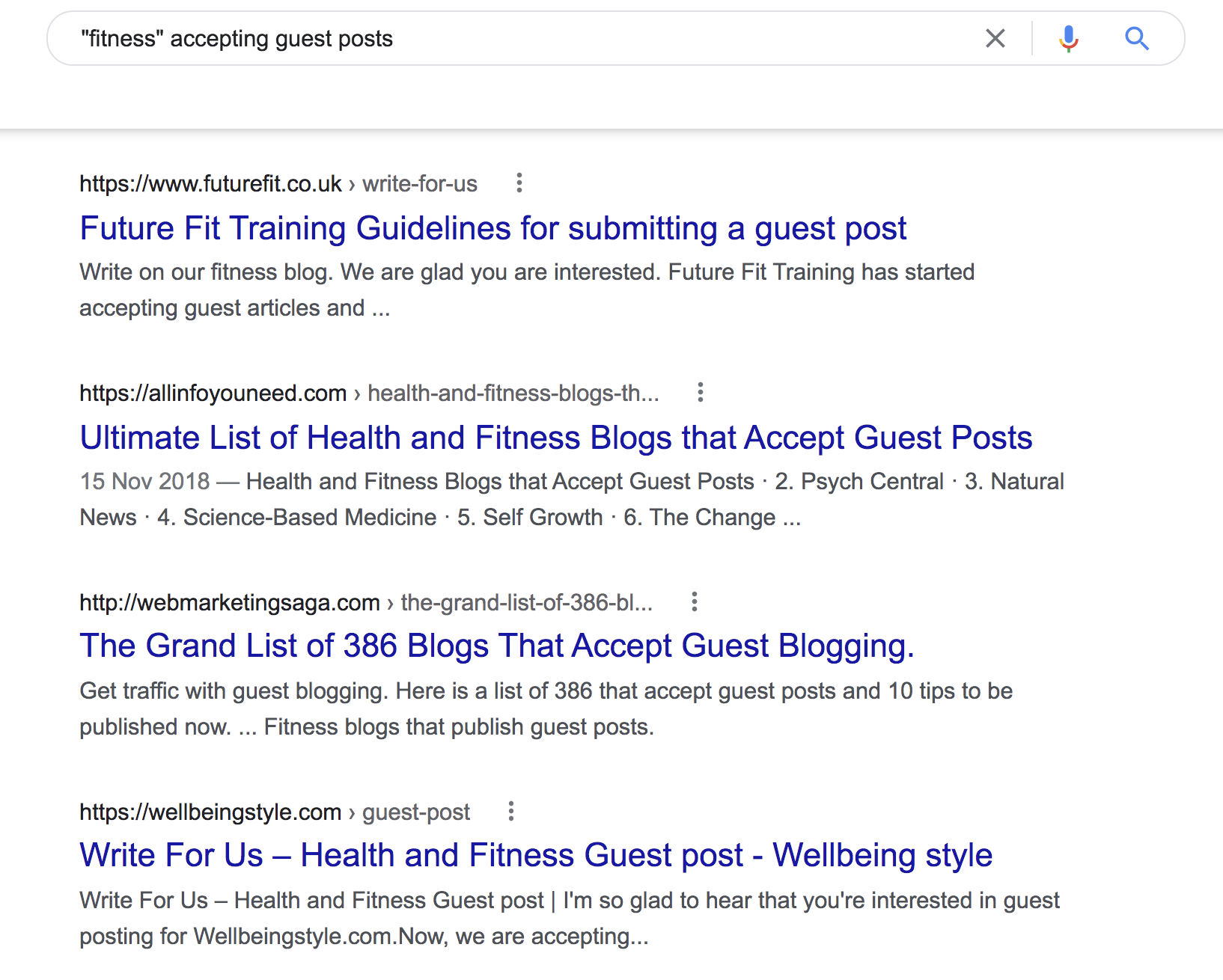 Get a free trial to SEMrush to export referring domains of your competitors, then use Hunter to get their emails and contact them (bcc multiple bloggers if you want to do this all in one go)
Reach out to industry and news sites – have a look around in Google News to look for reputable sites. Follow their bloggers or publishers on Twitter, get in touch with them and establish a relationship
Reach out to blogging Facebook groups – this is a goldmine, as many bloggers are looking to expand their guest post offerings to reputable businesses and sites
Using paid tools for blogger outreach
SEMrush is a really good tool to use for this, because you can analyse competitor referring domains, and then actually outreach to the sites from within the tool.
For example, let's say we've identified the following site as a competitor – first let's look at their referring domains to outline any authority blogs that we also might have the opportunity to work with:

Go to referring domains and filter by Authority Score (it's ultimately a vanity metric but it's a good place to start). We can also filter by 'Arts & Entertainment' if we're wanting to get a link that is 100% contextual to a guitar or music site (as part of this example)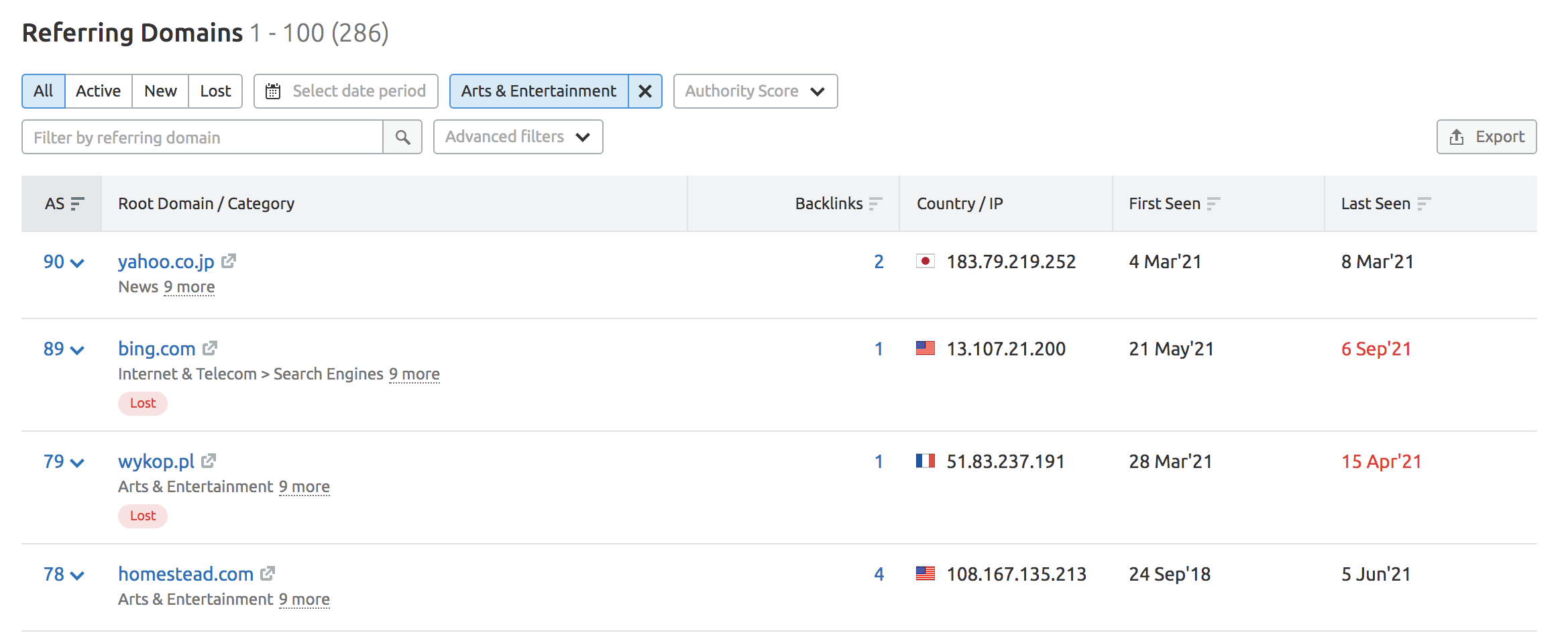 Once we've identified them as a competitor with relevant referring domains, we can add them to our competitor list within the 'Link Building Tool' section. Let's use my site as an example of how to use it (just because it's already set up in my SEMrush profile – naturally you can do this for any campaign you add to SEMrush, which is exactly what my team does)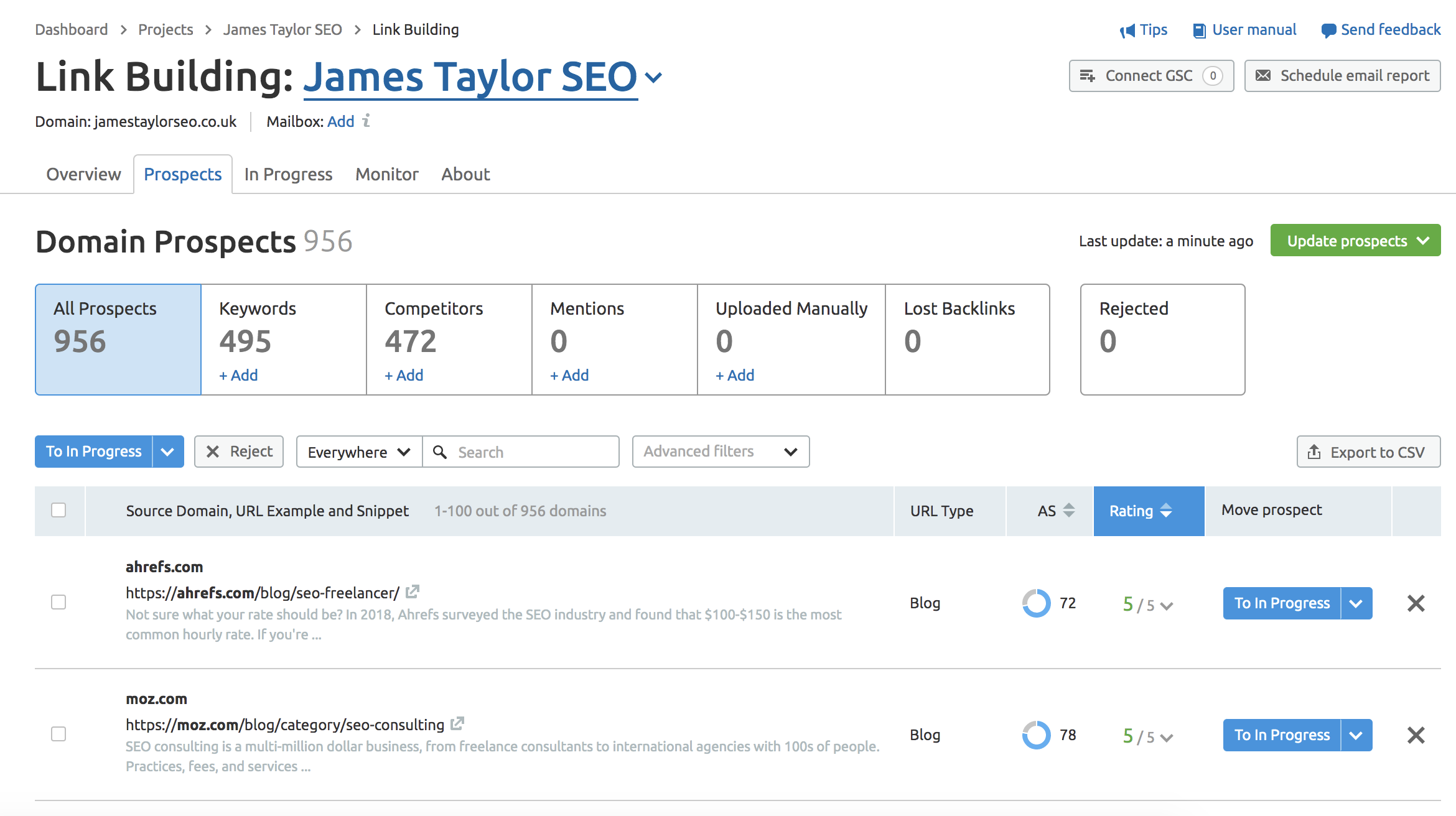 There's a lot to work through, so want to identify authority sites that would actually make sense to outreach to. In this example, Ahrefs probably won't accept a guest post, so we carry on working through the list. If we find a site we like the look of, we go through the process I outlined in the 'what to look for when analysing quality' section. If they pass these checks, they get added to the 'In Progress' list. Let's stick with the Ahrefs example for now to see what you can then do once you've found a site that passes all the pre-checks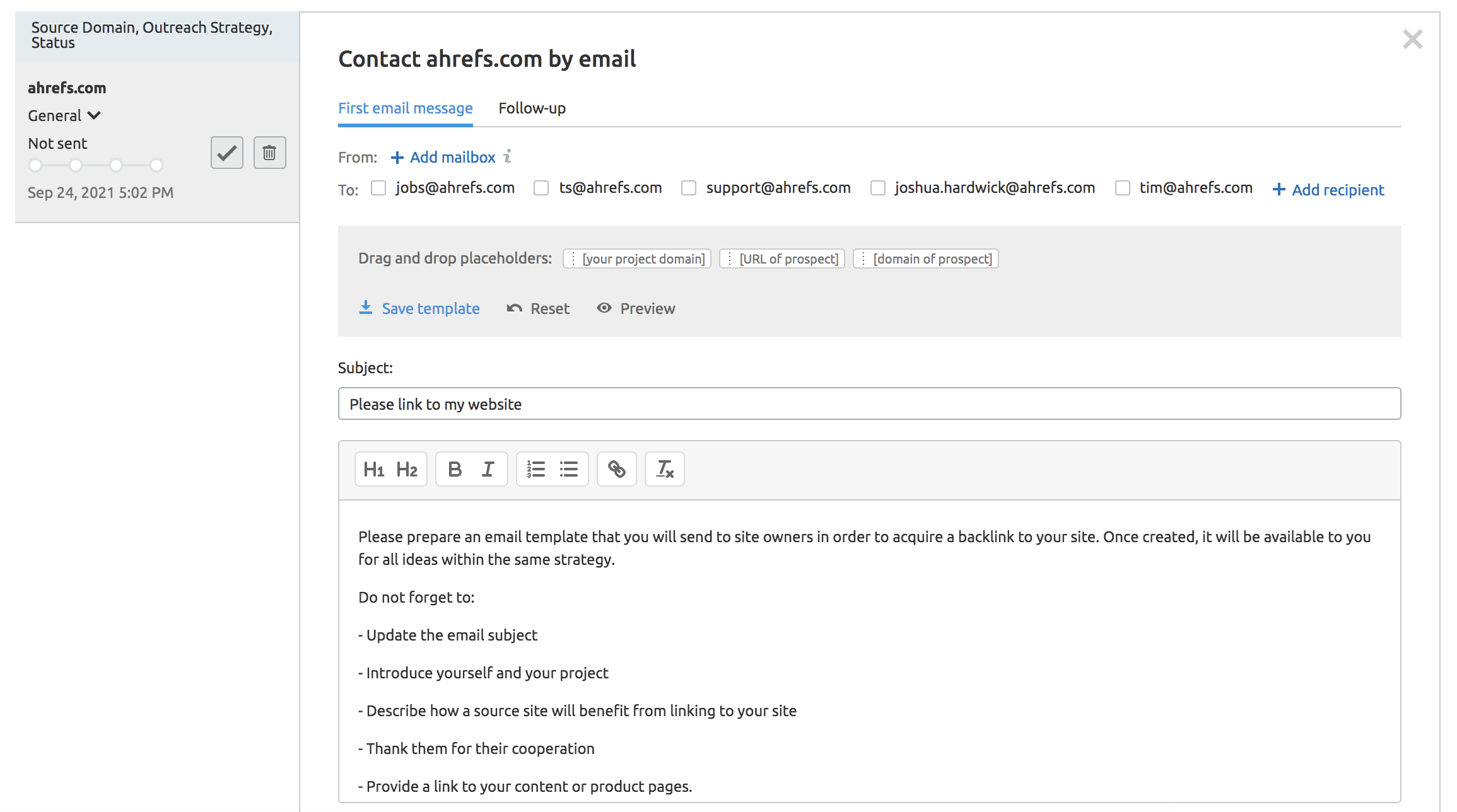 We can outreach to Ahrefs using a set template or a custom one, and SEMrush provides what it deems to be the most relevant emails. We can also go directly to relevant blog posts within Ahrefs and use the Hunter extension tool to directly email the author of a certain post that we feel resonates the most with the site we're outreaching for
You can repeat this process, and then outreach to prospects within the platform
This is just one very quick example of how you can do it, and naturally the more tools you can work with, the more quickly you can refine your outreach processes.
Outsourcing your blogger outreach
My approach is to use a blend of free and paid tools, as well as leveraging years of relationships with relevant, authority blogs and respected publishers. With the team I've put together, we're able to outreach at scale without affecting the quality of links that are obtained.
As outlined at the start, you can also pre-approve all publishers, and the content that is provided to them.
Got questions about blogger outreach, guest posting, link building or even more broader one about SEO? I'm all ears. Drop me a message and I'd be more than happy to answer any burning questions you may have.