HARO Link Building Service

Why Is Using Help A Reporter Out Such A Good Approach To Link Building?
There are many approach to link building, and whilst some may cost more than others, there are very few that have such a good payoff when it comes to time versus the quality of the link that can be achieved. 
What I mean by this is that, for example with blogger outreach, I can work to minimum metrics and place a high-authority link within a couple of weeks, but it the costs are quite high as I have to pay for multiple tools, pay my team to write content, and then no doubt spend time chasing the blogger if they miss the publishing deadline.
That's not to say that blogger outreach does not work, just that there are a lot of moving parts to it. 
With Help A Reporter Out, you can get by on the free version and place way higher-authority links than any blogger outreach campaign could dream of. I'm talking over DR60+ sites, and they're regularly industry-leading or even large national sites that you've no doubt heard of. 
With relatively little investment, you can get these types of links by having a HARO outreach process in place. Whether that's outsourcing to someone offering it as a service like me, or training your team internally, so long as you have responses ready to go to the three emails sent out each day, you can work with a bit of a numbers game approach and start to land the high-authority links that your competitors simply cannot. 
I won't go on about the process too much, but for examples the links I've built with HARO and more on how it's used, check out my guide on exactly how to use HARO for link building. 
How HARO Outreach Works As A Service
I've unknowingly been offering this type of link building as a service for years, and only recently thought to offer it as something that is standalone, in the same way that I've recently opened-up my blogger outreach service to agencies and businesses who are not already clients. 
As you might have guessed, at this level it's not just me working media placement and journalist outreach. I have very small team who work with me, specifically on HARO outreach and link building – here's how the process works. 
We have an initial call with you and/or your team to discuss exactly the site(s) you want features for. Whether that's on a white label basis if you're an agency, or if it's for your site as a business owner, that's totally fine (and we regularly work with both white label and commercial clients). 


Once we understand your business and the types of features we need to respond to, we will create a gmail account specifically for responding to HARO requests. The types of features we go after will be the more generic ones, and on rare occasions we may get in touch to ask for specifics as part of a response (for example if it requires some really detailed information that only you could provide an answer for in relation to your service area or business). 


We respond to the three HARO emails that are sent per day, focusing on responses specific to your industry, generic business requests and then any of the general requests (as long as they still relate to your site). 


All responses are done on your behalf, so we require a headshot and a brief bio – whether that's for you or your client. 


Example of a link I've placed with Help A Reporter Out
Using this site is almost a bit of an industry secret, so if you're not already using it then the best time to start is today! 
Using HARO has enabled my site authority to explode. Just have a look at the types of links I have to this site and you'll see which ones stand out based on their authority and relevancy – if it looks like a HARO link, it probably is! 
Here's an example response to an article that was published the following week, with an Ahrefs domain rating of 78. 
The request was related to content grouping, specifically looking for marketing and SEO responses. 
The Response: 
Content grouping is an incredibly powerful way to not only categorise content within analytics, but to also utilise the data to justify content strategies based on specific sections of a site (and those which are proven to have greater interest from a target audience). 
My tip for content grouping – Group using rule definitions and establish initial categories 
It can be very daunting for any marketer new to analytics to start with something like content grouping, especially when approaching a site that is filled with content that performs well. 
My advice would be to start by categorising content at the top-level, for example by categories or by blog subcategory. This way, you're making a start and you'll quickly be able to see how content grouping allows you to quickly jump into the data and identify any initial positives within the data; then you can focus on really drilling-down.  
This approach has helped me to justify content strategies for both my own sites, and the sites I manage for my clients. For example, I can identify top performers within a content hub section of a site, and immediately justify a specific section as a priority for content growth as I have the data at hand. 
I tend to group content by categories and filter within by traffic. 
The end result: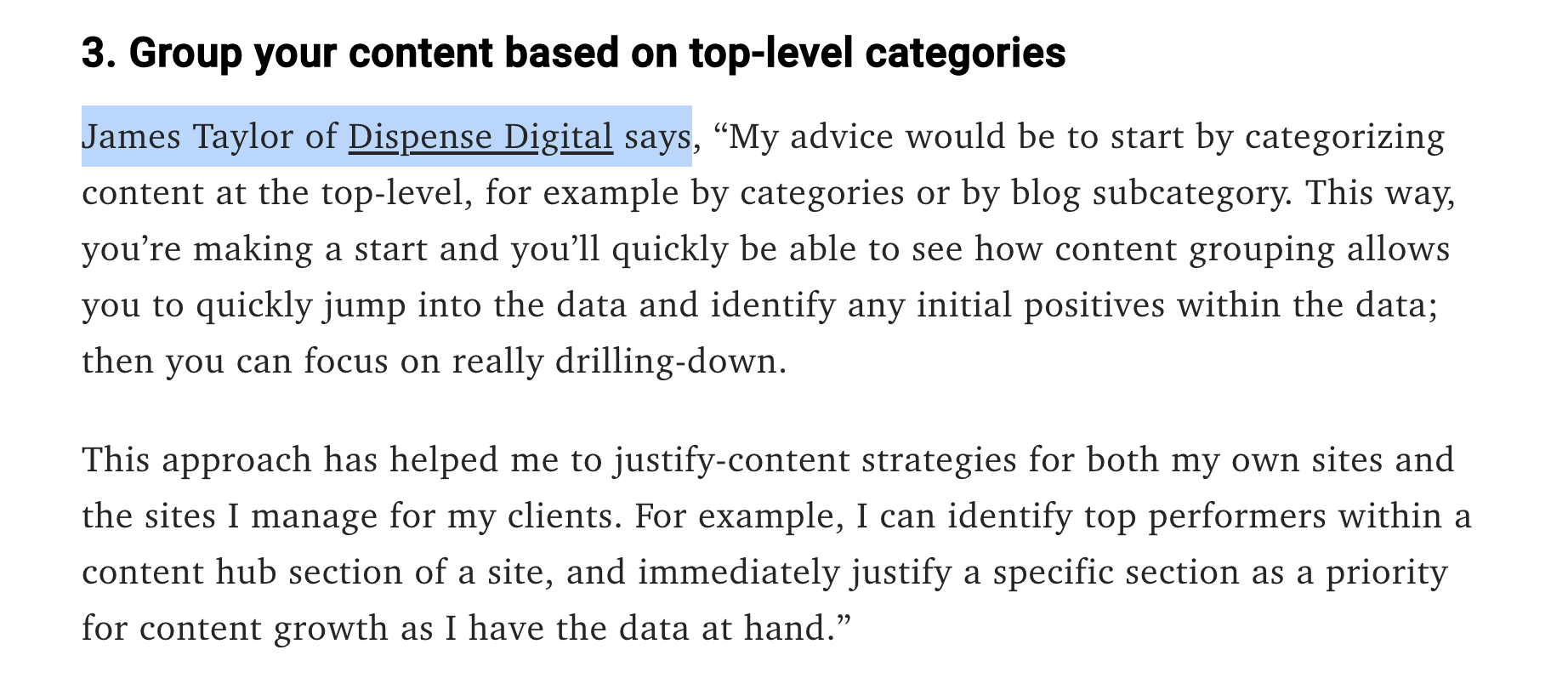 For more on this process, I've put a video together on the topic: 
Ready to get started with HARO?
If you're looking to drive some serious authority into your site over the long-term, then HARO is a fantastic option.
To get started, either fill out the form below or message me at

hello@jamestaylorseo.co.uk 
Common Questions I'm Often Asked About Blogger Outreach
How long do media placements tend to take? 
This process can take anywhere from 6-8 weeks. We'll be in constant contact throughout the process.
How is this billed – on a per-link basis? 
I try to work in batches of 5, purely based on the number of responses that will be sent out across HARO and its alternatives each day. The cost per link is £300+VAT. You won't be charged for any links under Ahrefs DR40. It's also likely that you may get over your allotted link amount – even though I stop outreach once the link order amount has been met, its likely that some of the more long-term deadlines and publications will go live. Extra links for you!
If you have a set budget based on the £300+VAT cost per link please just let me know and we can discuss the best way to proceed.
Is HARO the best way to build backlinks? 
There's no 'best' way as all angles of link building have their merits, however it's certainly one of my favourites when it comes to the levels of authority you can obtain from relevant sites.
Can I pre-approve the content you send out? 
As we're working with a lot of content and replies each day, the pre-approval option is not provided on standard HARO orders. If pre-approval is required, I'd be happy to discuss a bespoke quote which would factor in the additional admin time for sending and potentially amending each reply.
Can you guarantee follow/no-follow and the anchor of the link? 
I cannot guarantee whether your link will be follow/no-follow, or the anchor. It's likely that your link will be a branded anchor to the homepage and will be a follow link, however ultimately this is up to the discretion of the publisher. If you require follow links only, HARO may not be the best option for you (and I'd be happy to discuss my blogger/publisher outreach services).
Can I buy this service through your site? 
Not on my SEO  consultancy site, but you can absolutely buy it through my agency website in batches of 5: https://completewhitelabel.com/haro-link-building-service/