Wait… There are SEO podcasts??
Don't look so shocked! You've got a lot of catching up to do!
Listening to podcasts is one of the best ways to learn and receive information wherever you are. Podcasting is the best way to find a niche subject and hear all about it for hours on end until your ears fall off!
Many different podcast topics exist, from fashion to true crime to our one true love, SEO. The spectrum that podcasts cover is endless. They cater to every type of listener, whether you are an information fiend who just wants facts and that's it, or you are more swayed and captured by banter-filled, fun commentary about the subject you love. Whatever speaks to you is in podcast form; you just have to find it!
So when it comes to SEO podcasts, you may be swamped with the options. With thousands ready and available to listen to and filled with interesting facts and advice, picking the best one for you can be pretty tricky!
Here is a compiled list of the best 10 SEO Podcasts that I think are worth your time, are jam-packed with helpful information and are an absolute must listen.
10 of my favourite podcasts for all things SEO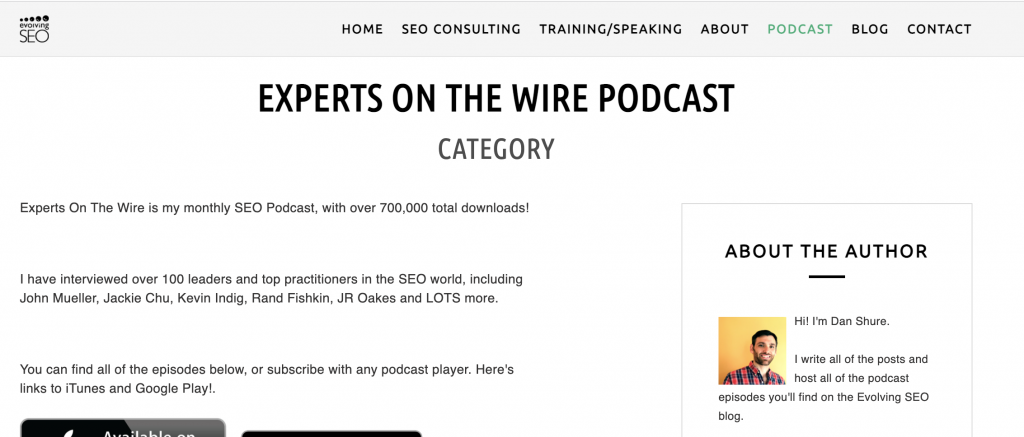 From the founder of Evolving SEO agency and with experience in television and music production, Dan Shure is the host of the monthly broadcasted show, Experts on the Wire.
In each episode, Dan deep dives into all aspects of SEO, from tools and tactics to interviewing people within the industry who have something to say that can help others maximise their full potential within SEO.
Although not as regular as some other podcasters, Dan Shure's podcast, Experts on the Wire, is worth the wait. Each episode features a deep dive into various sides of SEO and keeps you entertained throughout!
You will want to listen to Experts on the Wire all day, every day, and with it being available on Apple Podcasts and Stitcher, that wish will become your reality, so why not go and listen to Experts on the Wire today!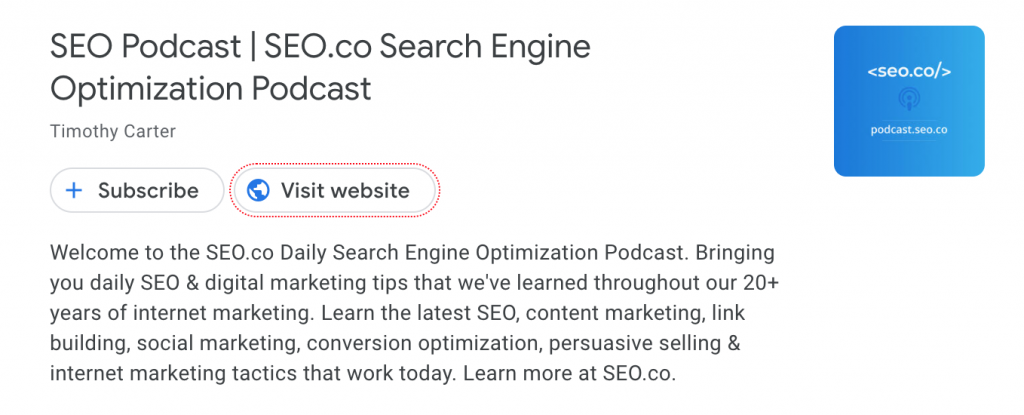 With over 20 years of experience in internet marketing and a successful SEO agency, SEO.co, Timothy Carter's SEO Podcast is one for the list without a doubt. SEO Podcast is perfect for those looking for valuable bite-sized tips that can be listened to and implemented in under eight minutes with quick, easily digestible daily episodes!
If you are looking for a light-hearted, fun infused podcast that doesn't take SEO too seriously, then this may not be the podcast for you. But if you want incredibly resourceful, easy to listen to and well-informed SEO advice and guidance, then the SEO Podcast is most definitely one to look out for!
One of the best things about the SEO Podcast is that he uploads daily tips and tricks, so you never have to wait long for your next piece of helpful information. From beginners guides to outranking your competition or giving advice on web design and development.
Timothy's SEO Podcast should be on your watch list regardless of whether you are a beginner within SEO or a pro SEO agency founder looking for some extra content. With it being available on Spotify and Google Podcasts, the SEO Podcast can be heard no matter where you are!
Getting into a career in SEO can be difficult, and many different people face distinct challenges when deciding on starting a career in SEO. That's precisely why Isaline Muelhauser has created the Work in SEO Podcast.
She wants to ask hard questions and find the resolution to many people's difficulties within the industry. Whether discussing bullying in the workplace or being an older person wanting to start a new career path, Isaline isn't afraid to delve into the nitty-gritty and help those of diverse backgrounds navigate the complex world of SEO and Marketing.
Work in SEO is a weekly podcast where Isaline covers loads of varying career based problems and offers advice on how she faced the challenges she was presented with. So if you are a Spotify or Apple Podcast listener, then get onto Work in SEO and learn more about SEO as a job and everything it entails.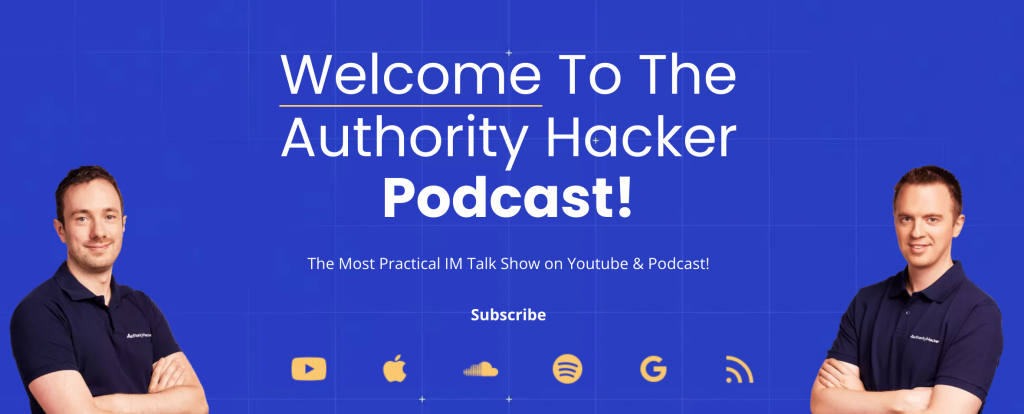 A conversation is the best way to describe The Authority Hacker Podcast, with hosts Gael Breton and Mark Webster, both accomplished SEO professionals discussing and casually informing their listeners about the difficulties within their SEO experience and how they overcame them.
With the perfect balance of banter and helpful information, Gael and Mark, over the 250 or more episodes produced, have really got their content creation down to a fine art and will talk about anything and everything. From how they build and sell on websites to answering SEO questions that others would rather ignore. The Authority Hacker Podcast is one to keep an eye out for.
The Authority Hacker Podcast has a new show out every fortnight, so you will never get bored of constant uploads and have time to miss them, but not to the point of wondering where they have gone. Gael and Mark's Podcast is available on Spotify, Soundcloud, Stitcher and Apple Podcasts, so finding them and The Authority Hacker Podcast has never been easier!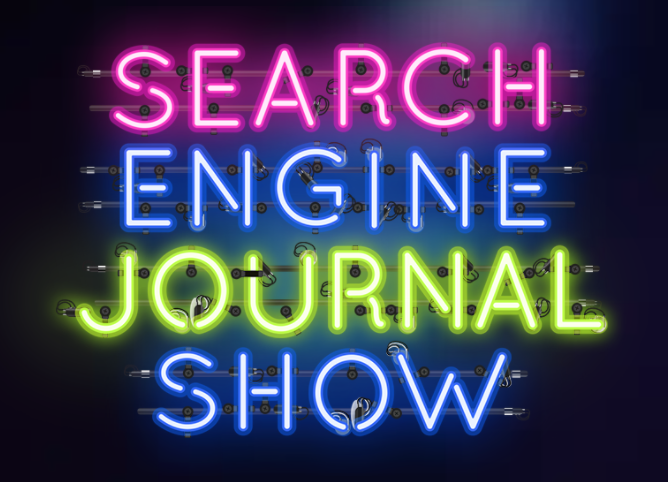 For any of the seasoned SEO Professionals out there, The Search Engine Journal Show is the one to listen out for. Created in 2014, this podcast has evolved into THE podcast to listen to if you are any kind of SEO expert. With its brilliant hosts, Brent Csutoras, Danny Goodwin and Loren Baker, and it's the even hotter status of guests such as Gary Illyes from Google, this podcast will not disappoint!
The Search Engine Journal Show talks about all things technical SEO, from crawl management to trending SEO topics floating around the internet. Alongside their regular giveaways and contests that the listeners can partake in, you will not want to miss the next episode of this podcast.
With episodes coming out every two weeks, you will always be ready and anticipating a new and exciting show. With it being available to listen to on Spotify and Apple Podcasts, The Search Engine Journal Show can be accessed by nearly everybody; so what are you waiting for? Get listening to them today!
If you want a clear cut, a no-fuss podcast that will give you the SEO insight you have been craving? Then, Voices of Search is the one for you. Made and hosted by Benjamin Shapiro, you can expect episodes that are quick to listen to but also full of the vital information you can use in your everyday SEO life!
Mainly focusing on valuable tips like how to optimise your content or how social media impacts SEO, Benjamin has designed Voices of Search to be 10 to 20 minutes of frankly helpful advice rather than technical rambling that beginners in the industry may not understand.
The Voices of Search Podcast has new episodes available every two days, so you will always have a quick lesson to learn no matter where you are. It can also be listened to on many different platforms, from Spotify and Apple Podcasts to Google Podcasts; you can enjoy this podcast nearly anywhere you like to listen.

So you need an SEO podcast that will help you understand and figure out your next moves within the industry and help you grow and build on those already great SEO skills you possess? SEO 101 Podcast is for you! With fantastic hosts Ross Dunn and Scott Van Achte behind the wheel, you are guaranteed unique, intelligent perspectives whilst also giving out the comedy aspect.
SEO 101 Podcast covers all you need to know about SEO, from keyword research tips to essential starting points like Google Core algorithm updates. So, whether you are a complete beginner who wants all the knowledge you can get or just looking to refresh your brain on some of the classics, this podcast will definitely be your new favourite!
With episodes being approximately 30 minutes long, you can listen to SEO 101 Podcast comfortably in the bath or on your way to work. SEO 101 Podcast has a new show out every three weeks, so definitely have some more regular podcasters in your library, too, so you're not twiddling your SEO thumbs waiting for the next episode. You can listen to SEO 101 on any of these platforms: Spotify, Apple Podcast, Stitcher, iHeartRadio and Soundcloud.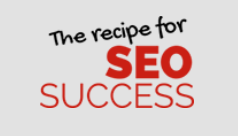 "Newbie" or "Techie" is the question? The Recipe For SEO Success doesn't want to be wasting your precious time, so with either one of these titles within the episode description, you will know right away whether this episode will help you out or not.
The Recipe For SEO Success and this brilliant concept was thought up by the fabulous Kate Toon, who, as a host, is exciting, engaging and funny and will make listening to SEO facts even more compelling. Not only that, but with her arsenal of SEO knowledge, you will not be disappointed in the factual department, and she even has influential guests like Bill Slawski to talk about their own personal SEO experiences and the answers they found!
Every two weeks, The Recipe For SEO Success is sure to help you learn something new every time you listen. They are available on Spotify, Stitcher and iTunes, so you can also listen wherever you like!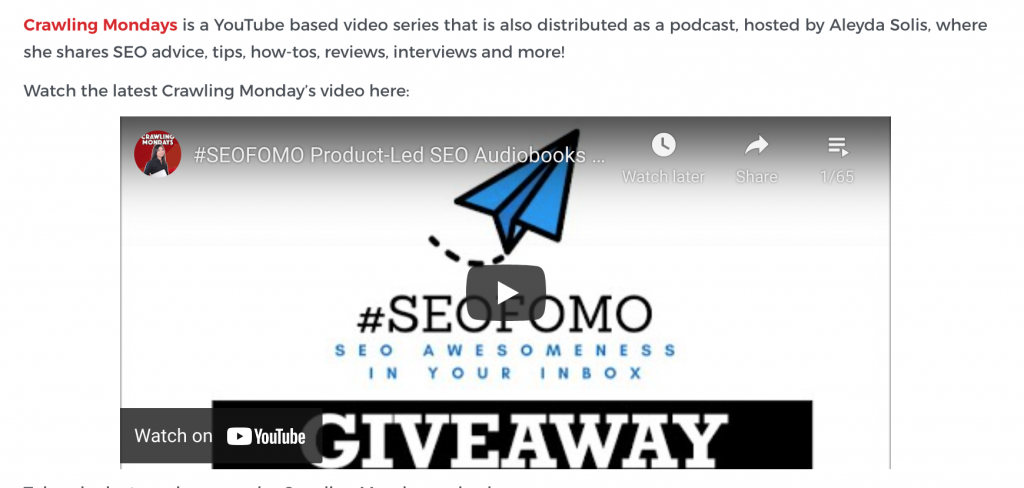 Being a woman in the SEO industry can be a challenge within itself, especially in a world that is so dominated by males. That's why Women in Tech SEO advocate and speaker and SEO Twitter royalty Aleyda Solis created the Crawling Mondays Podcast. Her episodes not only shine a light on these issues but also give SEO learning opportunities to those who may not have had the means to learn them anywhere else.
Aleyda discusses a wide range of topics on Crawling Mondays, from SEO Strategy to how-to tips on SEO basics to give others the headstart they may be looking for or needing. She also invites amazing guests like Lisa Paasche and Marie Haynes to come on and talk about these topics and their own struggles and accomplishments within the SEO industry.
Available every month, you can schedule when her next show will be available, and they are on Google Podcasts, Spotify, Anchor, YouTube and Apple Podcasts, so you have so many ways to catch her newest episodes.
You'll probably already be aware of Crawling Mondays if you're in the SEO space, but if not, make sure you check it out!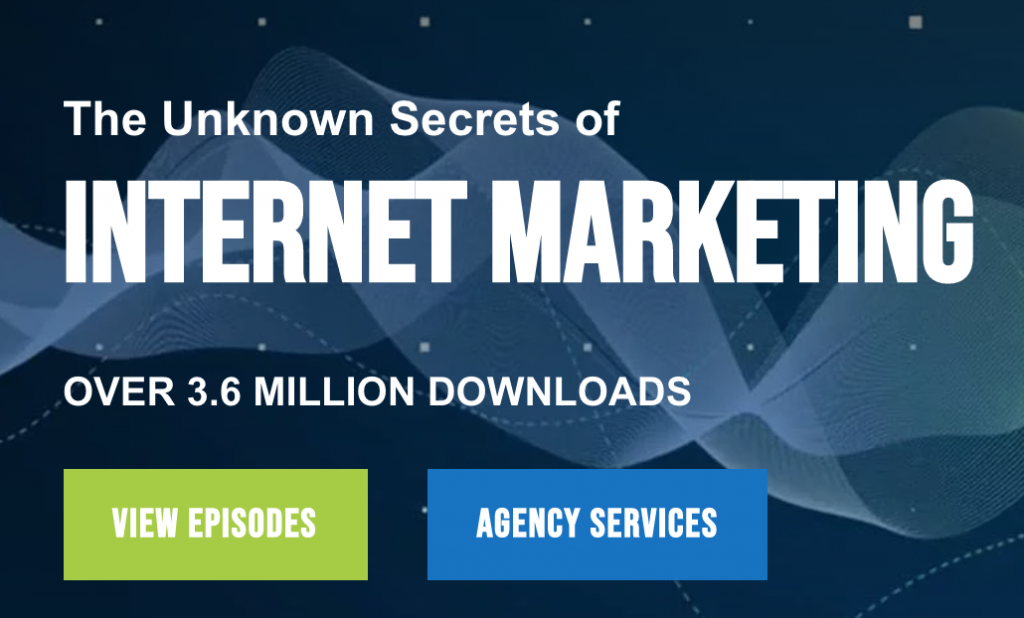 With over 3.6 million downloads and over 500 different informative episodes, The Unknown Secrets of Internet Marketing Podcast is definitely up there in popularity and quality content every time they upload.
The men behind the podcast are SEO specialist duo Chris Burres and Matt Bertram. They have a collective SEO knowledge that is unlike any other and are open and honest in sharing that knowledge with their listeners.
The two first crafted the podcast back in 2009 and built it to what it is today.
The Unknown Secrets of Internet Marketing have covered all kinds of SEO subjects, from navigating local SEO to Google algorithm updates. They talk about it all and even have guests weigh in on these topics to give their listeners something new and exciting to look forward to every episode.
New episodes are available every two weeks, so you are never waiting long for a fresh piece of SEO advice. You can listen to them on Soundcloud, Podomatic, Spotify, and Apple Podcasts.
Should you start your own SEO podcast?
In a world flooded with podcasts, should you look to be starting your own? My answer to this is always the same… yes! Why wouldn't you want to at least give it a try? SEO is all about learning from industry experts and people who are actively doing search engine optimisation. If you feel like you have something to share, then go for it!
What are the benefits of listening and learning from an SEO podcast over other mediums?
Podcasts are long-form and can often be found across multiple platforms. In my opinion, they're just very easy to listen to and can played when you're working, going for a running or just chilling out. They're super accessible and are often free… what's not to love?
Final Thoughts
So next time you are sitting and wondering what podcast to listen to next or how to better yourself in the SEO world, maybe look up one of these podcasts to help you out. They are a great way to fit extra information into your already busy day and can be funny and factual at the same time!
SEO is forever evolving and changing, so why not find a podcast that will help you keep track of those changes with absolute ease.
If you liked this post, you'll also like: