Looking to get away from the Amazon Affiliate Programme?
So, I'm sure you've heard the news about Amazon slashing affiliate commissions pretty much across the board. I don't really want to go into too much detail about exactly the areas that have been hit. I'm sure you've already heard the news and there's already loads and loads of other articles and videos discussing that in more detail. And, what this post is about really is just to look at some alternatives with examples of my sites that I've just started.
It's actually kind of come at a time where personally I was moving away from Amazon anyway, especially as the general scope of commission is just getting worse.
I've got is two examples of brand new affiliate sites and they're also not expired domains or anything like that.
The first one is much more built out than the second one. So the first one is in a niche that I have a feeling is going to do really well. And so, that's had a lot more attention, both from me personally writing the content and my girlfriend doing all the design.
I also wanted to say that I completely empathise with people who only have affiliate sites that are monetised with Amazon. But it just goes to show that you just can't rely on one source of income when you're a sole trader or a contractor or however you want to put it, whether a freelancer or just in business in general. It's like running an agency and just having one client.
So, like in any business, it's always good to have your income streams as varied as possible. And I totally understand that that's not what you want to be hearing or reading if you've been hit quite hard by these commission changes, but it's certainly something to consider moving forward. And for anyone reading who's just starting out, I think you're in a better position than most because you can just focus on getting the consistent traffic to your sites first.
And then, you have this breathing room to look at private affiliate programs. You might even want to be focusing on Amazon in the future, but this is just kind of looking at the thought process from someone like me who's been there for a little bit longer than you might have starting off.
Also, there's always going to be an affiliate program out there for you anyway based on the types of products that you sell, unless it's massively obscure. And, more importantly, please ensure you do your research before hand anyway before selecting a niche.
You can see my thought process is going into these two sites and hopefully it'll be a bit of inspiration for anyone who's kind of stuck and looking for where to go.
You can also see a walkthrough of the sites in the below video (which this article is based on):
Amazon Affiliate Alternative Example #1
Site: https://adultstoyguide.com/
Programme: Love Honey Private Affiliate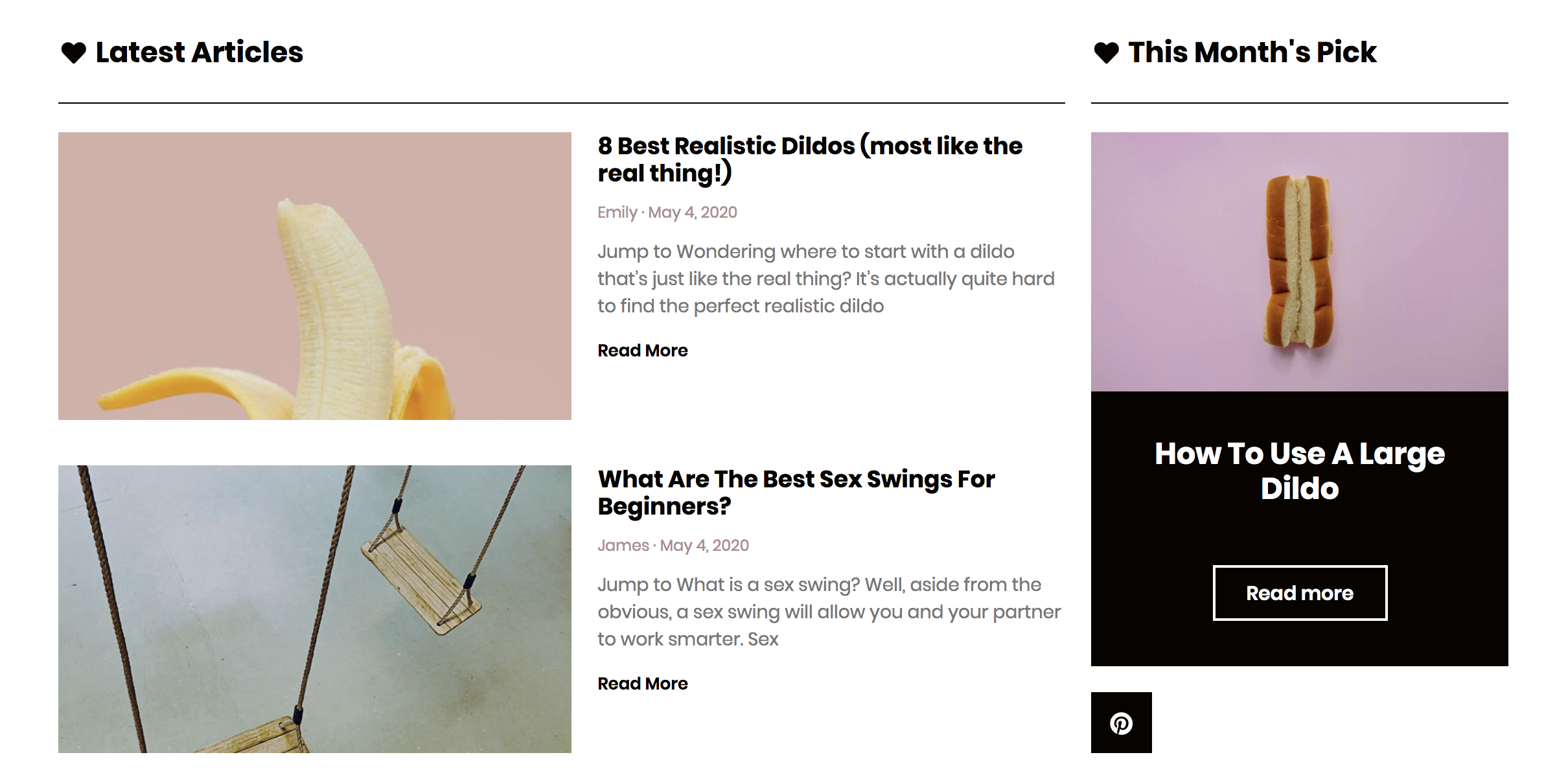 So the first site, and I can't look at it without laughing, is adultstoyguide.com. It's on a totally fresh domain, and no guesses on what the content is about. So there's two reasons that I started this site. So the first one obviously came from that initial conversation of what are people going to be buying during a lockdown or, more specifically, what are bored couples going to be buying when they're stuck at home? And then also I wanted to show how you can put together a stats and data landing page without having to actually pay for the data too.
The thought process for breaking down the categories of the site comes from how I approach all my affiliate sites. Content is split between these bigger buyer's guides, FAQ's and singular product reviews. There's endless content around the adult niche and then also just individual reviews in terms of the depth of products in the adult toy market, so again it's not like we're even going to be stuck for content ideas here.
This ties into the affiliate program that we've gone for, which is Love Honey. They're totally international and pay up to 19% commission, and there is a 30 day cookie. So it's already miles better than Amazon!. And they're just a proper reputable site. I'm sure most people will have heard of them. They're very similar to sites like "Ann Summers" and those types of stores.
The main point I want to show as a focus for any affiliates looking to create a 'link bait' type of landing page is this industry stats page.
My girlfriend's done a really good job of clean design on the site and it just looks really nice. We're also only targeting stats related to the industry.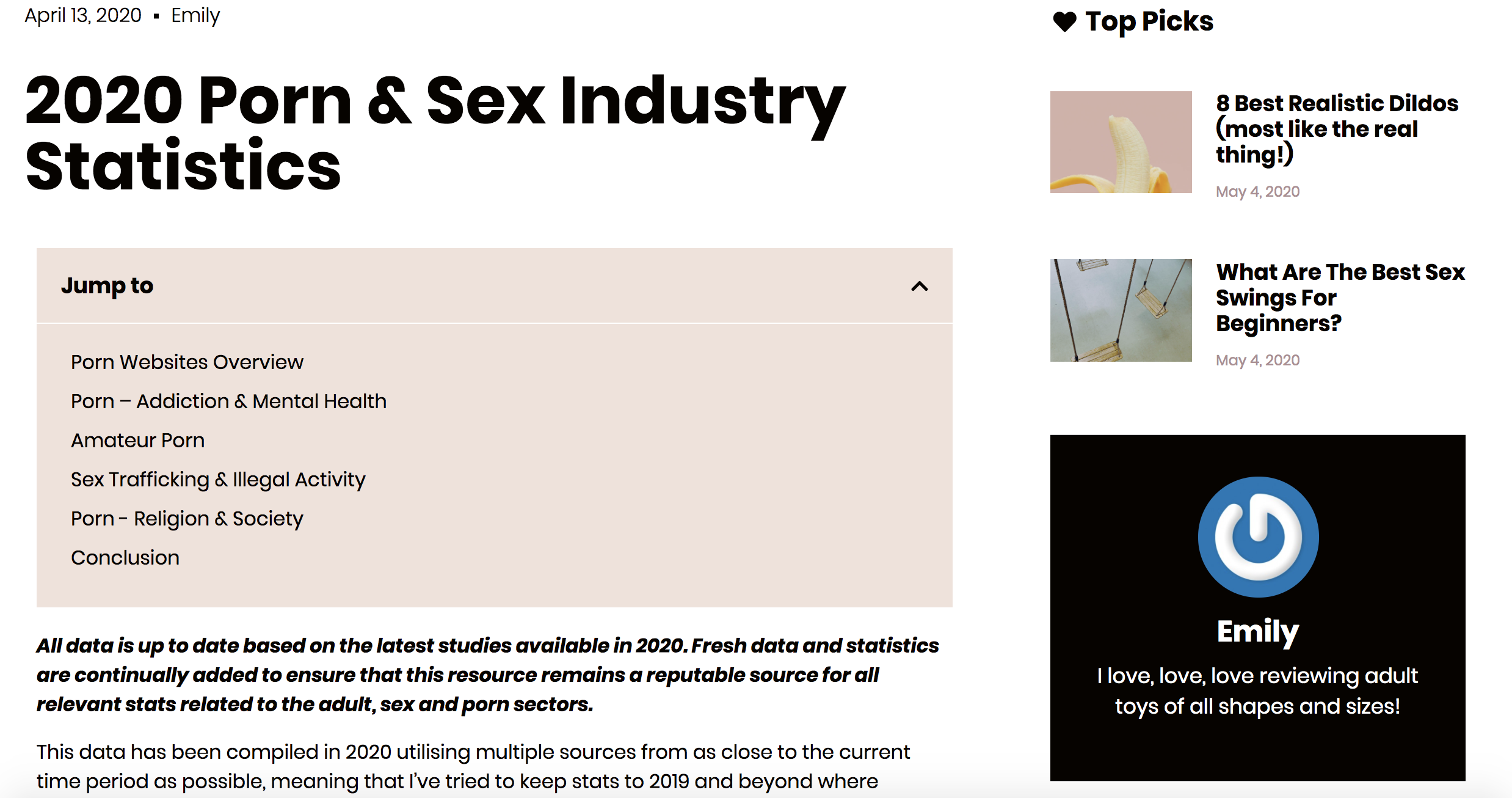 I pulled the stats from public press releases and Statista. Also, by splitting your stats data into sub categories the way I have you're then able to search for data within that category, making it easier to find really specific data sets.
The goal with the landing page is to use it as its own authority, which will be passed-on to the very blatant internal links that I am targeting at the bottom of the page. I also think that a blatant internal link approach is much safer than shooting external links to those pages with similar anchor text. And also in terms of building links to these types of pages, it's a very, very natural page to have with a whole variety of links. I think building up this kind of a stats and data landing page is going to work much better for you in the long run because as that page starts to grow, your site will naturally grow in authority, because it's just bound to get links anyway.
So, in terms of the content, I've written it all myself. Like I said, I wanted to spend more time on this site personally. My girlfriend's put in a lot of time in doing the design and she's done a really good job.
In terms of link building, all I've done is I've registered it as a business and shot some citations I bought from Fat Joe. It's just a package of 25 citations. The links don't really do much for anything, but it's just a true signal. I think a very natural bunch of links to get in for any new business starting, it just so happens that this is an affiliate site.
Amazon Affiliate Alternative Example #2
Site: Vintage Home Guide (since redirected to https://spotlightideas.co.uk/)
Programme: Etsy via Affiliate Window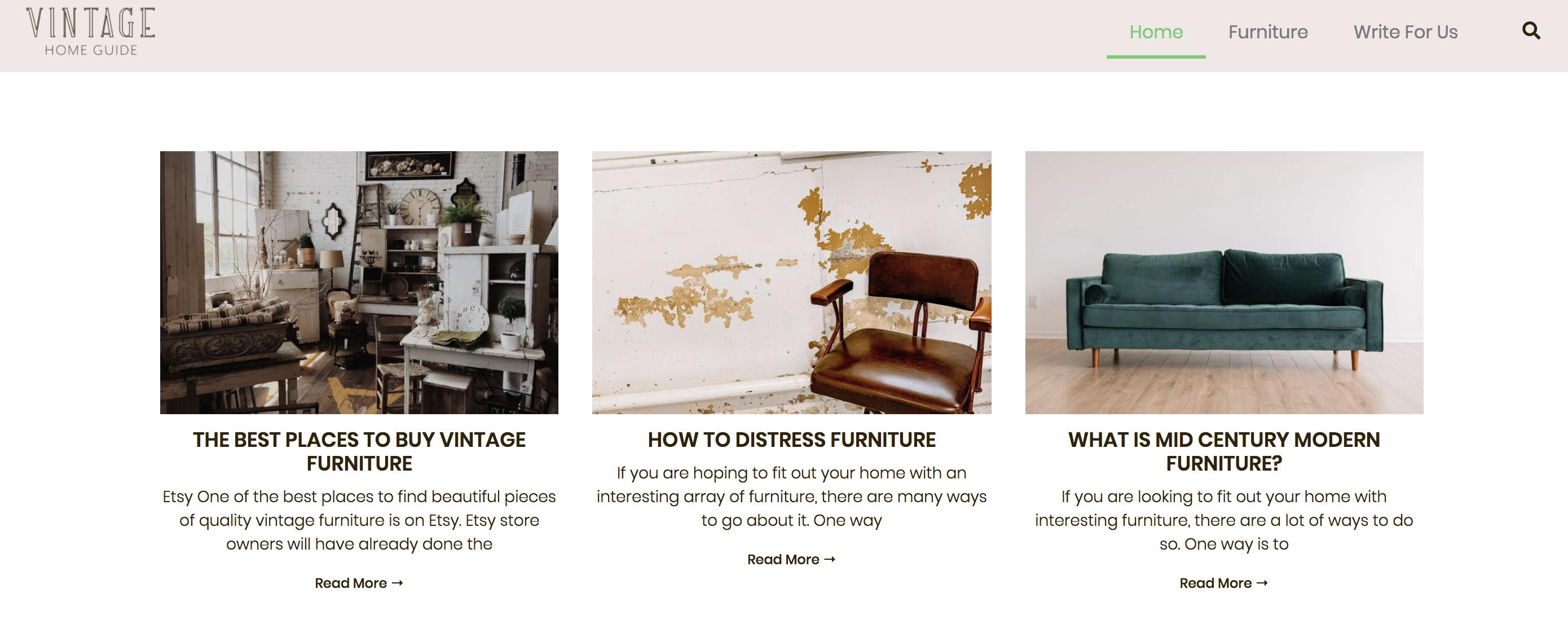 Site two is Vintage Home Guide. This one we've done a lot less on compared to Adults Toy Guide. Vintage Home Guide is another one my girlfriend's designed. Another really clean design and we've gone for more of a blogger template and very, very clean, neutral, UX that has a Pinterest feel to it. And all we've really done there is stick to more FAQ content, rather than the larger buyers guides from Adults Toy Guide as a lot less time has been spent on this one.
In terms of content for the site, this one was all outsourced. It was done pretty cheap just because I wanted to get the content up there. So, if you're flicking through it, you'll notice the content isn't amazing. It's certainly nowhere near as in-depth as the one on the first site that we went through.
We're trying to target keywords around that wider area of vintage home decor and interior design, with an FAQ approach just to test how an affiliate site does by only targeting FAQ or 'response post' content.
So, there's just two quick examples of how you can go after niches that don't rely on Amazon. For everyone that's hit by Amazon, there's thousands of private affiliate programs and networks like Affiliate Window or others with thousands of private affiliate programmes to choose from.
You can just sign up and skim through it. You're bound to find something related to the niche that you're targeting. And if you don't, you can just directly approach online stores anyway. A lot of the times they have their own affiliate programs and even if they don't, I've spoken to stores in the past where they've set up their own affiliate program off the back of me asking them to. It's win-win for both of us, and especially now because obviously Amazon are cutting commissions across the board anyway…
Conclusion
This wasn't intended to be that type of post or guide that lists literally every alternative to Amazon affiliates. Rather, I wanted it to be a way for you to see the thought process behind choosing a niche, how the programmes I choose then match that niche, and also just being super transparent with site examples so you can see what a beginning product looks like!
Any thoughts or questions please do comment below and respond as soon as possible.