Wondering if Affiliate Window is still as good in 2022 as it has ever been?
In a short answer, yes. Affiliate Window, or Awin as it's now known, is arguably one of if not the most popular affiliate programme in the UK. This is largely down to the number of retailers and sites that are listed on there, so it's fairly easy to find a retailer, eCommerce store or specific product range related to your blog or site.
It's also fairly popular globally, so if you're reading this outside of the UK then don't worry, you'll still be able to sign up and take advantage of the platform with advertisers relevant to your location.
I initially discovered Affiliate Window when working as an intern for a cashback site, and was taken back by the sheer number of legitimate retailers that were on the platform. Then, after learning how to properly implement an SEO strategy, I used Awin to my advantage and haven't looked back since.
In my opinion the platform has only gone from strength to strength, so it's clear that I'm a fan. But, this is an objective review and I do have some legit issues with the platform too, so let's get into a bit of an overview first before looking at what they do well and what they can improve.
**Disclaimer: If you sign up through my links I get a small commission, but only if you make money after signing up. So, don't let me down (or, let me down, up to you…)!
Sign Up
Platform Overview
From a purely aesthetic standing, the platform is very easy on the eyes and simple to navigate. It's easy to see where you need to go to join a programme, or even just to get support.
Upon signing up, the platform will prompt you to fill in your profile in as required to be accepted into their programmes, therefore there isn't really anything you need to know at the initial point other than to follow instructions to ensure that you have a full publisher profile:

From the dashboard, you'll see:

Total Earnings (both commission that is tracked and untracked commissions combined)
Performance By Region 
Monthly Periods By Comparison (Yearly and Monthly Options)
Advertiser Search
Tracked Commission
Today's Top Performing Advertisers 
As you can see, the platform let's you see the status of your commission from the initial tracking, and the steps through to it becoming approved and cleared (which is great for raising any commission issues as you can see them from the start).
You also get click and commission graphs, so that if you're seeing a load of clicks and no commission then it's likely there's a problem with a programme (or their conversation rate is just shocking). As a publisher can build custom reports too, but that's probably a blog post for another day…
Signing up for advertisers and requesting to join programmes is also very straightforward, and not something I want to waste your time reading.
Advertisers
You might be wondering why advertisers don't just sort out their own internal affiliate program. And, it's a legitimate question, but just think about it practically. Managing an affiliate program from both sides of the coin is no doubt hard work, and if you're a large retailer then it's going to take a dedicated in-house team to be managed effectively.
So, joining a well-known network like Awin is easy for both advertisers and publishers looking to join either one, or multiple programs.
I haven't signed up as an advertiser personally, so it's hard to say about the experience that advertisers get on their end. However, the advertiser listing on the site is as logical and easy to use as the rest of the platform, and as a publisher you're able to filter down to quite a specific level so that you can search by niche or category for your site: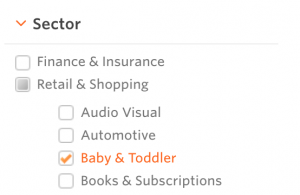 You can also filter by Region, Product Feed and Payment Status. In terms of Sectors, Awin presents publishers with 4 main categories that are then filtered down:
Finance & Insurance 
Retail & Shopping 
Telco's & Services
Travel
Within each section, you can also either choose the top-level category or a lower, more specific category level (like the screenshot above), then filter based on the following conditions:

This is a fantastic feature that can save you a lot of time if you're simply looking for the highest paying advertiser within a broad category, or if you want to filter down and sort by something like the advertiser with the highest conversion rate in the car rental category.
Publishers
Awin isn't the type of platform that you just sign up to and forget, which seems to go both ways for advertisers and publishers.
This would also provide another explanation as to why so many advertisers are signed up to the platform. Their added integrations and features really help to build a relationship between publishers and advertisers, and as a publisher this can provide you with some legitimate revenue sources aside from the standard affiliate model.
This expansion offering for publishers is categorised within the 'Toolbox' section of the site: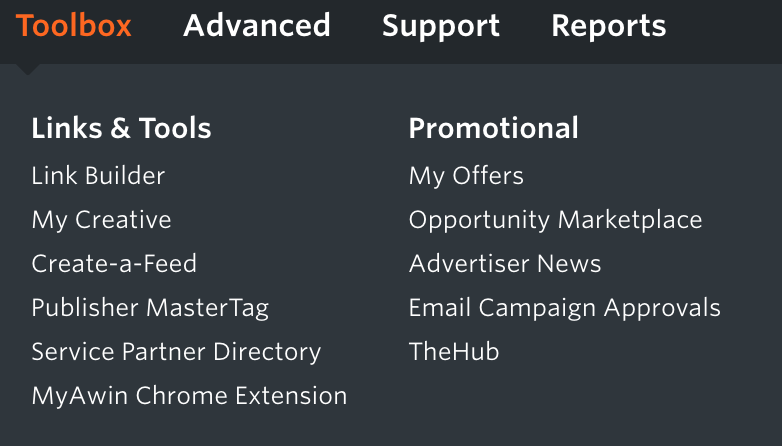 Whilst not every link here offers an additional monetisation offering, there are some important features that I feel set Awin apart from its competitors, and shows that they do actually care about both the experience of the publishers and ways to monetise publisher sites:
Link Builder: I'm not a massive fan of the Link Builder within the platform. However… Awin also has a Chrome extension called 'MyAwin' which is brilliant, and saves so much time in building links compared to doing it through the Link Builder.You just visit the page you want to build an affiliate link to, click on the extension and in a few clicks you've got your link. You can even add tracking from within the extension too, and shorten the URL if you wish. It's also listed in the Toolbox dropdown menu, so there's no excuses to not get it.
My Creative:  This is just a very easy way to get quality banners from your approved advertisers. You don't have to worry about making your own banner ads or asking for them directly, just use the ones they provide. These are also updated regularly for holidays, seasonal offers etc.
My Offers: These are upcoming and active offers from all advertisers, which gives you a good way to see the types of commission structures and offers that certain advertisers provide at-a-glance.
Opportunity Marketplace: As a publisher, you can set specific opportunites for advertisers either visiting your profile, or accepting you onto their platform. For example, if you run a website on hotels in London, you may then want to set up an opportunity for London-based hotels to publish a sponsored post on your site.The opportunity marketplace is where you can really get creative with extra ways to monetise your site, and set opportunites based on the types of advertisers that reflect your site, and the types of advertisers that your visitors will trust. Some examples of opportunites you can create include:

Sponsored Content
Website Takeovers
Homepage Banners
Niche Edits / Link inserts into existing content
Newsletter Inclusion
Social Media Takeover
Pros
It's no secret that I'm a fan of Awin, so I'll keep the pros short.
It's a great platform for both beginner and advanced affiliates because it's so easy to use, it's simple to find the types of advertisers that are relevant to your site(s), and the opportunity marketplace provides all site owners with the ability to take the monetisation of their sites to the next level.
Cons
It's quite hard to search for specific product types, and can be frustrating if you don't know the specific retailer you're looking for.This seems to be an issue with an ambiguous internal search system, so I'd recommend you get around this by first doing a simple Google search around the types of stores you want to promote (that you know sell the products related to your site), then see if they're listed in the Affiliate Window Advertises section.
Whilst payouts are generally very good, some programmes can be worse than others. This isn't really the fault of Affiliate Window, however you'd think that they'd be doing everything they could to have all advertisers on the same types of payment terms that make sense.
Any programme can be cancelled out of the blue, and without prior warning. The platform will send emails where possible, however we have experienced programmes either closing, or slashing commissions prior to shutting down completely.This was an issue with now defunct sites like GetMeIn, which was a healthy earner for one of my travel affiliate sites until the ticket industry decided to pretend to have a conscience!
Awin Goodness
Conclusion
Long story short, get signed up to Awin if you haven't already. And, if you have, start creating opportunities that are relevant to the advertisers that have already accepted you.
For any other affiliate platform reviews or if you want a no-bs look at a certain software or tool, drop me a comment below and I'll be happy to do have a gander. If you liked the style of this review you might like my SEMrush review too.
Oh, and if you're after SEO services and all that jazz, drop me a message. I can help you out.