Hey! I'm James. I provide freelance SEO consultancy services for clients of all sizes. From small businesses in Manchester to larger entities across the UK, I have a no-nonsense approach to SEO and provide quality services that deliver results.
I take the stress out of sEO with bespoke strategies based on what your website needs most.
for 6 years I've been a leading SEO provider helping UK businesses to grow their online presence and increase revenue using organic search.

From my Manchester base, I work with companies of all sizes to develop a bespoke search strategy that is ROI driven and focused on growth.
Point Domain Authority Increase
Taking a local website with no online presence to top three positions for national search terms
Within 4 months, I transformed the online visibility of SMC Premier, a contract cleaning company, using technical SEO, content strategies, digital PR and outreach.
Read the full case study
"Excellent and innovative marketing aids from start to finish, persistent and consistent results on ranking strategy, content writing and publishing all A1 grade. All you need in terms of selling, promoting and growing your business when it comes to digital advertisement. "
"James has been more than helpful and professional at getting our SEO setup and guiding us through the entire process. He has been both generous with his time, punctual and true to his word. Apart from that he is also incredibly personable and easy to talk to. He's made the whole experience very encouraging and couldn't be happier to recommend him to anyone looking for great SEO work! Thanks James!"
"We have a very good relationship with James and the team over at Dispense Digital. We've been using them for a good few months and we're highly impressed. Fantastic quality of work and very affordable, highly recommend."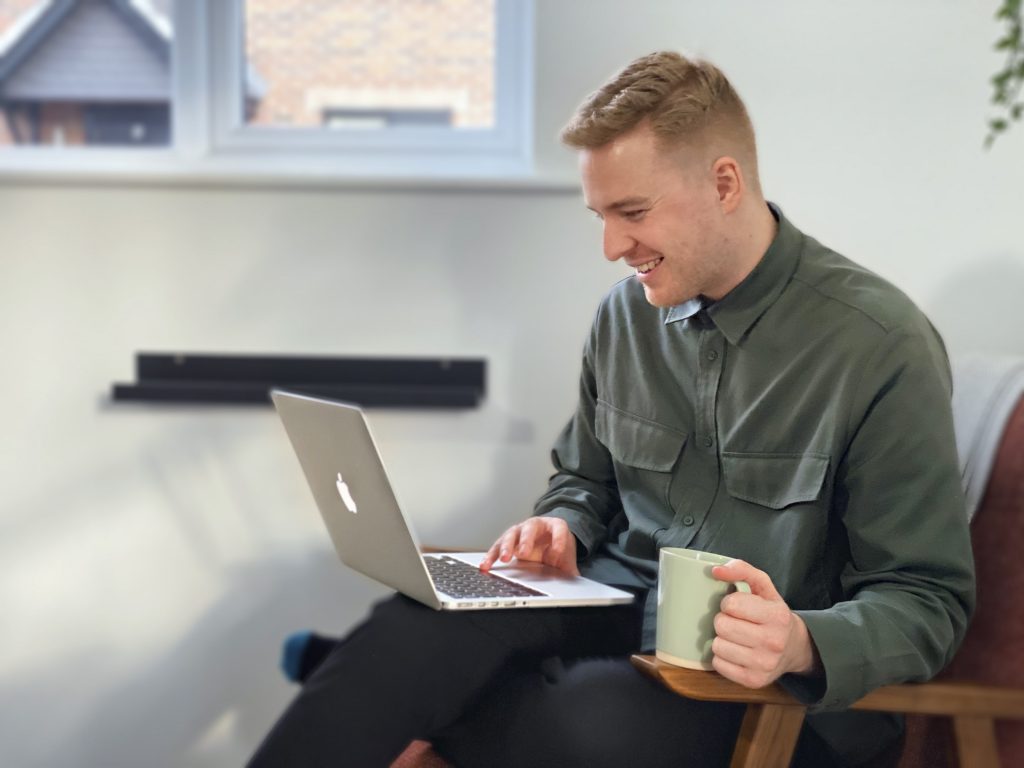 Let's Talk Digital Growth
About My Manchester-Based SEO Services
Whether you own a startup business and require marketing services, or work in marketing for a company looking for SEO consultancy, I can help.
Why me? 
Simply put, I understand how difficult it can be to get the marketing efforts of a business off the ground. From growing traffic and organic visibility, to ensuring the technical SEO health of your website is thriving, I integrate with business owners to remove any marketing headaches and implement a strategy that works.
Who am I? 
I'm James, I've worked in SEO in one way or another for the past ten years. Whether that's been affiliate marketing, working agency-side for firms across Manchester, or operating on behalf of agencies via white-label services, I have extensive experience across digital marketing as a whole.
From working with small businesses on their local SEO strategies and helping startups to grow, to transforming the way eCommerce sites perform online, I have a straightforward approach to both working with clients and delivering the results they're looking for.
I am now a leading SEO consultant, and from my Manchester-base I provide digital marketing services to companies across the UK, and even overseas.
Bespoke, Cost-Effective Digital Marketing Services
I understand that, for any business entering into the world of digital marketing, ROI is everything. My approach to SEO allows me to keep overheads low with a remote team (or working as a consultant myself), which means that I can either offer freelance SEO or agency services at a fraction of the cost of a larger agency. The only difference is that I don't have a fancy office to have meetings in… but I know several coffee shops that do the trick.
It's this mindset of being as fairly priced as possible that has enabled me to create very efficient processes for all aspects of my work, so that no time is wasted and every hour that is spent working for a client, is done so with a commercial mindset and an ROI-driven goal.
Do you trade as a business? 
Yes, I trade under Dispense Digital Limited, which is my core business. Dispense Digital is primarily a white-label SEO provider, and with a remote team we service agencies and freelancers across the globe. Having this remote network of experts also allows me to tap into valuable resources as part of my freelance consultancy work, at no extra cost to you.
Essentially, you receive the services of a standard agency without the high prices due to way Dispense Digital operates remotely (simply put, you're not paying to keep the lights on in a fancy office). On average, monthly contracts with Dispense Digital are 65% cheaper than standard agency, whilst providing the same results with a team of outreach specialist, SEO's and content experts.
Where are you based?
I am based in the heart of Manchester City Centre, working remotely from shared workspaces, coffee shops, and often from home. This approach means I don't have any expensive overheads to put on top of my SEO services, keeping the costs down for myself and ultimately for my clients!
Do you work with anyone else? 
When the occasion calls for it I will bring in additional assistance in the form of my remote team, parter of the wider Dispense Digital network. This remote team of tried and tested freelancers with agency experience allows me to scale services for clients without having to double prices and incur the costs of a fixed, city centre office.
What experience do you have in SEO?
I have worked both freelance and agency-side for over 6 years, most recently within a senior technical SEO role before dicing head-first into the world of freelance SEO. I also provide both agency and white label SEO services as part of my larger agency setup.
Can you provide me with a website audit? 
The complete audit I provide takes on average between 2-3 days, ranges between 10-25,000 words and is incredibly extensive in terms of the issues that are inevitably uncovered regarding the technical SEO 'health' of your website.
If you have had a recent rankings drop or have been hit by a manual Google algorithm penalty, get in touch today to learn more about the valuable information an in-depth technical SEO audit can provide.
Audits are a fantastic initial way to work with an SEO consultant as a means of outlining how SEO consultancy works, and also the issues 'behind the curtain' that need to be resolved as a high-priority. Whilst an audit isn't always necessary, for sites serious about their SEO it is a huge help as it allows me to understand (and outline): 
Your organic search competition 
The keywords you should be targeting versus those you currently deem as a priority 
Competitor data gaps – both backlinks and content 
Technical SEO quick-wins and anything that could be considered a blocker to your SEO success 
Whilst I don't fix these issues as part of the audit service, I can work with you via my ongoing SEO consultancy offering to resolve priority tasks and implement long-term strategies based on the data findings. 
Do you provide SEO across the UK, or just in Manchester?

When it comes to meetings and seeing clients in person, I would naturally prefer to meet at least in the North West! However, as is the nature of SEO work, I can provide my services remotely to any business in the UK looking to develop the presence of their website. In fact, I even have clients overseas, so working on a site remotely is no problem at all (and ultimately it means lower overheads, and a lower cost for the client). Given the current climate, and, at the time of writing, 99% of all meetings tend to be remote, so that is what I prefer. However, if you require us to meet in person then it's certainly something we can discuss. 
Do you offer ad-hoc or one-off services or am I going to have to sign a minimum contract length? 
None of my services whether SEO, content, link building, PPC etc are tied into a minimum contract length. Based on the current SEO 'health' of your website I'm completely upfront about how long it may take you to see results, however I do not believe in having clients sign into a minimum contract length (as I know that the work speaks for itself). 
Additionally, I do offer one-off services both via my SEO consultancy and my dedicated, remote white label agency. This could be something like a one-off technical audit, a competitor analysis, or even just a day of outreach to kickstart link acquisition for your website. 
What does an SEO Consultancy service look like in terms of a monthly breakdown?

It's a very typical SEO answer but, naturally, it completely depends on three core factors:
How much you have to spend on marketing each month
The current authority of your site in terms of historical work that has been actioned
What you actually need to prioritise, instead of a set scope of work (all my clients have bespoke strategies and no scope of work or strategy is the same)
For example, let's say you've had a bit of SEO work on your site in the past and it hasn't really gone anywhere for you. I do a quick visual check of your site and see that content is lacking, your site is a little slow, and it also doesn't have any quality backlinks. I'd then suggest the following:
A technical audit to outline areas of development for the site e.g. to improve site speed and overall SEO 'health'
A competitor analysis, including a analysis of 'gaps' in competitor strategies. This is both from a content and outreach perspective, so I can then use this data to put together a strategy moving forward.
Following the findings from the larger initial analysis pieces, a strategy is then put in place based on your budget and what we mutually deem to be a priority moving forward. In an ideal world, all clients would have the time and budget to focus on everything from link building, content, digital PR, technical SEO and even UX… but it's often unrealistic to do so within budget and time constraints.
Therefore, these larger initial analysis pieces give me the data and justification to outline exactly what your site needs as part of an ongoing SEO strategy, and to get started.
This is just an example approach. Please get in touch with me on 07393 286 400 to discuss putting a bespoke SEO consultancy strategy together for your site.