Is Accuranker one of the better rank tracking tools available?
Spoiler alert… It very well might be. I've always been a little sceptical with standalone rank tracking software, not because they're inherently bad tools, but because I was just so used to using the features I was already paying for that came packaged up in tools like SEMrush (you can see my thoughts on their tracking software in this SEMrush review).
What you're going to see in this review is a breakdown of Accuranker that aims to be both fair and brutally honest. Whilst yes, I am an affiliate for the tool, I don't want you thinking I'm holding anything back for the sake of a quick commission.
I've actually used Accuranker for a good while now, however for the purposes of the review let's look at it as if you're signing up for the 14 day trial, and exactly what the process looks like.
Now, enough rambling. Let's get into that keyword tracking-goodness!
Dashboard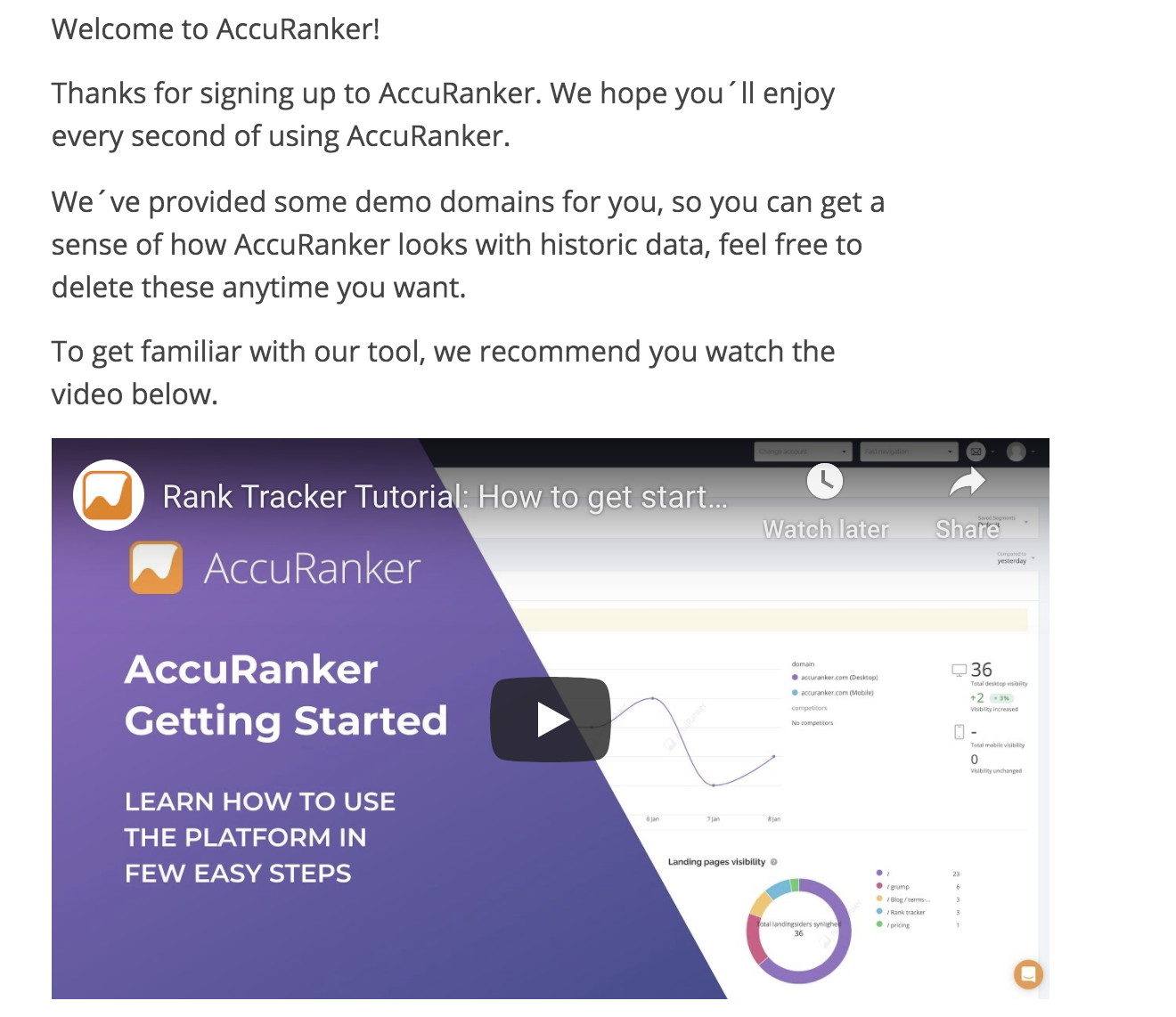 Immediately you're presented with a video option for getting started, or you can dive straight into what is a self-explanatory method of getting relevant keywords added, ready for tracking.
Dashboard Layout
Filtering
Adding a domain
Saved Segments
Compare Data 
So, what do we actually see when adding a site to track?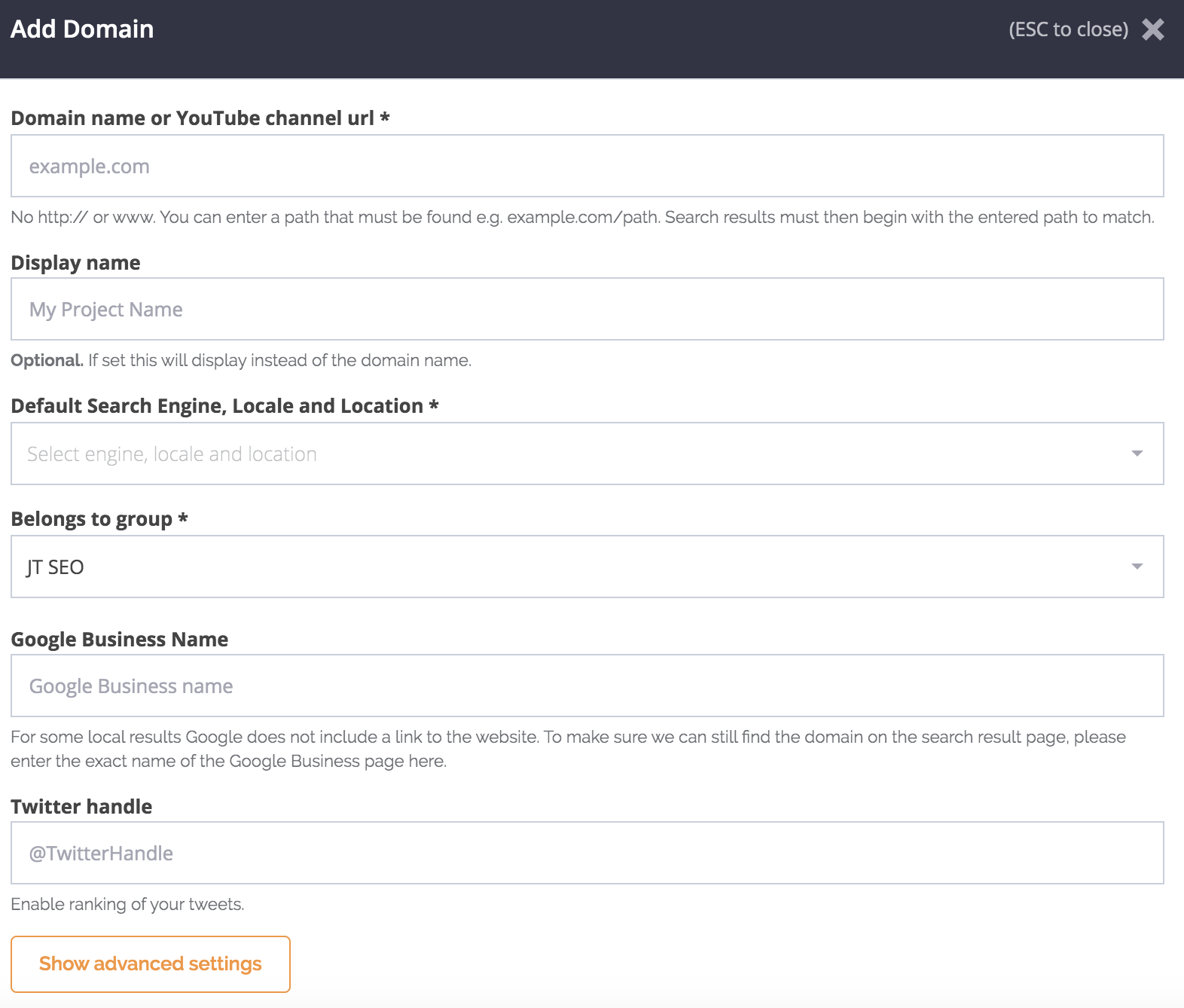 Adding a domain
The tool has specific search engine settings that you can track e.g. if we choose Google we're given the option to track desktop and mobile, and also to track or ignore things like the local pack and the featured snippets (this can be helpful if you're just wanting to track SERP positions without any interference from maps and snippets).
You can add in your Google My Business name (great for rank and rent SEO tracking), track a YouTube channel URL and even your Twitter handle. Way more than I was expecting here!
Options to show the 'share of voice' of the domain, include subdomain results (really handy technical SEO feature to see if any subdomains are causing a duplication in targeting) and also exact match results
Adding keywords
If you either don't know what to start typing in when it comes to the keywords you want to track, or simply know you have a lot of keywords to track and just don't have the time to type them in, then there's a few option available to save you time:
Connect to Google Search Console – This is perfect if you're dealing with multiple client sites or if you have an affiliate site portfolio, as you can import existing data so you know it's super accurate
Paste in keywords from a tool like SEMrush, Ahrefs (I've also compared both tools), SE Ranking or the like (generally these will be the keywords you're ranking for organically that the tools are aware of)
You can import from CSV. This is great if it's recent keyword research data from fresh content that you want to benchmark and track before the content starts to rank. Oh and, this is a sneaky insider move so that you can export your competitors keywords from a tool, then get them uploaded into a dedicated rank tracker like Accuranker.
Ok so, GSC has tried to add 4,000+ keywords, which is more than the trial allows. But, the amount the trial allows is still enough to start getting to grips with the tool.
Before we get into the keyword section and what you data you have to play with, let's work down the menu…
Groups
You can group multiple domains that you track e.g. by clients, by target, by sector. It's a great initial way to categorise domains and ensure that your data within the tool stays neat, from the very top level!
There's also the 'Quick Navigation' so that you can manoeuvre between groups, no matter where you are on the platform.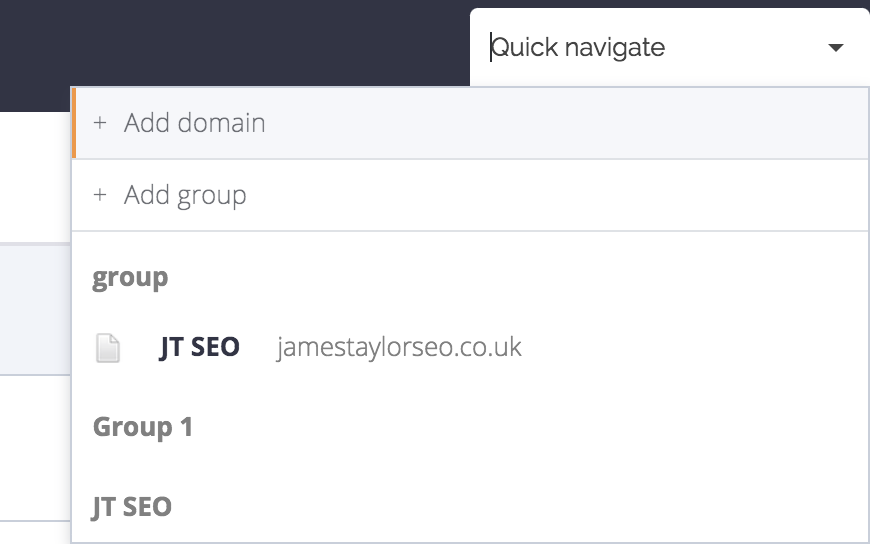 Domains
At the time of writing (2020) I can filter between the Beta view, so here's a quick overview of the 'New' versus the 'Old' initial view:
New View

Old View

I prefer the new view (beta) as it's much more compact, and the bold green and red really makes the data stand out. Hopefully you won't be seeing too much data in the red!
This view is the first in the tabbed view, which is the 'overview' (how many times can I type 'view in a sentence… ). Within the initial view you get:
Keywords
Traffic value
Share of voice – This is calculated by multiplying the CTR of a keyword for your site in positions 1-20, by the search volume of the keyword. So, the tool can then provide an average CTR based on an exact position, and cross-reference this with a the estimated search volume. Then, if you're seeing a lower share of voice, you know that based on these metrics than keywords have started to slip (and you can easily delve further into which ones that may be or view the data as a full site average).
Average rank – A snapshot of the average rank of all of your keywords across a brief time period, usually set around a couple of days/up to a week.
Above the fold  – This is commonly used in website design, and refers to what the user sees on the screen before scrolling. In all honesty I don't think it's very useful in the context of a SERP, and feel that you're better to look at your top 3 keywords rather than those in positions 5 or 6 that may still be classed as an 'above the fold' view. I get why Accuranker have included it as you can easily the keywords rising from below to above the fold, but for me it's not useful personally.
Add filter to keywords – e.g. by rank – Fantastic to benchmark keywords from initial trial data, and also to keep track of growth e.g. if you know there has been an algorithm update then you can quickly log in and filter by keywords in the top three.
Options to change rank data by device type – With mobile indexing separate to desktop, this is hugely overlooked and something that all site owners, whether SEO pros or otherwise, should be using.
This is great especially if you're working with multiple sites, as you can get top-level data (and a mild heart attack if the first you see are visibility dips when logging in to your dashboard!).
Diving into a specific keyword (give it a couple of days to compare to competitor data) we can actually get a view of how that specific keyword is doing versus its competitors. You might be surprised at the level of competition you have for some seemingly low search volume keywords too. You'll see:
Keywords
Aggregated SERP Analysis  – Ahh, glorious data! This tab shows you an aggregation of your accumulated keyword data, present in nifty graphs so that you can immediately identify any peaks or dips. At the time of writing you're shown

SERP Feature Ownership, Knowledge Panel Historical Data, Owned SERP Feature Distribution and Total SERP Feature Overview. Plenty to sink your teeth into. 

Competitors
Competitor Ranks – Here you can analyse individual and overall keywords in the context of growth alongside your competition.
Landing Pages – I see this as a really fancy blend of analytics and Search Console, alongside data from the tool to show you just how well your landing pages are performing organically.
Tag Cloud – If you bother to add tags to keyword sets (I recommend you do), then you can get to the nitty gritty of the data in this section.
Notes  – Probably something that larger teams would use more than freelancers and singular site owners. I suppose if you're dealing with tons of keywords and notice anything unusual, then it would make sense to log a note next to those keywords, for your teammates to see when logging in and taking a look for theirselves.
The aggregated SERP analysis and competitor ranks are easily my two favourite sections here. It's really helpful if you note a certain keyword on the rise, and can instantly check out who you're competing against, and volatility of the SERP for this exact keyword.
When deleting keywords the final options is 'locked' for a couple of seconds, so that you can ensure that it's not something you're going to be doing accidentally. Really nice feature!
You can also see live SERP results (great for analysing metadata on the fly) when hovering over the URL – very handy!
There are quite a few questions that I had and I'm sure you will too about this section, and asking around other SEO's here's the questions that required an answer:
How do you add a tag to a set of keywords?
The quickest way to add a tag is to highlight your keyword or keywords (click on the orange box in the first column), go to 'edit selected' then 'add tags'. You have to actually click on the drop-down to get the tag added.
What is a little annoying is that you have to click on each keyword to select it individually, or you can always filter by rank, highlight them all and then add a tag that way.
For example, I added a filter of keywords beneath 8 (I want only those on the first page of Google), highlighted all of them, went to edit > edit selected > add tag > added a tag saying 'first page'.
You can then go to 'add filter' and will always be able to filter quickly by that specific tag.
How many keywords can you add on a trial?  
At the time of writing in November 2020 you can add up to 100 keywords on a domain as part of your trial period. If you import suggested keywords from Search Console you will be suggested thousands, so import them then whittle them down to the top 100 to make sure your data is actually added.
Reporting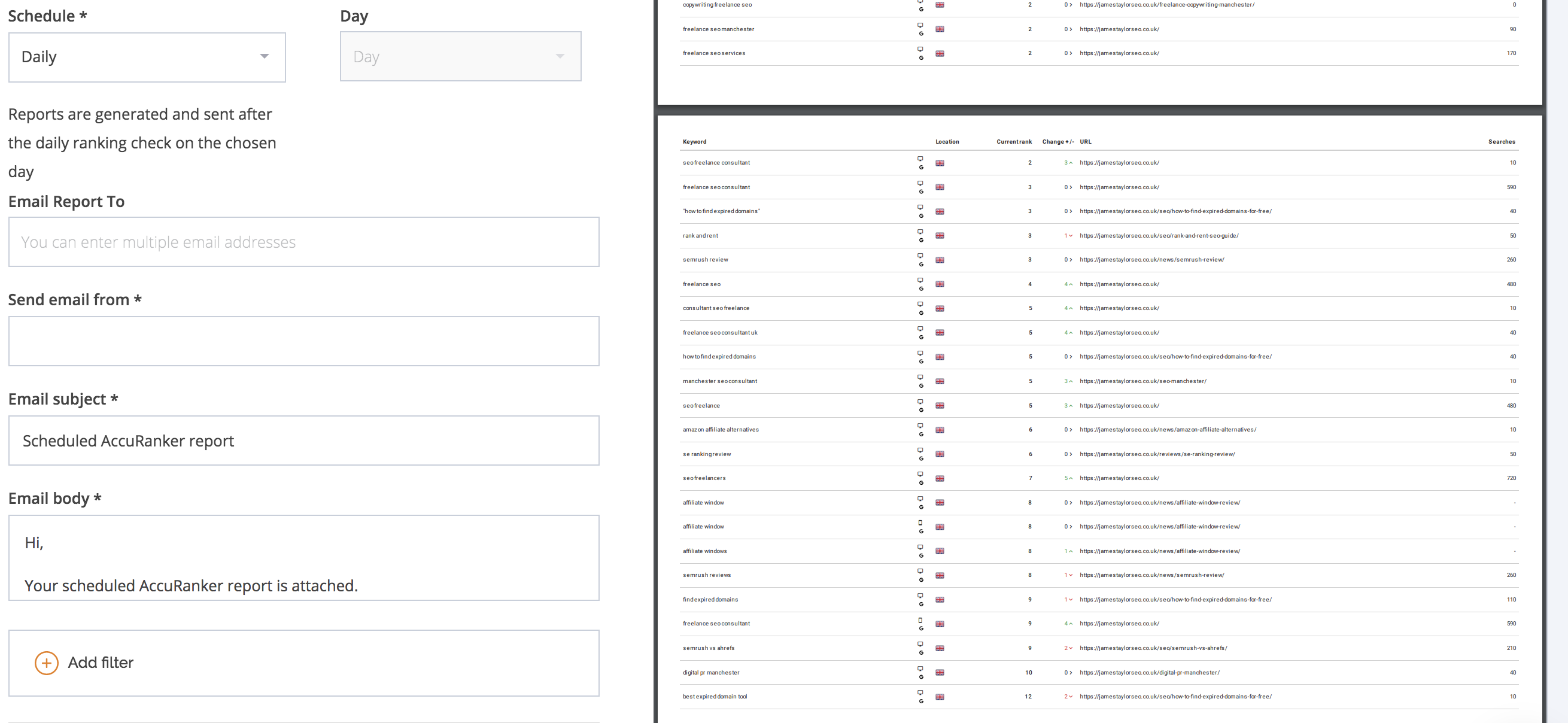 If you didn't guess by now, I really love me some data. But, I'm not a fan of how long pooling data from multiple sources can take (hence my serious love of Google Data Studio).
Accuranker have made the reporting process super smooth, and you can even choose when you get the reports in terms of setting them to daily, weekly and monthly.
You can select the language, the type of report e.g. PDF, change the styling (such as just to include tracked keyword data or all data amalgamated into the report), and if you're sending the reports directly to clients then you can just add their email to be sent to them as soon as the report is generated. You can even set the from email, the subject line and the body description to ensure the report delivery is completely customised.
This highly customisable approach to reporting is also why I was drawn write my review of SE Ranking. Any tools that provide a solution for white label reporting are a win in my books.
Sub Accounts
Accuranker is definitely one of the better rank tracking tools for agencies and larger setups, and the ability to add sub accounts definitely cements this statement.
For a lot of agencies, they may be working with clients who already have their own tools, but rely on an external team or consultant to actually use the data as part of an ongoing campaign.
So, it's really easy to then add sub accounts alongside your main account. Very useful.
Integrations
Any tool that allows external integrations that are actually useful is a win in my books. With the integrations section you can utilise the Accuranker API to call in data from other analytical external sources. This includes:
Google Sheets
Google Data Studio (my favourite free reporting tool by far)
Adobe Analytics
Databox
I'd highly recommend checking out integration options with Google Data Studio, as this can seriously make the rank tracking side of your reporting both super accurate, and infinitely easier than adding in manual data from an external report.
Bulk Import
Go to Integrations > Bulk Import > Import from third-party
There, you'll be presented with multiple other marketing tools that you can integrate with, and transfer the data across. As Accuranker is ever-evolving I'm sure this list will continue to grow, but at the time of writing the tool offers bulk import integrations with. I haven't even heard of half of these before, so it just shows how broad and simply Accuranker are making integration for the user:
Data correct at publishing time – November 2020. Due for review & update in January 2021:
HubSpot
AWR Cloud
AWR Desktop
Agency Analytics
AuthorityLabs
Link Assistant Rank Tracker
Positionly
ProRankTracker
Rank Ranger
SERanking
Serpbook
Serpfox
Accuranker Grump

Most tools have a quirky section that could be filled with things like data or outdated seminars from SEO rockstars. Accuranker have gone the other way, taking the time to build an easy to use tool that you can actually use on a daily basis.
The 'Google Grump' rating shows how volatile Google's algorithm is for the given day. The grumpier the rating, the more chance of volatility and fluctuations. You can also cycle back through multiple years too, comparing volatility data against any fluctuations you see at the time.
Common Questions
These are questions I've had, ones that clients have asked me when trialling this rank tracking tool for their sites, and also ones I've seen out in the wild. If there's something I haven't covered please just drop a comment at the end of this review and I'll get an answer added to this FAQ section.
Does Accuranker work with Google Data Studio?
Yes! And if you haven't already I strongly suggest you dive deeper into Data Studio and take a look at their entire range of integration options, prior to signing up to any tool.
How much does Accuranker cost?
The tool starts at 99 euros per month, or 89 euros monthly if you pay for the year. This is for 1,000 tracked keywords. Pricing is then done on a sliding scale so that you can add as many keywords as you need. The top-end is 1,979 euros monthly or 1,779 per month when paid yearly for up to 50,000 tracked keywords.
Do you need to add credit card data to access a free trial?
No, just some simple information such as name, email etc. Then you're given a countdown at the top of the page too so you can keep track of how many days are left. Simple.
How do you cancel a free trial?
This is something that I checked in with the Accuranker team on their live chat. The easiest way is just to let the trial expire (as you don't have to input cad details so there's no billing).
Summary
I spoke to the support via email and got rapid replies, and they were genuinely helpful. So, not issues there.
In terms of what I would change about the tool:
Expand the 100 keywords offered for tracking in the trial
Add integrations into more mainstream tools, those which may not have rank tracking as a core offering (but still have it as a section)
Offer paid packages between 100-500 keywords for the super small sites and freelancers. Essentially, those who can't afford a subscription but may need to double the initial 100 keywords they can track on the trial
In terms of what I love about the tool:
Super easy to use, with dashboards and data that are always evolving
Relatively cheap compared to some of the larger SEO tools and fuller digital marketing 'suites'
Reporting is great if you have clients who are only interested about keyword position tracking
Fantastic integrations for larger teams such as adding users, notes on keywords, tags and integrations from dozens of other tools
If you've made it this far and can't tell, I've like Accuranker for a while. Use my link for a free trial and make sure you make the most out of the data you have at hand. Happy rank tracking, woo!
Sign Up For A Free Trial