[lwptoc hideItems="1″]
Being successful online is the new way to make money and have a thriving career, and one of these ways to do this is by monetising your website and the content on it. Now to do this, you need to look into different advertising programs that will connect the advertiser to the site publisher so that you can start making money, whether that be through pay-per-click programs like Google Adsense or other alternatives. 
We will discuss these alternatives today because Google Adsense doesn't work for everybody, so we've found 30 alternative programs to help you begin your website, money-making journey!
Why Should You Look At Alternative Ad Programs to Google Adsense? 
Google Adsense is great and will work for some people, but many other ad programs have unique features and tools not offered on Google Adsense. 
Plus, you have no limitation on the number of ad programs you can join for one site, so if Google Adsense works for some things and not others, you can find an alternative program that has what you need for other areas of your site. The choice is down to you and what you need to make money on your website.  
Some people may look into alternative programs because they offer varying incentives, such as a higher CPM rate. It is about finding the best possible option for you and not just going with the first suggestion; shop around and get the most money through alternative ad programs.
Also, you're going to get to a point in your website where you simply want to work with a new ad program, or at least look into how much you can take your earnings to the next level with either a) a platform that is more niche or b) one set-up to deal with growing websites, and because of that offers higher monetary incentives.
AdSense is often the go-to for beginning bloggers and SEO's because it's what they've heard of before and perhaps what they already know, but it's certainly not where I'd recommend you stay  if you actually want to make money long-term with display ad monetisation for your website. Just a note before you dive in – this list is filled both with AdSense alternatives and other tools, software of programs I've used in conjunction with an ad network. So, it's not that you'd just just one out of this list, it's more to show you just how many monetisation network and tool offerings there actually are out there!
Rambling aside, let's get into it.
If you're looking for my top three, here they are: 
The Best 30 Alternative Ad Programs To Google AdSense (in my opinion)

If you are looking to grow your site's passive income and optimise its UX, the award-winning AI platform, Ezoic, should be your first choice. Ezoic combines Google Adsense with Google Adx to perform site tests that will give you a boost in your site traffic and revenue. 
Using AI technology, Ezoic automatically adds ads to various site locations and tests those ad locations and style combinations. You get all of these features free of charge and free to use entirely. Check out my Ezoic review for more information on this platform. 
Minimum Traffic Level? Sites need to have a minimum of 10,000 monthly pageviews to gain any type of monetisation access.  
Sensitive Niches Accepted? Ezoic works with all content types and thousands of site niches. As long as it is legal and not unlawful, Ezoic allows sensitive niches.  
One of the most popular ad programs for affiliate sites, the Amazon Associates Program, allows you to generate revenue and earn money by placing affiliate links to particular products and recommending them to your audience. 
What makes Amazon Associates Program so popular is its high conversion rates and endless opportunities to increase your chances of pulling in revenue. Amazon is an eCommerce giant, so there is always ample room to receive a commission from sales. 
Minimum Traffic Level? Amazon Associates Program doesn't have a minimum traffic level requirement, so you can start advertising and earning right away.
Sensitive Niches Accepted? Sensitive niches are accepted but depending on the type of niche you are looking to advertise, your commission rate can vary from 4% to 10%. 
Pop ads are all about designing a 'pop–under' ad program rather than the annoying pop-ups. Your chosen ads will appear on someone's screen, but usually, behind the window, they're looking at, so not to be intrusive. 
Pop ads are a great addition to have alongside other alternative ad programs because you can have complete control over what your ad looks like, the features and who you want it to target and the frequency you want them to 'pop under'. 
Minimum Traffic Level? You can open an account with Pop Ads even if your monthly rate of visitors is below 1,000 views. They are more about accepting sites that look good and are legit rather than the size of your site.
Sensitive Niches Accepted? Yes, all niches are accepted, even adult sites; as long as they are legitimate and legal, you can advertise any niche.  
Reaching over one billion users, PropellerAds is one of the largest ad networks available with a well-known self-serve platform that allows the ad creator to simply create campaigns, banners, and push notifications with very minimal effort. 
With AI technology integrated into its system, you can fine-tune ad optimisation to your specific requirements to give you high conversion rates with every ad you make. With the performance measurement capabilities, you can constantly improve your campaigns.  
Minimum Traffic Level? To use PropellerAds, you do not need a minimum traffic level to get started; just simply sign up and get earning. 
Sensitive Niches Accepted? Although PropellerAds allows you to have some niche content, any adult content that is found to be distributed through their system will automatically get you blocked from using their site again. 
This self-serving platform lets you decide on what ads you want to get set up efficiently. Adversal allows you to create campaigns, start and stop them as you wish and with an easy to use interface; you can get started the right way by making advertisements that will generate a healthy commission.
These ads are designed to help you drive traffic and increase your presence online while making money. 
Minimum Traffic Level? With Adversal, you will need around 50,000 page views per month to be eligible for using their services.
Sensitive Niches Accepted? When it comes to sensitive niches, many niches are allowed, but anything to do with adult content or material that represents the content of that nature is not permitted, and you will be denied access to Adversal if used.  
Skimlinks takes all the hard work out of setting up your affiliate links. It does this by automating affiliations for your commerce content for you and updating them automatically. Whether you need affiliate links for your website, mobile, social media or email, Skimlinks has it covered!
Skimlinks has over 48,000 merchants and 50 demand partners ready and waiting to give special offers and commissions to all publishers who sign up for the VIP or Preferred Partner Program. 
Minimum Traffic Level? There is no minimum traffic level that you need to have for Skimlinks, but there is an application process to complete. 
Sensitive Niches Allowed? There are a few different niches that Skimlinks does accept, but the ones that are not acceptable are:  
Sites promote counterfeit accessories, 

Sites that are too political or religious 

Adult content,

Domain names that include a brand or product name. 
Evadav focuses on offering advertising through many different options from push notifications, banners, native ads and even video sliders. When users interact with Evadav's ad system, they will stay in sync with your account, giving you a stream of income that comes from signing up. 
This ad program also promotes a Referral Scheme, whereby if you get anyone referring back to Evadav, they will give you 5% of their revenue, giving you a chance to earn even more. 
Minimum Traffic Level? Evadav accepts almost any traffic level as long as your website adheres to its rules. 
Sensitive Niches Allowed? Most types of sites or niches are permitted with Evadav, but some niches that are not allowed are: 
Any site that contains nudity or adult content of any kind, 

Any niche that is too religious or politically based, 

Any niche that includes any type of frightening content (e.g. blood, gore, violence),

Any site that promotes drugs and related materials, 

Any niches that involve weapons of any kind (e.g. combat knives, firearms, explosives).
RevContent is a Native Ads Network that offers its advertisers highly engaged audiences through some of the highest quality advertising and approval processing within the ad program industry. 
What makes RevContent stand out is that they blend in their ads within your content, so the related articles look part of your website and present minimal alteration to the design or workings of your site.  
Minimum Traffic Level? RevContent has a minimum traffic level of 50,000 – 80,000 visitors per month. This is so they can gain the highest turnover of results every time.
Sensitive Niches Allowed? Many niches are allowed as long as they do not contain content concerning these matters:
Children related niches, 

Claims / fake documents / claims, 

Nudity, pornography or adult content, 

Fireworks 

Violence or horror related content. 
Sovrn//Commerce converts product links into affiliate links and delivers revenue to publishers through content-driven-commerce, creating a commission through every click and resulting page. 
Sovrn uses leverage, insights and automation alongside monetisation tools to get you the best price by driving competition between advertisers for the traffic that you are producing. Automation and Insights are used not just to show you what products will earn you the most income but will allow you to focus on making great content instead of focusing on tracking revenue from your affiliates. 
Minimum Traffic Level? Anyone can sign up to Sovrn//Commerce; if you are just starting or have a million views a day, you can potentially work with Sovrn//Commerce.  

Bidvertiser uses direct advertising and pre-screened traffic sources to help generate conversions by finding the best matches between advertiser and publisher. This allows you to get the most out of the adverts you create, and the traffic that is produced will be segmented so you can optimise and control where you are targeting your ad. 
Bidvertiser also offers a Referral Scheme so that you can earn even more extra income by referring potential advertisers and publishers to use Bidvertiser. 
Minimum Traffic Level? When wanting to work with Bidvertiser, there is no minimum traffic level, but you have to go through a free sign up process and share details about your website, and the Bidvertiser team will then pick that out.
Sensitive Niches Allowed? As far as sensitive niches go, Bidvertiser allows a varied selection as long as they don't contain anything illegal or have adult content.
One of the most versatile alternatives to Adsense, MadAds Media offers the opportunity to work with over 100 different ad networks and some of the highest-profile brand advertisers on the market. 
From ad campaigns including CPC, CPM, CPL and CPA, you will be offered great rates and top-notch traffic quality. You'll have the chance to work alongside optimising geniuses making sure that your ad position never wavers, giving you the highest revenue possible.
Minimum Traffic Level? To be a part of MadAds Media, you will need to have a minimum traffic level of 10,000 daily page views to be accepted.
Sensitive Niches Allowed? MadAds are strictly a family-friendly ad program, so they will not accept anything that isn't deemed to fall within that category.
With Adbuff, you can make the most out of CPC and CPM advertising, meaning for some of your adverts, visitors don't even need to click on the ad; they can merely look at it, and you get a payday! 
Adbuff is a fantastic alternative to Adsense and gives a great payout rate. The publisher will receive a massive 90% commission for every ad generated successfully, crowning Adbuff one of the best paying online ad programs to date.
Minimum Traffic Level? To join up with Adbuff, you will need a minimum of 2,000 monthly traffic to your site to be accepted, and they only accept English-language sites (e.g. USA, UK, Canada and Australia). 
Sensitive Niches Allowed? Adbuff also works with adverts suitable for family-friendly audiences, so you can't join Adbuff if your ads will not be brand-safe on your site. 
AdRecover has partnered up with adblockers like AdBlock to provide non-intrusive ads to people that have used ad blockers. This works so you can target a harder to reach an audience that may have missed out on your ads originally due to them having ad blockers enabled. 
Adblocking providers have caused issues for people who rely on ads to make a living, so this ad program provides a happy medium for both ad creators and consumers, making ads in a UX-compliant manner and allowing highly discerning users to see your ad if they choose to.
Minimum Traffic Level? To use AdRecover, you will need to have a minimum of 10,000 visitors to your site, and you will need to use AdRecover for around a week so they can analyse your traffic before your site is approved fully. 
Created by women for women, SHE Media aims to specialise its network in monetising websites and blogs designed and written by the female audience. This approach has been very successful, with around a 50+million unique visitors a month, and SHE Media has an ample following to take AD-vantage of. 
SHE Media aims to be much more than just an ad program and a community that provides premium content for women worldwide at every life stage and age bracket.
Minimum Traffic Level? SHE Media likes you to have ideally 20,000 or more page views per month to be considered.
With around 850 million monthly visitors and 50,000 active publishers, PopCash is a highly successful pop-under network with worldwide exposure. With their detailed targeting features and statistic tools, you can improve your performance constantly. 
What makes PopCash even better is that even though it is an excellent alternative to Adsense, you can use Google Adsense alongside PopCash to make the most earnings possible.
Minimum Traffic Level? Any level of traffic is deemed acceptable, and any site can sign up to be a part of PopCash.
Sensitive Niches Allowed? PopCash does allow sensitive niche sites with adult content to work with them, as long as there isn't any forbidden content.
Are you looking for a better alternative to Google AdSense? Then ylliX is the one for you, with various ad types available, including sliders, layer ads, full-page ads and pop-under ads. You will be in complete control of all your campaigns, ensuring they are precisely targeted to the correct audience. 
With ylliX, you also get excellent payout rates that you can receive daily, and it is entirely free to use, so you can make the most out of the quality traffic and increase conversions without putting a penny towards it!
Minimum Traffic Level? ylliX doesn't have any minimum traffic levels that you need to adhere to before signing up; you can just join and get earning right away!
Being a full-service ad program, Monumetric uses CPM rather than CPC so that you can get paid for every impression, not just click, increasing your revenue and not compromising on user experience at the same time. 
By using Monumetric rather than Adsense, you will be earning much more money faster, making Monumetric the perfect choice for passive earning.
Minimum Traffic Level? The minimum traffic requirement to use Monumetric is 10,000 views per month, and there is also a 99% setup fee for sites that drive between 10,000 and 80,000 views, so you have to be sure that you will be able to produce enough traffic to make your investment a success.
InfoLinks operates in over 128 countries and has a marketplace of around 100,000 websites, giving its users a global platform to deliver their brand messages and advertising.
 With InfoLinks, all of your ads can be edited entirely. Using an intelligent algorithm system, InfoLinks can determine the intent and relevance to improve your click-through rate and optimise your exposure.
Minimum Traffic Level? InfoLinks requires no minimum traffic to apply, so you can be approved and start earning right away.
Sensitive Niches Allowed? No sensitive niches that include pornography, hate-related content or violence are allowed to go through InfoLinks.
Adsterra is a great opportunity for both advertisers and publishers, with it being a fast-growing, respected program that creates around 10 billion impressions a month. Adsterra is designed to make monetising your website easy, making it one of the world's best advertising programs.
With various adverts available from your standard display banner to pop-unders and even pre-roll video, Adstrerra offers it all without relying on Google Adsense.
Minimum Traffic Level? Your site must have a minimum of 5,000 visitor traffic for any pop-unders, and to qualify for the banners, you must have around 50,000 minimum impressions per month to your website.
Sensitive Niches Allowed? Some niches are allowed, but Adsterra will reject ones containing any of these:
Hacking or phreaking, 

Any niches that are hate-based, 

Newgroup posting or spam, 

Anything that has or connects to illegal activities.
With over 110 million monthly views, 6,200 publishers and 113 email list partners, you can rest assured that working with AdClickMedia will give you plenty of clicks and ad leads. Offering CPM and PPC advertising AdClickMedia allows you to display your ads to thousands, if not millions, of blogs and websites all over the net. 
With their targeted advertising technology, you can reach a highly targeted audience by filtering them out by demographics, device interests, daily limits, timed campaigns, etc. With their fraud protection, you can advertise knowing you are in safe hands.
Minimum Traffic Level? There are no minimum traffic requirements, making AdClickMedia a significant first step into advertising your websites, allowing you to start from the ground up. 
If invasive or distracting ads are not your thing, then BuySellAds will be! This platform is designed to create brand-friendly ad placements that you have complete control over.
BuySellAds works by selling advertising space on your website to avoid pricing yourself out of the market and give you a chance to focus on more important business matters.
Minimum Traffic Level? You are judged on the quality of your site first, but then after that, you will need a minimum of 100,000 page views per month to qualify to work with BuySellAds. 
Competitor of Google Adsense, Media.net is used by households worldwide and is one of the world's most extensive contextual ad networks on the internet to date. Contextual ads let you monetise content and give exclusive access to searches through Yahoo! Bing network. 
The first ad program to develop server-side header bidding as a platform, Media.net, allows you to operate fully and control programmatic display with easy to use steps and minimal effort. 
Minimum Traffic Level? There isn't a minimum traffic level to use Media.net, and it is free to join and use to monetise your traffic. 
If you have a larger enterprise, then Taboola Native Advertising is tailored toward you. Using embed videos and keywords to filter your ads allows you to create a targeted audience and make money from your traffic volume. 
Reaching 500 million users around the globe and making over 400 billion content recommendations each month, Taboola has given other brands a 130% increase in conversion rates and drives the traffic to provide you with increased revenue.
Minimum Traffic Level? This Ad Program is for the larger enterprises, so even to be considered, you will have to have around 500,000 page views per month as a minimum traffic level. 
Carbon Ads are the definition of truly targeted ads. By connecting developers, publishers and advertisers together, Carbon Ads will pick out the best publishers based solely on the content quality and traffic produced. 
Carbon Ads also works on a single display ad per page setup, basically meaning you will get great leads and a solid payout, but you have to have an exclusive relationship with Carbon Ads.
Minimum Traffic Level? To work with Carbon Ads, you will need a minimum traffic level of 10,000 page views per month before being considered and accepted. 
A newbie on the market, Revenue Hits is the perfect alternative for pay for action campaigns. This program is unlike other platforms because it is performance-based, so it doesn't just depend on getting clicks. 
Revenue Hits also had advanced optimisation tools and ad selection formats to get detailed feedback on your performances so you know which campaigns you should be focusing on.
Minimum Traffic Level? There isn't a minimum traffic level to join Revenue Hits, so you can get started whenever you want, whether a start-up or a seasoned website.
Adnow pays 51% more attention to usual banners than any other platform making them an excellent ad program for those wanting native advertising for both their mobile and desktop. Using a range of advertising techniques, AdNow likes to implement features like big data, AI technology, and RTB to optimise results. 
AdNow also has a referral scheme that you can join to give you a 5% commission on any referred customers back to their site
Minimum Traffic Level? AdNow doesn't ask its users to have a minimum traffic level to get started, just that the site will be reviewed and accepted if it has high-quality content and design. 
Criteo is a pay per click ad program that caters to a wide range of industries looking to display advertisements and performance marketing. With Criteo, you are offered personalised audience targeting, which will help bring the right visitors and customers to the site. 
Criteo is tailored to high turnover, traffic-performing businesses, like enterprises or seasoned websites, so Criteo may not be the right fit for you if you are a smaller brand or website.
Minimum Traffic Level? They do not have a minimum traffic level, but it is catered for the higher, more in-depth websites, so bear that in mind when looking to work with Criteo. 
Working with more than 88 top global brands, Exponential is a global ad platform that will help you grow your revenue by using Artificial Intelligent technology and digital media solutions so you can achieve higher CPMs. 
Exponential has a payout rate of around 55% commission rate for every advert you produce—guaranteeing you a great payday every time! 
Minimum Traffic Level? The minimum traffic level to join Exponential is 500,000 visitors per month, with consistent content and a top-level domain. This ad program is tailored to the higher end of the ad market. 
Vidoomy has a different approach to the ad program world. Vidoomy specialises in creating video ad formats that will be available across your targeted demographic, and its multiscreen brand advertising will pull in revenue quickly and effectively. 
Vidoomy has a lot of very high profile, top branded advertisers that are waiting to bring value to your blog or website.
Minimum Traffic Level? The minimum traffic level for Viddomy is at least three million page views per month, and you must have a minimum of 500 plagiarism-free blogs and articles on that site.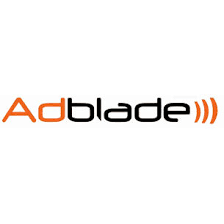 This self-service ad platform has up to three times better clicking on ads via premium content style ads on the market so far. AdBlade also offers various features from ad optimisation, geo-targeting and audience targeting tools. 
AdBlade covers all types of high traffic churning websites and industries and uses formats like display ads and sponsored ads to gain significant revenue.
Minimum Traffic Level? To be a part of AdBlade, you will need a minimum traffic level of 500,000 page views per month before they will assess and accept you.
What's stopping you from applying to all of these ad networks and programmes?
Absolutely nothing! You're going to want to find the right solution for your website and your niche, as some networks can be picky about who they work with (particularly the ones paying-out higher commissions or providing incentives for high-traffic websites).
Now that you've seen just how many alternatives there actually are out there, I say go and get stuck in and find the platform that works for what you're specifically looking for.