Starting your first affiliate website or blog is hard.
I've tried and failed with affiliate websites and blogs more times than I can count over the years. Here's a look at a site that has seen very promising growth over the last 12 months, and how you can mimic the process.
The Site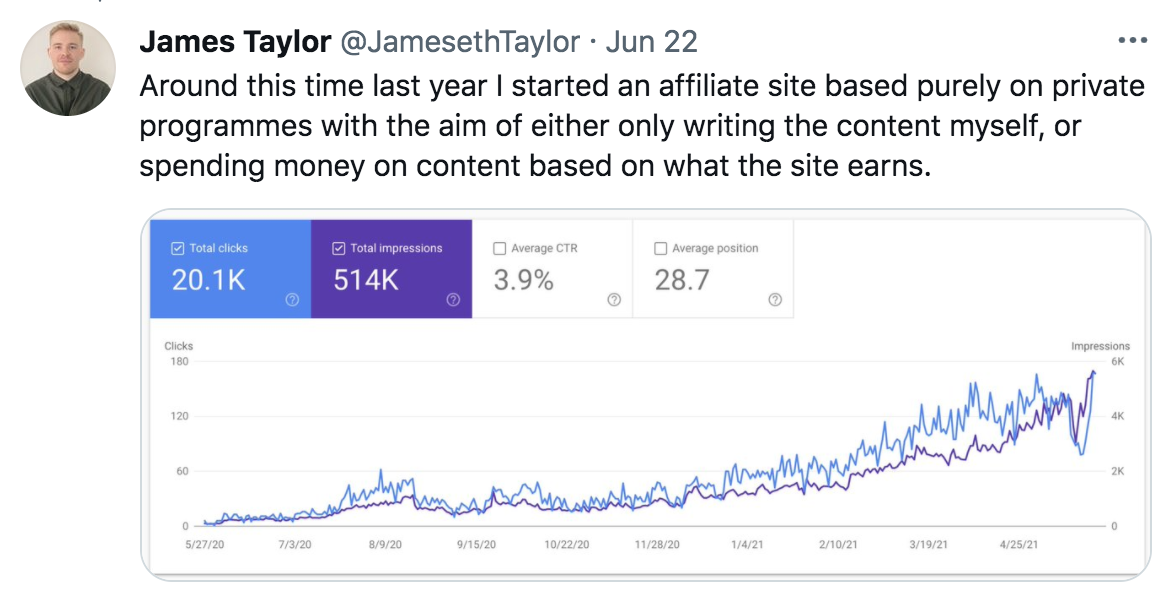 Key points:
Average $2,000 dollars of revenue via a private affiliate programme (just one!)
No banner ads yet – These will be introduced alongside a style overhaul to ensure no banner ads will destroy any styling or disrupt load times
Links slowly dripping-through with no active link building (I'll cover how below)
Traffic is growing very steadily, which is exactly what I want to see with an affiliate website
Majority of content published less than 6 months ago, so forecasting continued growth as Google continues to pick-up on fresh content
View the full thread on my Twitter. 
Where To Start With Affiliate Marketing – My Breakdown Of Advice
Choosing a niche – I like to go very broad with niche selection when building a blog that I want to monetise over the long-term. For example, this site is very product-focused in a broad niche, meaning that there's no shortage of content and traffic potentials.
Alternatively, I also have specific dog blog because I have a pug and, well, he's just the best! But other than an excuse for me to write about my pug Billy all day, it's also a great case study to show that you can go quite specific too and still get traffic, but just be aware that naturally it's not going to offer as broad a level of content that a generic 'dog' website would have.
Domain name – I tend to go for a .com domain, just because it's what people recognise as reputable and I usually want to target the USA as a primary location. There tends to be way more private affiliates, ad networks will big higher to a larger audience, and I just see better traffic volumes overall from the US.
How I grew this website to a $2,000 monthly average with just content (no active link building)
Keyword research – When you see keyword research in this context, it's logical to assume you're going to need to pay for a tool like KWFinder or SEO Power Suite. These tools are great, but they're expensive and not 100% necessary, especially if you're just starting out. What you can do instead is a very logical approach to keyword research and discovering wider topics.
I do this by simply using Google's autocomplete. When you're starting a new site, you're not going to have the authority to rank for purely commercial or transaction terms like 'best dog beds', but what you can do is target keywords much lower down the funnel, answering very specific queries that actually provide value for your audience. For example, we can do something like 'why do dogs + a…', 'why do dogs + b…' and so on.
What we're looking for here are search results where forums and Reddit posts are ranking in position one, or at least the top 3 positions. This means that Google is having to opt for user-generated content, rather than a post from an authority blog, simply because an authority blog hasn't written the content – and this is where you can provide the answer!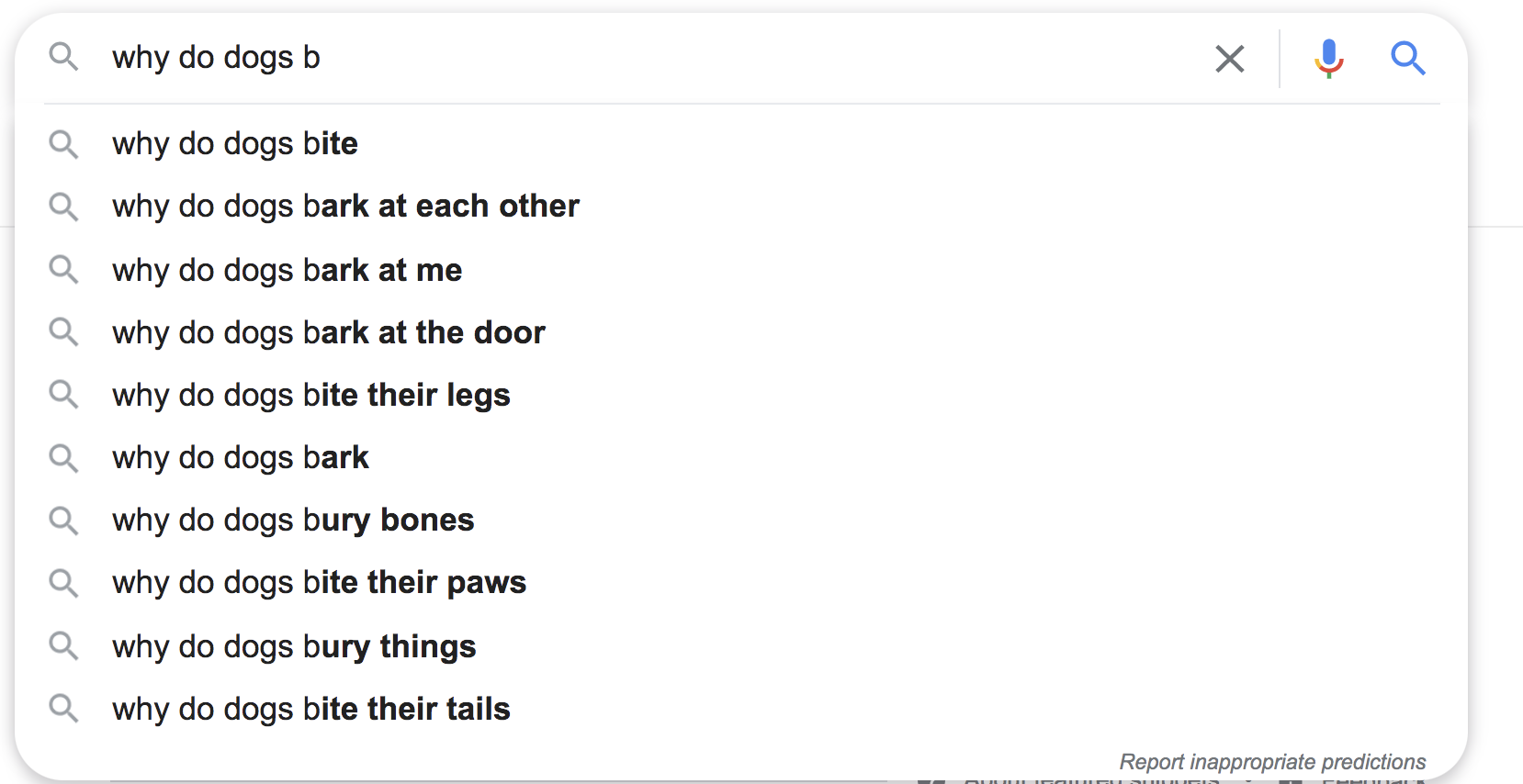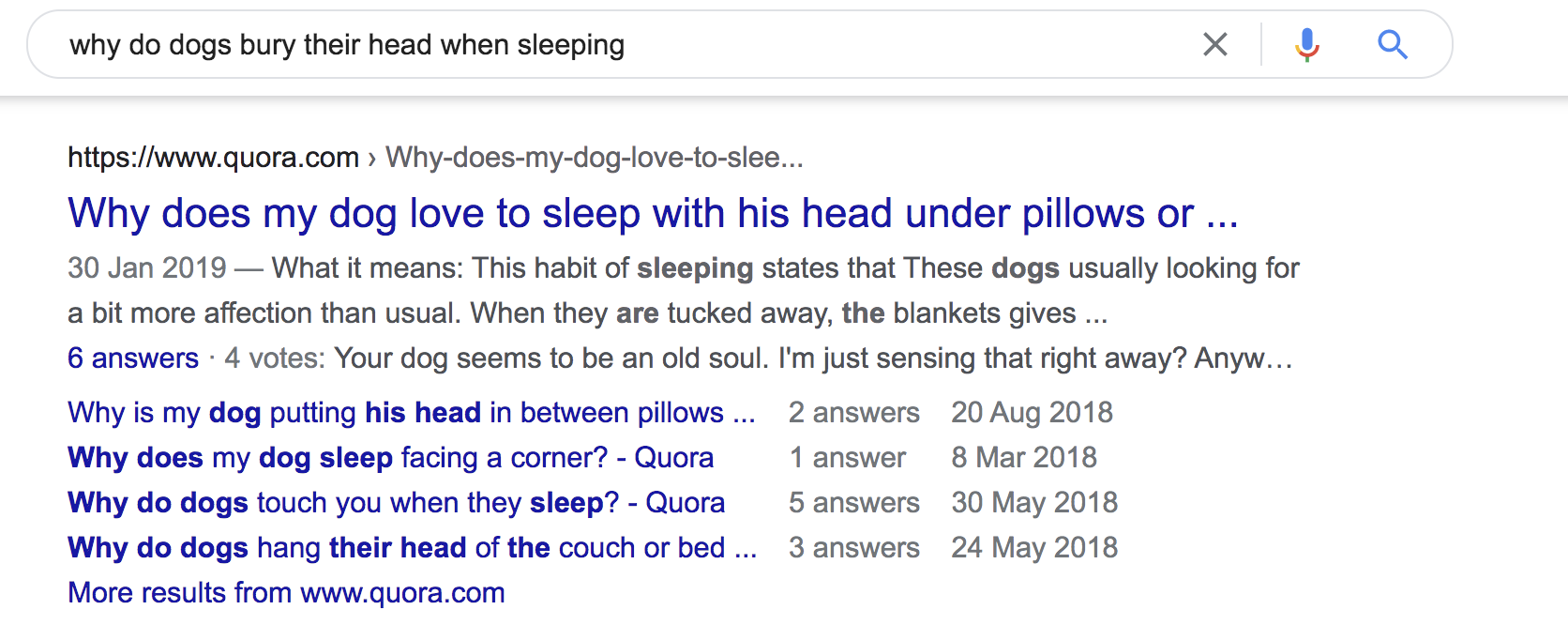 This is exactly what worked for me, and the same with the 'best x for y' types of posts. Rather than trying to rank for 'best dog beds', you're looking for very specific queries in the same manner as the above.
Link building – If you're one of the few people to read my guide to link building then you'll already know how much I love data and stats, and also creating unique data to 'bait' journalists. This is exactly what I did with this site. The primary driver of links has been direct response posts that provide unique data, for example a post on product costs where I actually provided the average data on product costs from multiple retailers with a table format (Google still loves structured data).
The other method which is still my favourite is creating a data and stats landing page, which multiple journalists have linked to when referencing data for the sector. I then used the authority from that page to internally link back to 'money' articles. An example of this type of page would be 'Gaming Stats 2021'. You can get the data for free from sites like Statista and by lifting data from infographics.
You can use these strategies for your site. And I can help.
Whether you're looking for link building and content advice, if you want to learn more about SEO with a bit of training, or if you just want my opinion on what aspects of SEO will take your site to the next level, I'd be happy to have a chat. Seriously, just try and shut me up about SEO….
For something like affiliate marketing and blogging I tend to lean more towards bespoke training. I have a set course that I can work with you on a one-to-one basis over a set number of weeks, or can book out a set block of hours and do the course within a day's worth of time. You can see more about what this type of training covers in my SEO training section.
Just drop me a message to confirm exactly what you want to learn and your goals for SEO (for example affiliates and blogging rather than becoming a technical SEO consultant), and we can discuss a course outline that will benefit you and align with your specific goals.