Before we start… A note on using keyword research tools
I just want to preface this review in the same way I have with the Accuranker review, in that no one tool is going to have all the answers. I only say this is as I don't want anyone to enter into a tool subscription by having unrealistic expectations. That being said, KWFinder is a truly unique tool in that it's straight to the point, and the data provided is arguably some of the most accurate from a popular keyword research tool on the market.
Anyway, disclaimer aside, let's have a look at why you need this tool in your arsenal, and what you can expect to find when you start using it (including aspects away from keywords such as competitor research and data for link building purposes).

What is KWFinder?
There is undoubtedly a wide selection of keyword tools out there that can identity targeting opportunities, as well as other insightful information, including AHREFs, SEMrush, AccuRanker and Google's Keyword Planner. But for those with minimal knowledge of SEO, it can be overwhelming. Fortunately, there is a keyword tool on the market that simplifies targeting options with an easy to use interface – KWFinder. 
KWFinder offers a more cost-effective alternative for keyword research while providing data on the competitiveness/ level of difficulty of those terms, user search trends and SERP overview (search engine results page). It is the most recommended keyword tool for beginners, ideal for bloggers, small business owners, freelancers and even students looking to build their SEO knowledge. 
I regularly use this tool, along with some of the more well-known SEO tools. Using a variation of tools enables me to identify further ranking opportunities that are often missed when focusing on just one tool. As I say in my review of the SEMrush auditing tool, there's no use relying on just one tool to get the data you need. The more tools you have access too, the more accurate and informed your keyword research data will be. 
Likewise, with Keyword Planner, KWFinder allows you to search manually for keywords or via the website URL. 
If you are familiar with AHREFs and SEMRush, you will spot similarities with the KWFinder design, including how the level of difficulty and trends for keywords are displayed. However, I find the layout of KWFinder simpler and ideal if you wanted to take a quick screengrab of the results page. 
KWFinder Features
KWFinder has multiple features that are greatly beneficial to businesses, allowing you to further explore various targeting avenues that you have not considered previously. Also, it provides valuable data into how your industry operates.
As mentioned earlier, a key feature of KWFinder is the cost-value, making it a favourable option for low budgets without compromising on the quality of the information provided. The results page also looks impressive in reports. 
The simple interface provides an effortless way to analyse keywords with a basic search function, allowing you to search for keywords for specific countries and languages, meaning you can make the results more refined.
It is important to note, that when the results page loads, the currency is set to $, but it can be easily changed. 
As you can see from the image above, KWFinder pulls through various data to help optimise web pages, identify other keyword possibilities to further boost rankings and visibility online. But it goes further than the standard keyword volume. 
Forward Planning
KWFinder provides data on search trends, so you know when the popular times of the year are.
This is fantastic, as it means businesses can ensure their website is fully optimised with the most relevant keywords and creating content, such as blogs in time for the peak times of the year. For example, 'villa holidays' peaks in January, so we know that it is critical for the travel industry to have their website optimised and up to date beforehand to give search engines like Google enough time to review the site and for the pages to perform. Also, it is essential to be ahead of the game to avoid competitors outranking. It is all about planning and KWFinder is great for this.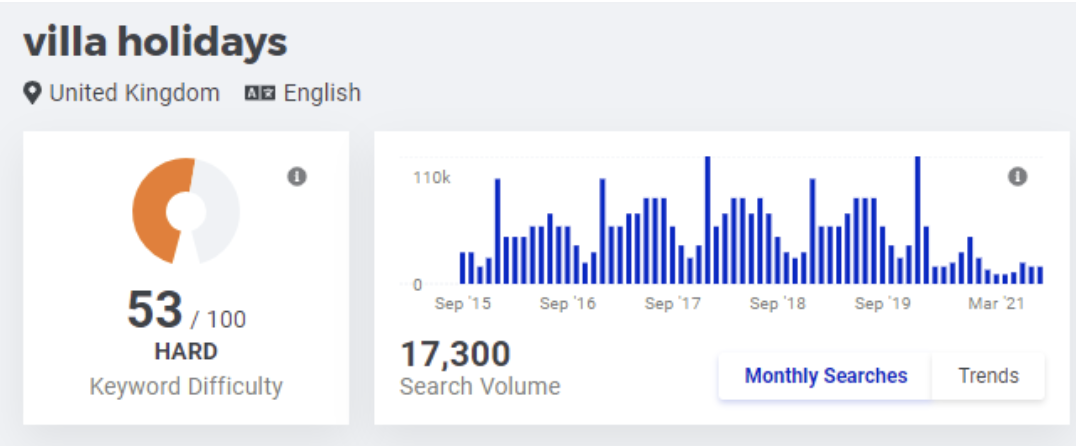 Ranking Difficulty 
Another great feature KWFinder provides is the keyword difficulty, scoring the search term out of 100, with 0 being the lowest and 100 being the highest. Now, this is more advantageous than you might think. Not only does the data offer a level of ranking difficulty, but it also provides the opportunity to plan short, medium and long-term objectives. 
So, we know that a keyword with a low scoring difficulty (0-30)  can be turned into a quick-win, short-term goal, as it is easier to achieve high ranking positions for those terms. 
For medium scoring keywords (30-55), more time and effort is required to attain high rankings, grouping these terms into medium-term goals. 
For keywords scoring 55+, the level of ranking difficulty increases from hard to almost impossible. What this means is that we need to set these keywords as long-term goals and be more realistic in the ranking position and when it can be achieved. For example, for a small website with a low domain rating and little presence online, to rank for a competitive term such as 'villa holidays' that generates around 17,300 searches per month and has a difficulty level of 53 (KWFinder classes as hard), the likelihood of ranking in the top 10 in the short-term and even position one in the long-term will face its challenges. This should not be seen as a negative. It should be seen as an opportunity to focus on other, more achievable keywords, for example, long-tail terms, to gain presence online while strengthening the website. 
One of the biggest search trends we can see as part of this example over the last 12-18 months, is that more users are searching for long-tail, more refined terms, such as 'family holidays to Spain'. This means users know what they are looking for, making their searches more relevant, therefore, increasing website conversions, which is also referred to as buyer intent. 
Search Engine Results Pages (SERP)
KWFinder also provides a SERP (search engine results pages) overview – again, another valuable asset this tool offers. This feature pulls out the top ranking pages for a specific keyword.
In addition to the top-ranking pages, the SERP overview gives additional data, which is great for a basic competitive insight. This includes domain authority (DA), page authority (PA), citation flow (CF), trust flow (TF), number of backlinks, Facebook shares (FB), link profile strength (LPS) and estimated monthly visits (EV). It also informs you of the last time this data was refreshed, so you know how up to date it is.
From a competitive perspective, you can review these links to see how they have positioned their pages from keyword targeting and optimisation to content. 
Get Your KWFinder Trial
Questions that Build Content 
As any SEO expert will tell you, there is more than just optimising a website and targeting a few keywords. 
For a page to rank highly for specific terms or for a website to perform well with a strong online presence, it must be supported with content and other marketing activities such as campaigns/ backlinks.
Website content is powerful and Google loves it. This includes on-page category and product content and blog articles. The content must be optimised to target the relevant keywords to build equity for that page, with additional supporting content from blogs. Internal linking on blog articles is a fantastic way to support page performance.
Whereas category content only needs refreshing every 6-12 months (unless urgent action is needed), developing blog content must be regular, for example, 3-4 fresh pieces per month. Blog content carries more advantages in how your website performs. It enables you to be creative, inform existing and potential customers with business updates and create content based on what your target audience is searching for.
KWFinder has a 'questions' feature on the search results page, which pulls up FAQs based on the keyword. FAQs are an effective way to secure top-ranking positions and attain a position zero (featured snippet). Google and other search engines regard FAQ-style content as high-quality, so I recommend using this feature to build content plans.
Other Keywords to Target
As mentioned, KWFinder offers additional relevant keywords to target, so you can expand your keyword pool and open the doorway to attract a wider audience. These include keywords that you might not have considered targeting and search terms with a lower difficulty score to achieve short-term goals.
It is essential to not focus on one keyword, but several relevant ones. For example, targeting a primary and secondary keyword per page, and creating sub-category pages to target potential other terms.
If a keyword's search volume is extremely high and competitive, KWFinder offers popular alternatives that might be more achievable. This feature is fantastic to explore different targeting avenues, building out your website and understanding how your target audience behaves online. So, even if you did not use the related keywords, it is still worth monitoring these terms, as a keyword with a lower search volume can easily become a top-trending one, so securing it early will give you a great advantage. Remember, search behaviour is changing and continuing to do so.
Paid Opportunities 
KWFinder does not just offer SEO features but paid ones too. The data provides information on CPC (cost-per-click) and PPC (pay-per-click).
While KWFinder is predominately for organic purposes, the CPC and PPC data can still become of value if an opportunity arises. For example, wanting to give certain product pages a boost or if a specific keyword you want to target has a low CPC cost and PPC competition, you might want to put a small budget behind it. So, it is always worth keeping an eye on this data.
How Does KW Finder Compare Against Popular Tools? 
KWFinder has many features available and considering the low price, it is a great way to attain basic information to help improve a website while providing a competitive edge.
While KWFinder provides top-level data, compared to other tools, it is relatively basic, so you are limited to what you can see and use. Although KWFinder does provide search volumes, difficulty level, SERPs and trends, other tools provide more. 
AHREFs
AHREFs is probably the most popular SEO tool and has fantastic features for keyword research. It provides similar data that KWFinder does in terms of keyword difficulty, search volumes and similar terms. But it also offers an insight into which website is ranking number one for a specific keyword with an estimated traffic volume, the average number of clicks the keyword receives per month and how the keyword compares in other countries.
AHREFs breaks the keyword down further from Parent Topic (the term searched for), similar terms, questions users search for and what else the keyword you're reviewing ranks for online. The latter data is useful when grouping terms together.
When it comes to analysing SERPs for a given keyword, AHREFs offers more data and insight, which is fantastic for competitor analysis. 
Although these features are similar to KWFinder, AHREFs goes into more detail and also provides the following:
Phrase Match

Having Same Terms

Also Rank For

Also Talk About

Search Suggestions

Newly Discovered

Questions 

Traffic Share
SEMrush
Likewise, SEMRush provides similar data to KWFinder and AHREFs in terms of search volume, level of difficulty, trends,  SERP review, keyword variations, questions and related terms.
The Keyword Magic Tool is more refined and provides variations for creating long-term searches, images and links relating to that keyword, and the number of websites ranking for that term. This feature is also great for PPC, and for including or excluding certain words.
One of the popular features SEMrush offers is position tracking, which enables users to monitor keyword performance and identifies declining and improving terms. This is fantastic for understanding more about your target audience, implementing improvements and where the opportunities are. 
SEMrush is on the higher end of the spectrum, but like most things, you get what you paid for. So, while KWFinder provides the same data as other tools including AHREFs and SEMrush, there are limitations and if you require more insightful analysis, you may want to add another keyword tool to your list or opt for a top-level package.
Common Questions
How much is KWFinder?
Mangools offer three different packages when it comes to their tools. Note, when you get access to KWFinder you also get access to SERPchecker, SERPwatcher, LinkMiner and SiteProfiler. Pricing packages are as follows: Mangools Basics for €29.90, Mangools Premium for €39.90 and Mangools Agency for €79.90
Conclusion
I feel like I need to stress in the conclusion just how good the price is here. We're not just looking at one tool, and even on the most expensive package it's still cheaper than what I pay for a smaller package with Ahrefs. Okay, maybe you don't get just as much as some of the larger tools, but for freelancers and startups you really can't argue with the price.
As a tool, the data is easy to get, simple to utilise and it just makes sense. Make sure you check out multiple tools when actioning keyword research, but as a starting off point you really can't go wrong with KWFinder.
Get Your KWFinder Trial