It can often be difficult for an eCommerce store owner to know where to start when it comes to their SEO strategy. Below I outline the exact steps that you can take to audit, analyse and grow your traffic using data-driven SEO strategies. I also show how this approach lead to a 62% increase in revenue for my client over a 6 month period. 
Essentially a contrast to local SEO where you're dealing with a small or very specific target area, there are multiple aspects of content, technical SEO and link building that you need to focus on with eCommerce SEO.
I won't be sharing the client URL at this time due to the levels of competition and any potential negative SEO that occur off the back of it. It's a slim chance I know, but not a risk I would entertain opening the client up to. What I will say is the sector is home and garden, and they're competing with some huge brands like Next, made.com, Wayfair and Ikea.
So where do you start? And how did I actually grow revenue for my client in a competitive sector in a relatively short space of time (6 months)? Let's take a look.
Starting with the results

Traffic is great, but traffic for the sake of traffic isn't going to pay the bills if it isn't converting. Utilising the strategies I outline below, I was able to grow traffic for my client over 40%, primarily by fixing SEO issues on their categories and product pages, as well as introducing a content strategy to focus on long-tail keywords (note the spike in lightest orange section below as more and more keywords at the long-tail start to get picked up by search engines):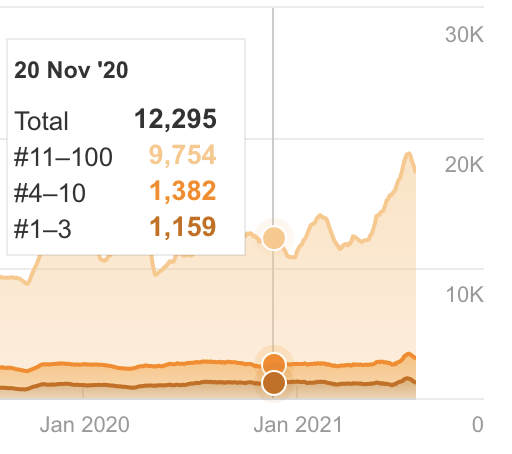 More importantly, this translated to an epic boost in revenue, particularly given the competitiveness of the sector:
6 Month Revenue Growth:

Enough of the results. Here's my exact approach that you can copy to compete in a sector already flooded with crafty competitors!
My approach
With any site I tend to start with the following actions in order to fully understand the SEO health of the site, the levels of competition and the opportunities for keyword targeting:
Technical SEO Audit
An SEO audit allows you to take a peek behind the curtain of a site and really get to grips with any high priority issues that need to be resolved. Whilst I use multiple tools, you can always use something like the SEMrush audit tool just to get an idea of some of the more obvious issues that need to be resolved. As this was a fairly large site at 100,00+ URLs, I focused on and uncovered issues relating to:
Crawl Budget – The site had a large number of 404 and soft 404 URLs which were needlessly inflating the crawl budget of the site. Any site will only have a certain amount of budget set aside for it so that search engines do not spend an unnecessary amount of time per day trying to crawl anything and everything. Google will also not want to flood your servers with unnecessary requests, so it's mindful of not going over the top.
Your job as a site owner is to ensure that Google discovers and crawls only the URLs that you actually want to be crawled. This means looking at top-level issues such as redirecting old product and 404 pages to like-for-like URLs, right down to the canonical strategy for the site and the robots.txt file to ensure that no URL filters or search queries from within the site are open to being crawled, unless they are actually required to be indexed (very common with large eCommerce sites).
The other thing that is really important when it comes to crawl budge is how your sitemap is set up. In the same way you do these checks for your site, you need to also ensure that you're removing any URLs from your sitemap that do not need to be there. I like to compare a 'site:yoursite.com' search of indexed URLs versus a sitemap crawl within Screaming Frog. You can then also see from the crawl whether there are any non-200 status code URLs within your sitemap to get rid of: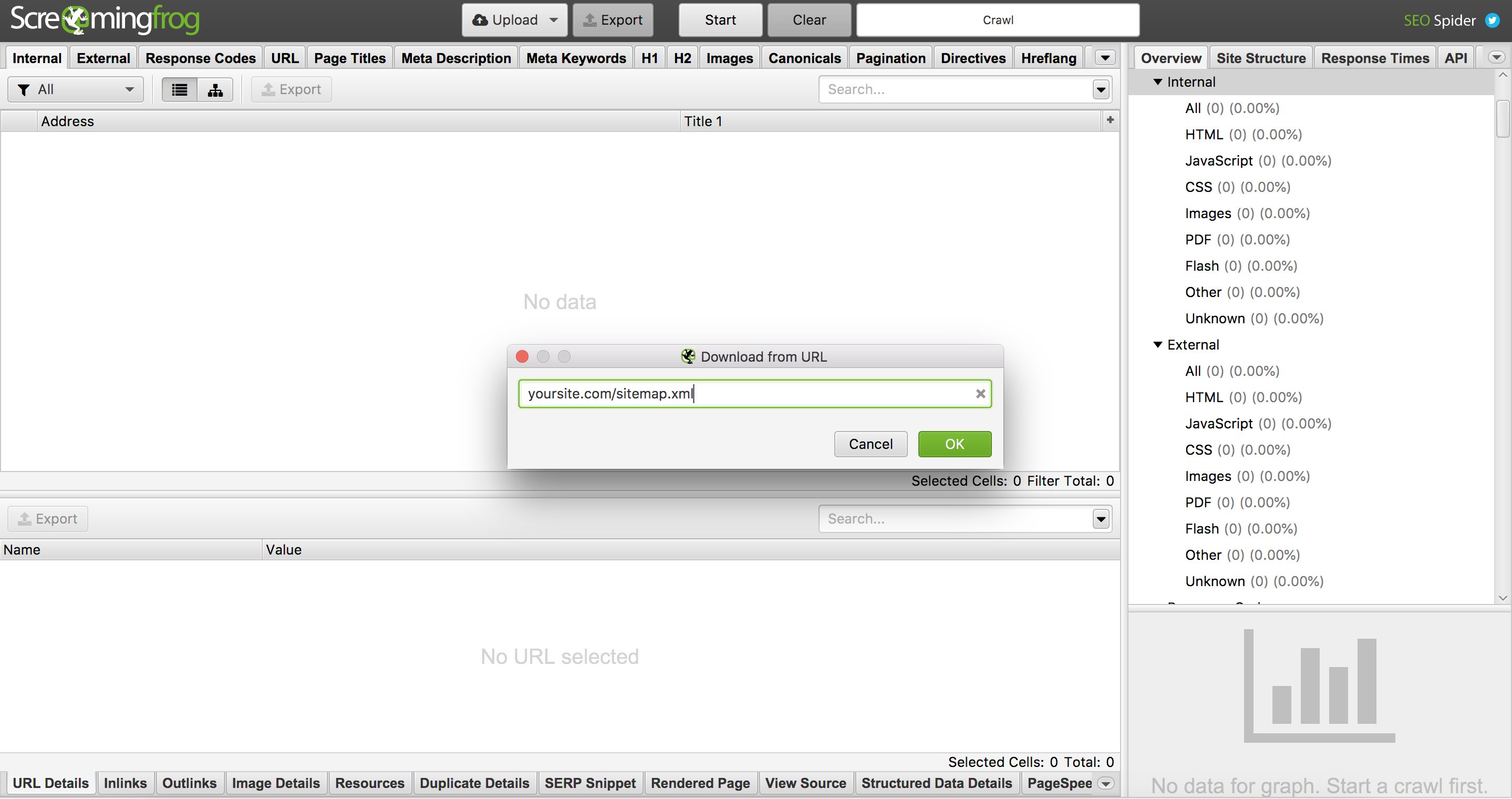 Page Speed – Core Web Vitals optimisation has been the hot topic for what seems like forever, and with good reason. The update and broader page speed in general is a direct ranking factor, so there's no use in sending users to your site if it is slow to load and offers a poor user experience.
With this client, it wasn't just about the speed.However, I did address this by working directly with their developers to resolve issues relating to caching, file minification, the introduction of a CDN, and pre-rendering of scripts where applicable. Once these tasks were out of the way there was a wider issue relating to the actual usability of the site, particularly for mobile users. The site was old and clunky, so we actually migrated it from its ancient CMS to Magento, at the request of the client (it just had to be off that clunky CMS).
Internal Links – This is often overlooked but there were some very simple optimisation opportunities for the site. Category pages at the top-level of the site were content-dense, but there were not internal links within them. They were even mentioning related products and categories, so this was a super quick-win to action.The same was happening with blog posts on the site, where categories and products were mentioned without an internal link. I like to use a combination of Screaming Frog and Sitebulb for this.
There's plenty more to mention, but these are some of the common issues that I sent when doing an audit for a client, and you'll probably the same types across your site. Now that you've got the checklist from doing an audit, let's move on to the other things that can work for revamping the SEO health of your website!
On-Page SEO
With quite an ancient CMS my immediate checks are centred around the basics. Are headings properly implemented or styled to look like headings? Is content deemed to be thin across pages that hold a commercial value and would benefit from content expansion? Does metadata and headings align with each other and clearly show the keyword intent for the page? And does the content satisfy that search intent?
The answer to many of the questions and more (uncovered via a technical SEO audit) was no. It was a mammoth task, but very clearly I started to see product and category pages in particular start to emerge out of a ranking slump. Ask yourself, how can you further satisfy search engines and users for their given query? What is the intent of the user when conducting that search e.g. are they looking for an immediate purchase or do they want further information? How would that page best be served (is it expansion of content to a product page within FAQ Schema, or is it the addition of a new blog article to completely satisfy search intent)?
Content
The content strategy for this site revolved around the publishing of fresh category pages and the reintroduction of a content calendar for the site.
I'm not talking adding content for the sake of content here either. The approach that I took (and the one you can take too) looks like this:
Keyword Research – Immediate analysis of commercial and information keywords that identify the main aspects of search intent for the core audience of the site. Working with the client, we identified exactly who is searching for products or information, and exactly what they would want to see.
We also looked at whether they had individual pages that targeted their high-volume, relevant keywords. If not, we got those created based on what Google was directly favouring in the search results. For example, if category pages in general were ranking on page one for a keyword, then it wouldn't have made sense for us to create a blog post (as Google clearly wants to see a category page).
Quick Wins – This involved analysing all existing to understand if they had commercial or informational viability. For example if this was a product page, is this something the client wants to focus on? If so, how can content be expanded on the page in a way that is relevant for both users and search engines? If it's a blog post, is a direct answer target given for featured snippet optimisation, and generally is the article satisfying the search intent and primary keyword searched by the user. Do they get what they're looking for when landing on the site? And does this type of content position the site as an authority?
Competitor Gap Analysis – This is perfect as you can see what your competitors are ranking for in relation to your site, and immediately outline the opportunities based on the data. For example, you may see that one competitor with lower authority than yourself is ranking for a particular product or question-lead search term. Based on that data, is that something you can write for your site?
I also used the data at the lower search volume level to introduce a content calendar for the site, based purely on providing actionable advice and support for users. So for example, no 'best x for y' posts, instead answering 'how to' queries and general advice for beginners in the niche, which not only work well as link baits but also further position the site as an authority (particularly if competitors are either not ranking well for those particular keywords, or target them but do not provide good enough information within their content).
Link Building & Outreach
As the site is in the home and gardening sector, there was tons of opportunity when it came to building links. I like to play it safe with link building in a slow and steady approach, and utilise internal links where possible to transfer authority. With this in mind, I'd also noted a steady decline in authority to the homepage of the site via Ahrefs.
The plan was to grow homepage authority and links to 'link bait' blog articles via:
Direct outreach to bloggers and publishers who clearly had traffic, were contextual to the site and were not selling links or had a blatant disregard to the authority of their site. This involved fostering relationships with publishers. How can you find these types of sites in your niche? Start by peeking at what your competitors are up to within Ahrefs, and use a tool like hunter.io to directly outreach to sites that you recognise are on authority, and sites where a link would be a valuable addition to your backlink portfolio.
I also introduced a digital PR approach by publishing a 'data and statistics' section to the content hub of the site. Very naturally, these types of pages start to gain links from journalists looking for 'niche+stats+year'. Is this something you can introduce for your site? I cover all of this and more in my link building guide too.
Link Audit – There's an argument that a disavow file update and link audit is no longer required, however I still see fantastic results by link auditing and getting rid of any of the usual offenders linking to my sites. By usual offenders I mean scraper sites, link networks, and any sites ultimately that had no business linking to my client. Get rid!
Want to learn more about how to approach SEO for your site?
Whether you're looking for a technical SEO audit service, or simply want to learn more about what SEO consultancy for an eCommerce site entails, I'd love to chat. Drop me a message or call me directly on 07393 286 400.