Rank and rent SEO is alive and well in 2022
Specifically, ranking and renting a site centred around dominating the local map pack for a given area. Rather than just regurgitate an existing guide I wanted to show you an ongoing case study of rank and rent SEO that is getting an average of 15 leads per month, just from the local map pack.
I haven't even put any time into ranking in the search results yet, but this just shows how powerful and relatively simple maps listings can be, when done correctly.
So, if you're looking for a guide on how to rank in both the standard search results and map pack, this isn't it. This is rank and rent SEO for those wondering if it's possible to do so just based on maps results for a city or town, with a look at how you can grow the organic visibility of the site after you've ensured the Google My Business profile is as optimised as it can be. 
If you're totally new to this side of digital marketing, then I recommend you read my local SEO guide first.
**Also if you don't yet have any SEO tools I highly recommend using my SEMrush link in order to get an extended free trial. Having data to justify your approach to rank and rent SEO will make the process a lot clearer
14 Day Extended SEMrush Free Trial
Before we get started, note that I will be going after organic results too. We all know how volatile maps results can be, so it's not enough to just rely on them. But for the time being, it's a great proof of concept and the reason why I start with them first.
So, for this guide, we're going to be looking at how you can set up a simple site geared for maps domination, how to actually optimise your Google My Business profile, what to do about address and area numbers for the 'business', and then also where to take things once you've secured your slot in the maps listings.
Just another 'before we get started', even just effectively setting up a GMB to rank works incredibly well (here's a recent lead): 

The site I'm going to show you averages at 15 relevant leads per month, which doesn't seem a lot but it is massively hands-off for me which suits me perfectly! Compared to my affiliate sites, this is way less stress and cheaper to both run and maintain.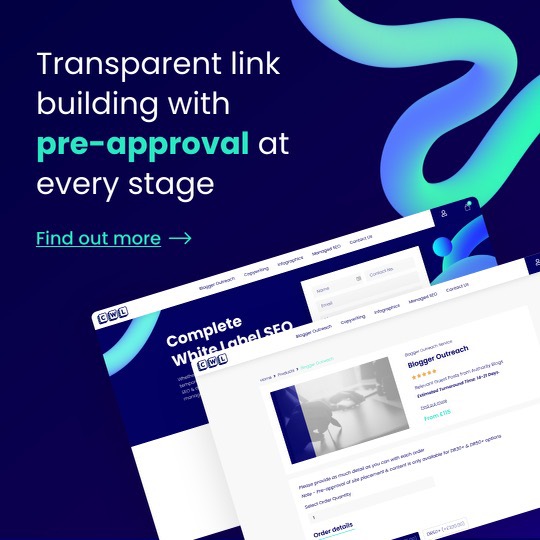 What is rank and rent SEO?
Rank and rent SEO is the process of creating a website or online presence, growing it to a level to which it receives consistent leads, then renting the website out to a local business owner for a set fee.
Is rank and rent SEO difficult?
Yes and no. Becoming visible in the maps results with an optimised Google my Business profile is more attainable, at least more quickly, than ranking a brand new website organically. However, with the right strategy, you'll be able to rank both in the maps results and the search results using local SEO methods.
Should I give rank and rent SEO a try?
Yes! Especially if you already do SEO for clients or run an affiliate website and fancy a change. A successful rank & rent website can also be used as a very viable case study to attract future clients too.
Choosing a niche & local SEO research
Why choosing a niche is the most important aspect of rank & rent SEO
Choosing a niche, like any aspect of digital marketing, is ultimately what is going to make or break your efforts. It's particularly important with rank and rent SEO because, at least for myself, I'm not physically dealing with clients or even renting a proper office for any potential clients to visit.
What this means is you're going to have to identify the types of local businesses that people will not question based on an office address or how they're perceived as a brand. For example, a client may want to visit a large digital marketing agency but wouldn't be too fussed with a freelancer. Here's some of the niches I'd recommend, and remember that this is the most important aspect of rank and rent SEO so ensure that you've done your research in choosing a niche that is both profitable and won't be hindered by clients wanting to visit:
Freelance digital marketing services
Cleaning
Roofing
Hobby Repairs e.g. guitar repairs, laptops etc
Online tuition
Bare in mind that if you do have an existing relationship with a local business looking to get in on the rank and rent model then you can always build a site with their branding from the get go, knowing that people will be looking to visit their physical location.
If you're going to do this approach and set up a relationship from the start then I'd recommend a niche that is as expensive as you can find, such as:
City Centre Hairdressing
Hair Transplants
Cosmetic Surgery
Shared Office Spaces
Anything bespoke e.g. custom engagement rings or anything to do with wedding hire for that matter!
Analyse competition
A couple of SEO's I've spoken to tend to do competitor research later down the line, but personally I'm all about the data and common sense approach in that I need the data to justify competing in a certain niche.
Also, for this guide I'm focusing mostly on ranking the GMB profile of the site. The site I show throughout this guide doesn't rank exceptionally well in actual organic results, as I wanted to first prove you can get leads and do rank and rent SEO from an optimised Google My Business profile alone. 
However, whether you want to focus on just the GMB of the site or to also rank in the organic results, you're going to have to analyse your competition.
I use a blend of SEMrush and Ahrefs to do my competitor analysis, and have already written extensively about how you can analyse competition in my SEMrush review, and the SEMrush vs Ahrefs guide.
Rather than repeat myself and risk boring you, I'll just summarise below the types of things you need to be looking for:
Link Acquisition Strategies of Competition – How are they getting their links? Do they use guest posting, citations, digital PR, sponsored links? Are there citations specific to the niche you can sign up to for free? If you're looking for guest posts, who are the authority bloggers in the niche and how can you get links from them?
Top Performing Pages – For rank and rent SEO I've found that your homepage and services pages are paramount, along with utilising local SEO landing pages for targeting surrounding areas (this is more for organic search than it is for GMB). Are your competition even using local SEO landing pages? What are the gap areas in their top performing pages?
Competition levels of primary keywords – Whilst search volume is very hit and miss between tools, it helps to get a baseline of monthly search volume for your core keywords and work out just how much traffic you can expect to see. Also, look at the cost per click of your keywords and whether any competition are bidding on them. If they are, these are the lucrative ones you should be focusing on.
Maps Results – What competitors are ranking in the maps results, and why? Remember that location and relevance play huge factors in maps rankings, so what can you take from the GMB's that are doing well? The main points I look for here is NAP (name, address, phone number) and whether I can rent an address and phone number similar to competitors who are dominating in the maps results. Also, how consistent their site is in relation to their GMB e.g. do they have their full address and business info in their footer.
All of this research will also further justify the choice of keywords you need to be optimising your site for, and allow you to realistically outline when you can expect to be performing well either via a GMB or organically, based on the current levels of competition.
Choosing a location
Personally, I've only been choosing Manchester as a location for the time being as I know the city and understand the competition well enough to compete. However, once you've tested a city that you at least know enough to write about and have proven to yourself that rank and rent SEO works, then you can always branch out to larger areas.
It just so happens that Manchester is also big enough to target both the city itself and surrounding areas, with also lower competition than larger cities such as London.
I can't really tell you what location to choose, but obviously if you're looking to meet clients to rent your site then it may be easier for the first time round to at least choose a city you're close to. You'll also want to check out the population of the cities you choose to target, as it might not be worth the time to rank for a location with a minuscule population.
For my example I'll be using throughout this guide, I went with Manchester because I know the area. And, with the service, I know that there are hundreds if not thousands of offices across the city requiring regular cleaning services. So, I created Manchester Office Cleaners. Which leads me on to the domain….
Effective choice of domain name
I really wanted to test just how blatant I could go with the business name choice here, and it's really surprising to see that, as long as you make the business look legit in the eyes of Google, the blatant exact match domain name still performs really well in 2022.
The domain name I went for was: manchesterofficecleaners.co.uk
The main thing here was I wanted the main city that the site would be targeting, and its primary service in the domain name. You don't have to go this blatant, but again I really just wanted to test if this would work or not in 2022 (it does). Plus, when you come to building citations and links to the site, you're naturally getting the main target keyword as part of any referring brand link. Wuhey!
For example – Primary keyword: 
'Manchester Office Cleaners' – Position #1 GMB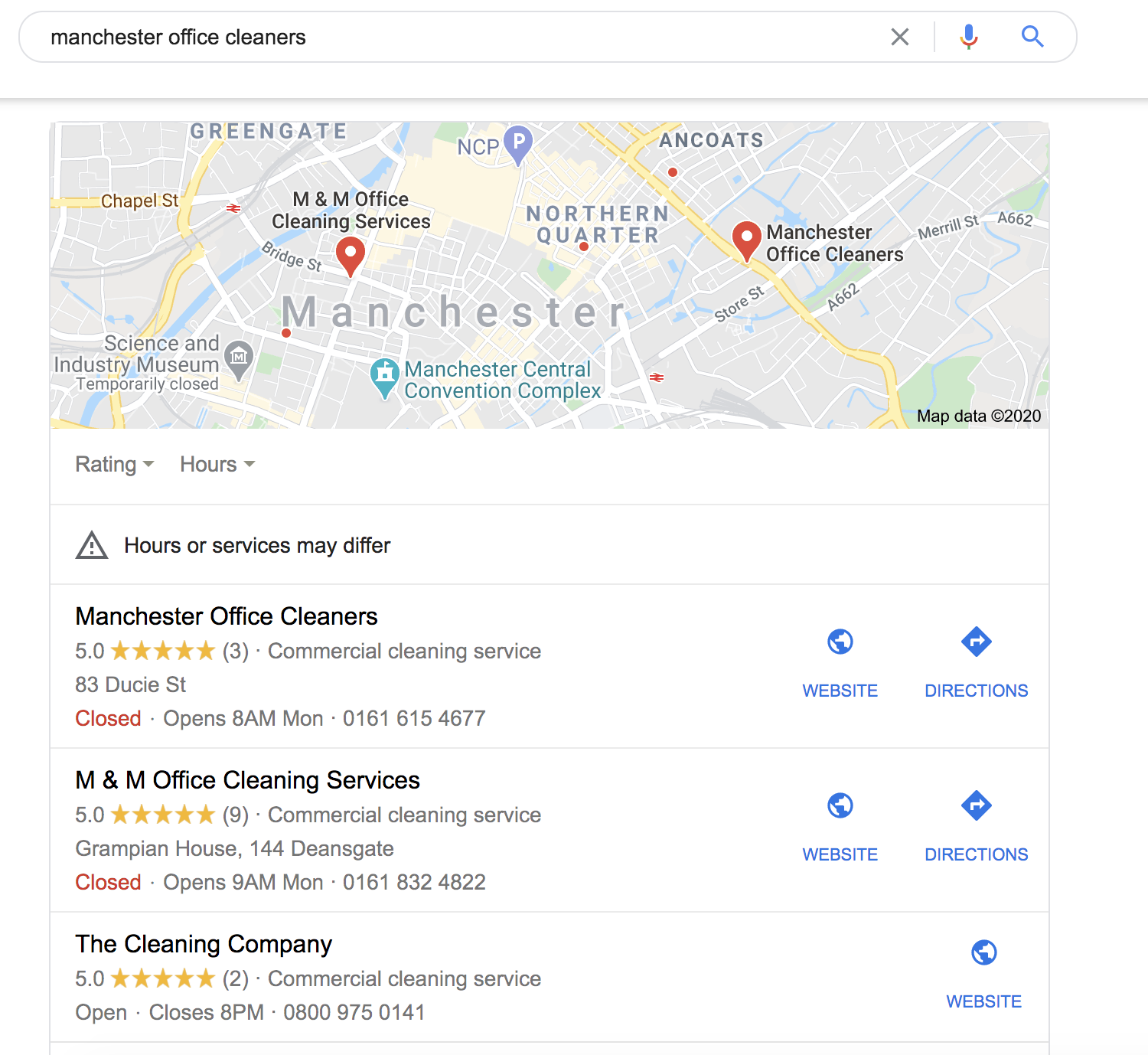 Setting up your rank and rent business
Renting a mailing address & phone number
Okay, so you've chosen a location, a niche, a domain name, and you've done your research. Now what? Before I even start building the site, I want to get the most city-central and relevant business address for my rank and rent site. For Manchester, this meant:
Renting a central office address with an 'M1' postcode that allowed for mail forwarding (this meant the GMB postcard would be sent to my forwarding address with the code to finalise the setup of the profile). As I'm not bothered about what any site visitors would think of my office address I could then just go for the cheapest option, with an M1 address: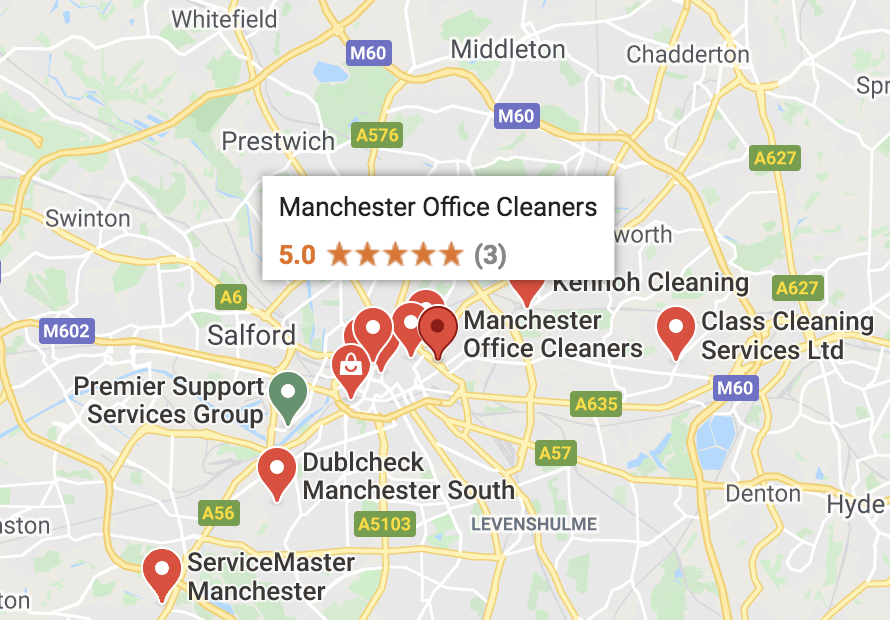 Renting a forwarding number with that area code, in this case an '0161' number
Actually setting the site up as a limited business. I know this is a little more effort than others may go to, but I wanted it to be as legit as possible especially when it came to building citations and establishing authority as the site grows
Building your site
I wanted to build a simple site that office owners and businesses would land on, view as trustworthy and then just contact via the form at the top of the page. I know there's work to be done but as a simple theme I think it certainly gets the job done: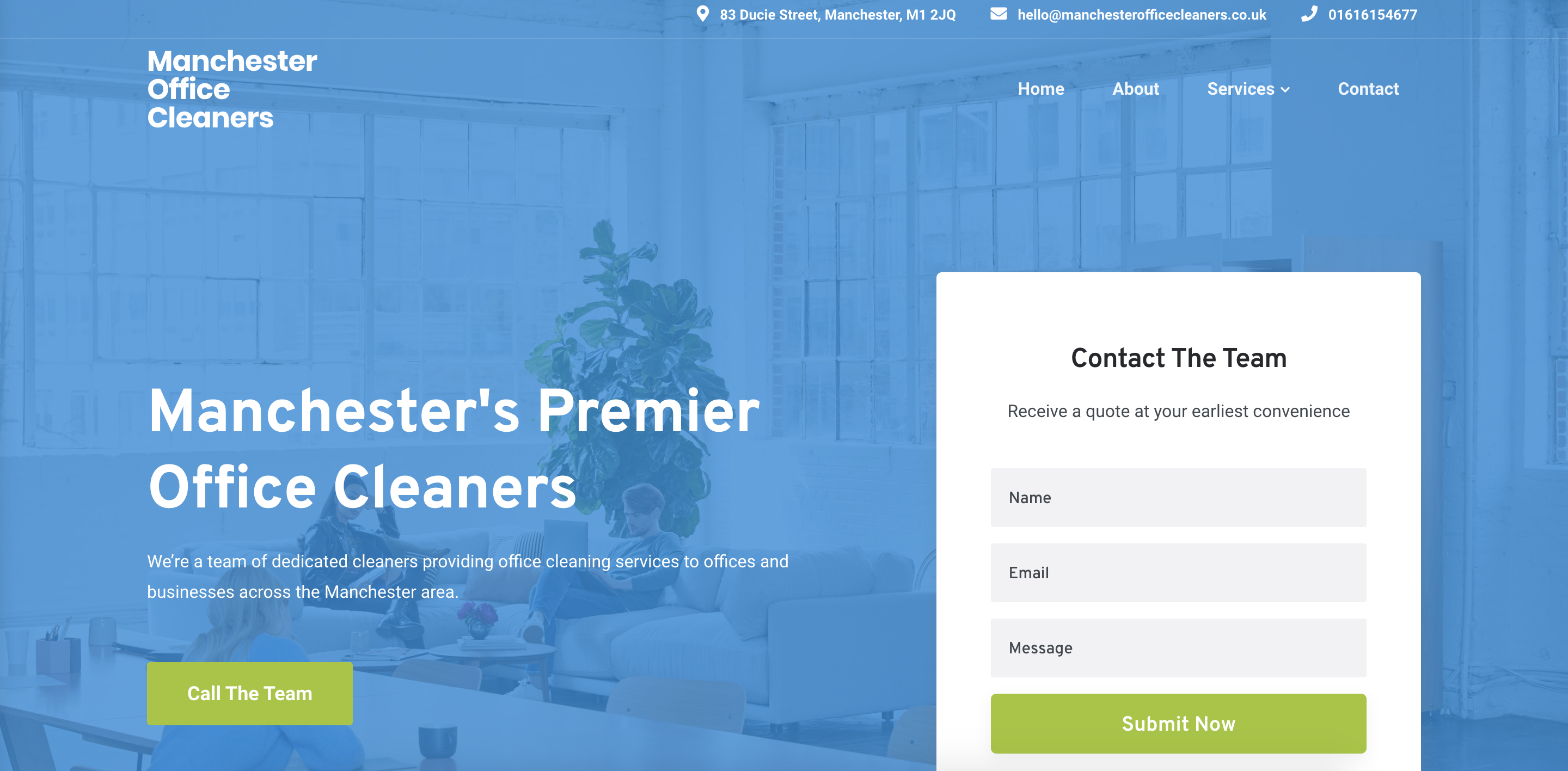 My advice on building a lead generation site is to have something like the above in terms of giving the visitor as many relevant options to contact as possible. This form works really well and doesn't detract from the overall information on the site.
I also created service pages based on a competitor analysis and keyword research, which still mentioned the main service of the 'business':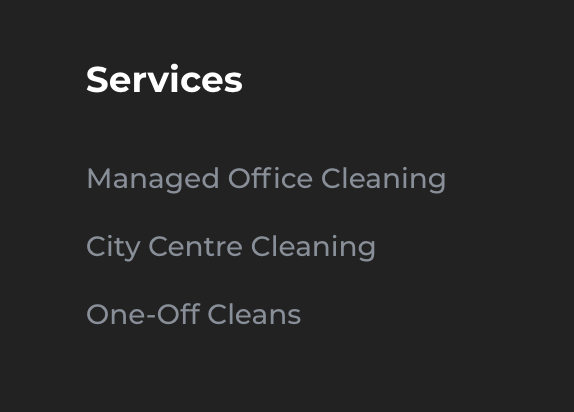 Setting up the Google My Business profile
When it comes to setting up a GMB, I still maintain that you could have the most optimised profile ever, but the actual address of the business is still the most important thing. However, my advice for setting up your GMB is as follows:
Fill in everything that you can, to the limits that are allowed. This includes the services, the main description, and also take advantage of the short URL option to further increase keyword targeting
Add stock images or images of staff working if you've already built a relationship with a client to pass the leads on to
Geotag all images with the office location
Ensure the core address and opening information on your site matches that on your GMB, and is on every page either in the header or footer
Anytime you publish content to your site, publish that as an update via the GMB too
Link to your GMB from within your site
Get friends and family to slowly leave reviews across the first month of the GMB being live
Building Links & Publishing Content
Content
When it comes to content, my main priorities are:
Homepage – Logical, in-depth content via relevant sections with internal links to category pages. Also some form of 'commonly asked questions' block below the fold to increase the content density
Service pages, heavily focused on internal links and super-specific long-tail keyword targeting
Local SEO landing pages – An 'areas we cover' section of the site to target areas close to the central location
When the site performs well in the SERP's I'll start to introduce long-form blog content such as guides and how-to's related to the core services of the site. At the initial stage this isn't a focus though.
Citations
These are crucial for local SEO success. I'd recommend checking out the Bright Local UK citations list for more info on this one. You can also use outreach sites that will manually build citations for you, but in the interest of keeping costs down for beginners it's easy enough for you to build the first batch on your own.
Essentially, quality citations confirm your physical office location and provide more validation for search engines, which gets your site to where it needs to be in the local search results.
Guest Posts
If you're looking to put budget into your site, I'd recommend a few guest posts from relevant sites related to the niche of your rank and rent site. Notice I stress relevance here, from quality websites! Sites like Complete White Label source guest posts from relevant sites, and also do niche edits which essentially work with bloggers to insert links into existing content.
Side Note & Full Disclosure – Complete White Label is part of my remote agency operation. As a team we provide agencies and affiliates across the globe with outreach and content solutions. This includes creating content and uploading for our clients, blogger outreach and SEO strategies. 
For local SEO and rank & rent in particular, I'd recommend you look at blogger outreach and link inserts once your site starts to get a bit of traffic:
It's again not something I'd do initially, but as your site starts to 'bed in' then it's a great ongoing strategy to maintain authority.
Finding businesses for that sweet, sweet lead money
Ah, the million dollar finaliser to this project. Findings those businesses to take the site off your hands! With this, you have a few options. You can:
Sell the new site to a business in the same niche
Rent the site in its entirety to a business
Work out a pay per lead model
Selling your site
I think it'd be a shame to sell your site right from the get go, unless you're planning on building loads of sites consistently as an actual business. Plus, it's no doubt going to be harder to sell the site without any actual leads coming through.
Rank & Rent
By far my most preferred monetisation method. Pay per lead can work well, but it tends to do best at volume. When your site is starting out, even with only a couple of leads a month, there will definitely be local businesses looking to rent it from you.
I tend to leave the site for a few months, then once you're ranking effectively  you can work out the average leads that come through the site each month. This way you can solidify the renting offer at a minimum amount of relevant leads per month. It's then obviously up to you to keep the rankings consistent, but with it being local SEO you're not up against as much competition as you would be for a client targeting national terms, so it tends to be an easier life for you (easier, not easy…).
I then simply would approach businesses who are not ranking on the first page anywhere other than paid results, but who are bidding on the keywords I'm targeting. They clearly have the PPC budget, but no organic know-how when it comes to either maps listings or organic search results.
Pay per lead
This is great if your site has a lot of consistent traffic, in a niche that has businesses willing to pay good money for leads.
There may even be pre-existing lead generation programmes, although that's massively dependant on the type of service your niche is operating in. Something with high cost leads like insurance or car sales may have a pre-existing programme with a dedicated provider, whereas something smaller like cleaning or a singular hairdressers are unlikely to have their own referral programme set up.
Personally, I prefer ranking the site monthly and agreeing on a monthly 'rent' price for local businesses. It's all totally up to you though.
Conclusion
Hopefully this has both proven that ranking and renting websites via local SEO still works incredibly well in 2022, and that you don't have to be an SEO wizard or even a full time SEO consultant to have the know-how to get started.
Best of luck, and any questions just drop me a comment below.