SMC Premier - B2B Facilities & Cleaning Service Providers
SMC Premier initially enquired about SEO services in relation to local rankings, as they had a new website built which was not performing well organically. 
The site was clunky, under-optimised, and had numerous questionable backlinks pointing to it. I knew that i had my work cut out, but wasn't going to shy away from a challenge.
The contract cleaning sector is full of reputable competition (both legitimate and black-hat), but I had to address primary issues before attempting to compete. Below is the strategy I've used to take SMC Premier from zero organic visibility, to ranking #1 for their target keyword in under 6 months.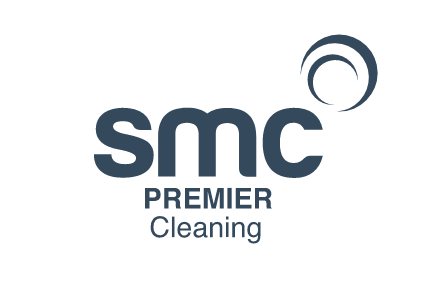 Brief
To increase organic visibility and ensure that the website is optimised and technically 'fit' to compete in the search results.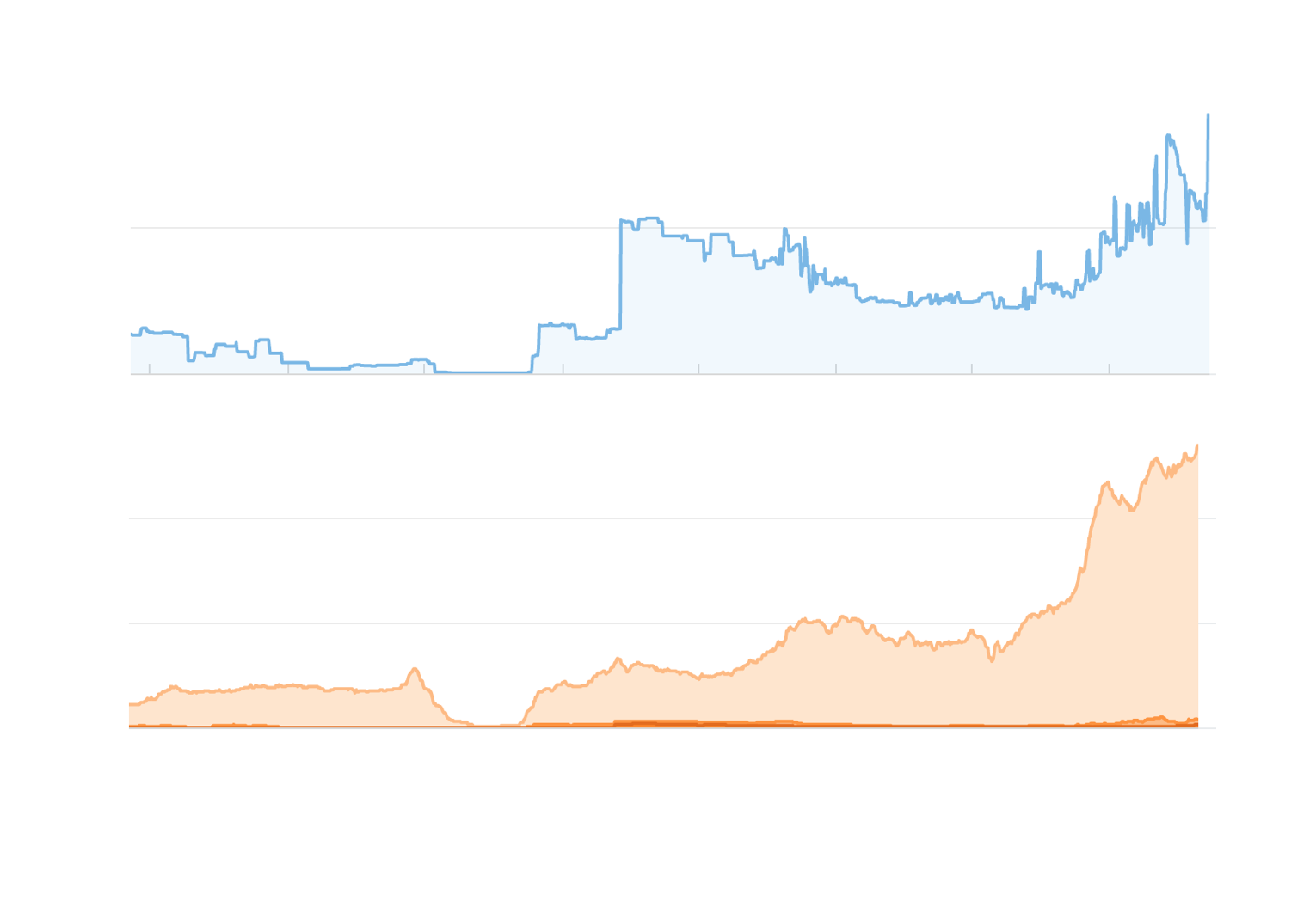 Results
A 96% increase in organic traffic, alongside ten times the amount of monthly leads compared to the period prior to SEO optimisation.
Technical SEO 
The project began with an in-depth technical audit to outline quick-win issues that could be actioned across the site. Primary issues related to page speed across all devices, as well as image optimisation and the resolution of 404 pages stemming from historical iterations of the website.
As part of the audit, I identified opportunites based on content gap development, analysing the content and on-page SEO strategies of competition to outline what had been missed, and what could be improved.
The audit was finalised with actions ranked by priority, in terms of the tasks what would provide the most immediate results related to improving the organic visibility of the site.
The site saw an initial increase once technical actions were carried out, which included:
404 resolutions
Internal linking development across existing pages
A backlink analysis and disavow file upload to ensure all low-quality sites were removed from the backlink profile of the site
Sitemap development, most notably addressing issues related to thin pages and soft 404 issues.
Page speed development (across devices)

Content  
The site has little to no optimised content prior to the beginning of SEO actions. Following an analysis of competitor and a keyword research piece, I created landing pages to target localities which SMC premier provided services in, and also developed existing category pages by growing keyword targeting. 
This was done by the introduction of a proper page structure (mostly via headings), and the addition of optimised content based on keyword data. 
Service pages were added to ensure that the site could properly target its core services, particularly for local SEO purposes. A PPC campaign was also introduced to further the targeting capabilities of the service pages.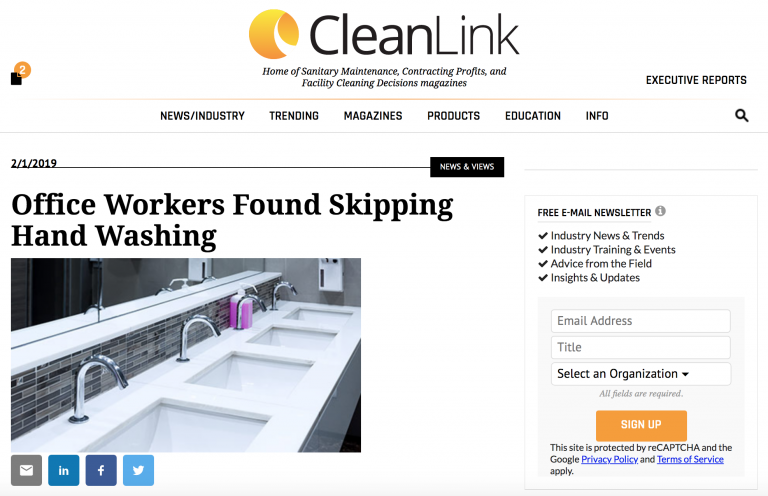 Digital PR & Link Building
Other than a couple of citation links, the site did not have many links pointing to it. This was an initial issue outlined in the technical audit, as the domain authority of the site was incredibly low (especially compared to competition). 
I began link building by getting the site featured in cleaning blogs, including the Channel 4 star of 'Obsessive Compulsive Cleaners', the 'Queen of Clean' blog. Alongside this, I created press releases for the site and gained features on industry-leading news site which greatly increased the domain authority of the site. 
Following this, I surveyed 5,000 people on their office hygiene habits. This was chosen via feedback from journalists whom I quizzed on what they would like to see in a study by a cleaning company. Many stated office cleaning habits, including how often office workers clean their hands when going to the toilet; this was the primary focus of the campaign. 
The campaign was picked up by industry sites and national press, drastically elevating the domain authority of the site and its keyword targeting capabilities.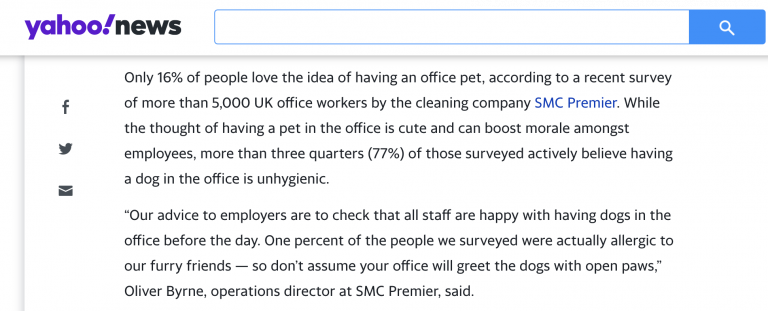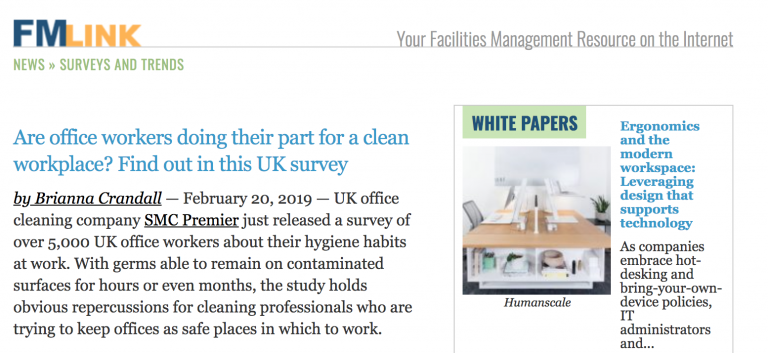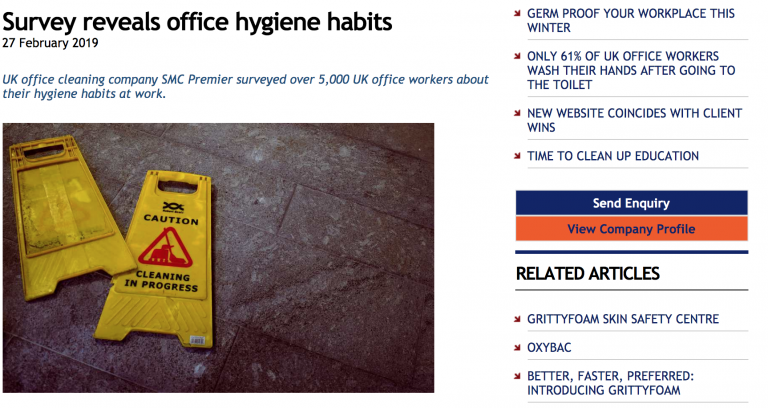 Results

Blue Line – The increase in organic traffic since the beginning of the site 
Orange Graph – The amount of keywords the site ranks for since the beginning of the site 
Domain Authority increased form 0.4 to 24 in 4 months 
Site ranks for 'contract cleaning nationally, with a search volume of 5,400 per month, as well as a significant rise in category page positions (such as the office cleaning services page). 
A 96% in organic traffic compared to the previous period 
x10 the amount of leads per month 
National coverage positioning SMC Premier as a contract cleaning brand, alongside their new Premier Hygiene products project (case study pending). 
Want to discuss a similar strategy for your site? Head to the contact form or call me directly on 07393 286 400.